On any given day, contact centers run the risk of experiencing a surge in call volume. That risk is amplified when unexpected events like poor weather, high agent absenteeism, or technical issues occur. When these things happen, call centers must be prepared to address customer needs in a timely and courteous way, despite the challenging situation. News of poor customer service reaches more than twice as many ears as praise for good service, so reducing the number of negative interactions is integral to a brand's reputation.
Although most companies understand this, they continue to leave customers on hold. Brands who value the customer experience know that this is not acceptable. Luckily, with the proper solutions in place, any contact center can effectively deliver high quality service, even in a crunch.
How Should Call Centers Prepare for the Worst?
Incidents reported by onholdwith.com show that many organizations are struggling to manage hold times effectively. What can brands do to ensure that customer service is not compromised during times of stress in the contact center?
Join our panel discussion on Thursday, November 30th at 2:00 PM ET / 11:00 AM PT to hear our experts discuss the proper techniques for handling customers in crisis situations. Tweet your comments and questions to @Fonolo with hashtag #CustServ, or comment on our conversation streaming live on YouTube.
We talk about:
Social Media for Crisis Management
Ways to Reduce Customer Frustration
How to Smooth Out Spikes in Call Volume
Plus So Much More!
Who should watch:
VPs & Directors of Contact Centers
VPs & Directors of Customer Experience
VPs & Directors of Customer Service
VP's & Directors of Web/Social Media
The Panelists:
Director of CX, UL EHS Sustainability
Nate Brown manages the contact center for UL EHSS, providing guidance to a cross-functional team of leaders and facilitating change to improve the overall customer experience.
Twitter: @CustomerIsFirst 
Consultant, Beyond Morale
Jim Rembach is a customer service and employee engagement expert. He is a recognized industry thought leader by ICMI, IQPC, CXPA, CVCI, CustomerThink, and ATD.
Twitter: @BeyondMorale
Chief Amazement Officer, Shepard Presentations
Shep Hyken is a customer service expert, business speaker and New York Times bestselling author, helping companies deliver amazing customer service and experiences!
Twitter: @Hyken
Founder & CEO, Avionline
Rainer Uphoff is the founder of Avionline and has been providing customer experience management solutions to aviation and travel companies for 10+ years.
Twitter: @rainerup
VP, Principal Analyst, Aberdeen Group
Omer Minkara is the VP, Principal Analyst within Aberdeen Group. Omer's research includes best practices and emerging trends to enhance the customer experience.
Twitter: @omerminkara
Co-Founder & CEO, Fonolo
As a thought leader, innovator, and CEO of Fonolo, Shai Berger is on a clear mission to educate the call center industry on how to improve the customer experience.
Twitter: @shaiberger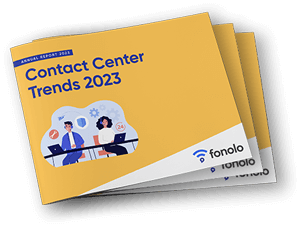 Trend Alert! Contact Center Industry Predictions for 2023
This report offers perspective on where the contact center industry stands today, plus our trend predictions for 2023.