Some people tend to go through life without making changes to their appearance. Others frequently change their look to reflect current trends or change with the seasons; women sometimes go from long hair to short, men often grow a beard. Regardless of the change, even minor improvements can have a dramatic impact. Let's apply the same concept to the contact center.
Some contact centers operate the same way, year after year, offering their services via the same channels, with no interest in making changes or improvements. Others undergo makeovers, both big and small, and enjoy all the accompanying compliments. The industry praises them, their customers are happy, and agents are proud of their place of work.
Follow these 5 simple steps to give your call center the makeover it deserves.
1) Understand Your Current State
Take some time to understand what you're dealing with before attempting any changes. Just like any beauty makeover, the subject needs to be analyzed, changes need to be discussed, then a plan has to be agreed upon before any changes are actually made.
What does your call center lack? What have customers been complaining about? Execute a customer survey if need be – whatever it takes to get some insight into the current state of affairs.
2) Unlock Your Creativity With Brainstorming
Once you have some data to draw conclusions from, gather your team for a classic brainstorming session. This meeting is the first step in creating an action plan. Keep a detailed list of ideas about how you can solve the problems in your customer service department.
For example: If customer feedback suggests that hold times are a problem in the call center, then on the whiteboard, write down all the ways you can solve this issue. Options could include adding more staff (and what that hiring process would look like), or perhaps considering new technology like a call-back solution. Either way, the goal is that you write all of your ideas down, you're discussing the pros and cons of each approach, and then picking a winner. (Tip: Take a picture of your board once you're done – if your idea doesn't pan out you can go back to your original list).
3) What Do Agents Have to Say?
Failing to involve your front-line staff in changes that are about to take place is like going for a haircut and only chopping off one side of your hair. You're missing a big piece of the puzzle (and the haircut) and simply won't achieve "the look" you want if you don't involve agents; they likely have more feedback about your customers than you realize. Beyond this, involving them in the process of change is a sure-fire way to make them feel valued. By empowering them and allowing them to reflect on critical issues, you're ultimately creating agent superheroes.
4) It's Action Time!
Now that you know what needs correcting, it's time to start making changes. If you have several items to change all at once, it might be better to stagger them. When multiple changes occur at once, it's hard to measure results and know exactly which change is responsible for the positive or negative outcome. Allow each change the same allotment of time and consider seasonal effects that your call center might be experiencing. (Note that some call centers prefer to make impactful changes off-season, for this reason.)
5) So, What Happened?
This is probably the most exciting part of the process. Did your changes make an impact? How do customers feel now? If you achieve the desired results, congrats on your makeover – you look beautiful! If you didn't, don't sweat it, not every haircut is going to turn out the way you hoped. Make the necessary tweaks and try again until you get it right.
And remember: You can always refer back to your earlier brainstorming ideas. After all … you kept your notes, right? 😉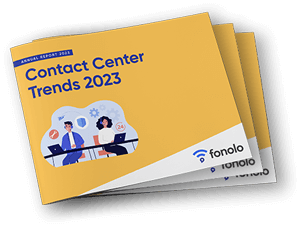 Trend Alert! Contact Center Industry Predictions for 2023
This report offers perspective on where the contact center industry stands today, plus our trend predictions for 2023.