I read countless articles on how to reduce stress in the call center and often wonder, "why is the contact center environment so traumatic?" Well, there are a few reasons for this. The first is quite obvious: Most call center horror stories feature an angry customer, venting their frustration about a faulty product or terrible service. Dealing with angry customers is difficult! Other causes of stress in the call center are less noticeable, ranging from a lack of social support, to feeling undervalued, to role conflict between employees.

Realistically, there are always going to be angry customers, but isn't it interesting that all the other stress-inducing areas are internal to the contact center? What this means is that we can potentially solve these problems.
Every leading organization understands the importance of having happy people in their front-line staff. Here are some tips for call center managers to help agents survive the year, and ultimately reduce stress in the workplace.
Encourage Reps to Read
A new survey from Pew Research reveals that 74% of American adults have read a book in the past year, which means that you likely have some avid readers in your group of reps. Reading provides a slew of benefits: It improves memory, develops imagination, translates to better writing abilities, and reduces stress. A simple way to embrace a culture of reading is to make it easy for employees to access books. At Buffer, for example, an employee can just submit their Kindle or Audible link through a form and the book is gifted to them. Other companies buy books and create a library in the office. To get started, check Amazon for some of the best sellers, or read our list of the top customer experience books.
Teach Agents to Deal with Difficult Customers
Negative experiences tend to stand out in people's minds; nearly to the point of entirely clouding out any of the good. Even the most minor of complaints and misunderstandings can quickly be blown out of proportion if not handled correctly. There are a few key ways for a call center representative to remain calm and effectively manage a difficult customer – saving them a lot of trouble in the long run. Firstly, they should make the customer feel that they're right, even if they aren't. This will put the customer at ease. After an apology is made and there's a solution to the problem, agents should receive support from a manager or supervisor to see if there's anything else that can be done.
Scatter the Office with Motivational Pictures
Isn't it amazing what pictures can do to your state of mind? In my opinion, bare walls in an environment where you're trying to build a strong customer service culture is a big no! Choose pictures that encourage CSR's to learn, to feel something, or to see beyond the bad interactions they may have had that day. (The "big picture"- pun intended.) One of my favorite motivational pictures for a call center says, "Mistakes Are Proof That You're Trying". This piece of art is a great way to put insecurities at ease, and ultimately reduce stress. Show agents that mistakes are completely normal and are a learning experience. For more on motivational pictures, check out this article.
Create a Culture of Friendship
Like anything in life, work is made so much better when you have a great friend with you. In fact, it turns out that having a friend at work isn't just great for your personal and psychological well-being, it's actually great for business as well. Studies show that employees that have a best friend at work tend to be more focused, more passionate, and more loyal to their organizations. They call in sick less often, have fewer workplace accidents, and transition between jobs less frequently. What's more, call centers who have work besties often experience more satisfied customers! Consider putting agents in close proximity or organizing social events to create a culture of friendship. This is a great way to craft a stress-free environment.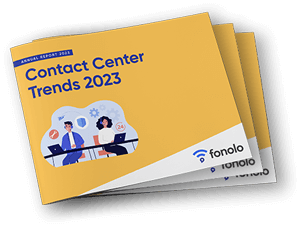 Trend Alert! Contact Center Industry Predictions for 2023
This report offers perspective on where the contact center industry stands today, plus our trend predictions for 2023.