Every call center faces the problem of unpredictable spikes in call volume. Sometimes the causes are understood, even anticipated. However, in many cases these peak periods come as a shock to the system. The reality is that voice remains the most preferred channel for customers, but its popularity comes at a price: long hold times.
Unfortunately, the effect of this on the customer experience is significant: 60% of customers will abandon a call after just one minute of waiting on hold. If you want to improve customer loyalty and keep your CSAT scores healthy, you'll need to make sure you have the right safety nets in place.
Are you prepared for unpredicted spikes in call volume?
Even call centers that diligently forecast volume and establish strict SLAs can experience spikes in call volume. The result is an increase in average wait time, an escalation in abandon rates and, worst of all, frustrated customers.
In this one-hour webinar, you'll learn the number one way to manage call center spikes. You'll also hear from guest speaker Ricardo Mejia, Vice President Centralized Services, First Service Credit Union, who will discuss how his call center reduced abandon rates, improved the calling experience for customers and agents, and seized the opportunity to better manage spikes in call volume.
Join Fonolo and The National Credit Union Call Center Conference on Thursday, June 28th at at 2:00 PM ET / 11:00 AM PT for the live Q&A.
We talk about:
Managing Spikes in Call Volume
Improving Customer Satisfaction
Lowering Abandon Rates
Plus so Much More!
Who should watch:
VPs & Directors of Customer Service
VPs & Directors of Contact Centers
VPs & Directors of Web/Social Media
VPs & Directors of Customer Experience
Speakers:
Shai Berger, Co-Founder and CEO, Fonolo
Shai is the Co-Founder and CEO of Fonolo, a leading provider of cloud-based call-back solutions. As an innovator in the space, Shai is on a clear mission to educate the call center industry on how to improve the customer experience.
Antonia Walters, Service Center Manager, First Service CU
Antonia is a Service Center Manager for First Service Credit Union. As an experienced manager of a busy contact center, Antonia offers extensive knowledge in contact center infrastructure, agent management, and meeting member needs.
Moderator:
Amy Vigil

Executive Director
National CU Call Center Conference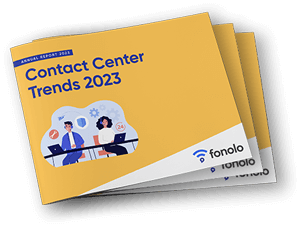 Trend Alert! Contact Center Industry Predictions for 2023
This report offers perspective on where the contact center industry stands today, plus our trend predictions for 2023.