As the official written contract shared between two parties, a service level agreement is a commitment between a vendor that ensures specific services will be delivered. It's a promise you make to your clients that you will maintain the service levels that they and their customers expect.
Anyone who works in customer service, be it in retail, health or finance, should get to grips with Service Level Agreements (SLAs) — and fast. If you're looking to do just that, you've come to the right place. In this crash course, we provide you with:
Contact center SLAs in a nutshell
How to set a winning service level for your organization
Why you should be wary of industry standards
How to meet your service delivery levels
Read on: You'll be an expert in no time.
Contact Center SLAs in a Nutshell
Let's start at the very beginning.
What is a Service Level Agreement?
A good question! Service level agreements come in several shapes and sizes, but at the most basic level, an SLA is a written commitment between a service provider and a customer or client.

The agreement can range from the general to the specific and includes particular aspects of service standards — quality, availability, responsibilities — along with other components that both vendor` and buyer agree upon.
Like any official contract, it is a reference point for both parties in case service levels are not met and is used to guide many other call center metrics. SLAs can take the form of service-based or customer-based models.
Regardless of the finer details, at the core of the agreement is the golden principle: Give the customers what you promised them, or you'll pay for it. They're commonly used to set service standards between business processes outsourcing companies —such as call centers — and their clients.
SLAs in the Contact Center
A service level agreement is a promise a contact center makes to provide a certain level of service to its clients. The most common SLA for a call center to make is committing to answering a percentage of inbound calls within a set time frame; such as answering 80% of calls within 20 seconds.
Although this is one of the most commonly agreed service level for call centers, there is some debate as to whether an 80/20 service level is the right metric for your call center, which we'll discuss more below.
As IFC has noted, this is a significant service delivery level, as it is directly related to other important contact center metrics like:
Average Speed of Answer or ASA measures the number of calls not answered within a certain time frame. According to IFC, the global metric is 28 seconds.
Abandon Rate reflects calls abandoned while a customer was waiting on hold to connect with a human agent. As per IFC, the global metric is between 5 and 8 percent.
Why Do Contact Centers Use SLAs?
Contact centers use service level agreements for the same reason that contracts are used for many other business transactions; to make sure everyone is working towards the same outcomes and are — in a very literal manner — on the same page about what success looks like. It enables the smooth running of every other interaction between the two companies.
This goes further than between the client and call center. Your support agents and management should be involved in creating the service level agreement, as they'll be the ones executing it. This is a great opportunity to foster conversation between the management and workforce to come up with some common goals.
The final benefit of a service level agreement is that it makes planning easier. Once you have a target service level, you have a concrete goal that you can start building a plan around.
How Do You Set a Winning Service Level?
There are several ways of setting achievable service levels in your SLA, but they all require a deep understanding of your clients, your call center, your team, and how they operate.
Here are some more specific best practices for your call center's service level agreement. Remember, service level agreements are designed to protect both you and your client's interests; don't forget to protect your business when agreeing to client demands.
Service Level Agreement Best Practices
Meeting the service levels outlined in your SLA is of utmost importance, so it is prudent to follow these three general best practices from the start.
Be Reasonable
‌


Don't commit to a service level if you don't have the infrastructure, technology, staff volume or expertise to meet it; It can be tempting to overstretch or be optimistic about future growth, but the best thing a call center manager can do in an SLA is to leave some room for error, and overdeliver instead.


‌
Protect Against Financial Loss
‌


If you're not reasonable and you don't meet your service level, you may need to reimburse clients; or worse, lose that client due to a breach of the agreement. Service level agreements are designed to protect both you and your client's interests; don't forget to protect your business when agreeing to client demands.


‌
Do Your Research
‌


To be able to set a realistic service level you need to truly understand the bandwidth of your contact center. It's important to understand how your team responds during spikes in call volume and other crises moments, as well across an average. This takes patience, trial-and-error, and perhaps the aid of a consultant.
If you keep those three best practices in mind, then you'll be well on your way to constructing an achievable service level agreement. For those that are looking for more detail, here are a few more things you can do to help make your SLA watertight:
Manage Expectations
The most important thing to remember when preparing a service level agreement is this: Don't promise a service level to a customer that you can't keep. Avoid arbitrarily implementing a service level standard if it doesn't reflect what you are able to deliver, such as the 80/20 industry standard, which you'll read more about in the next lesson.
Don't just follow an industry-standard SLA. Your service level guarantee should be based on what your contact center can reasonably achieve given its resources and expected call volume. This means ongoing research, testing, and analysis, and a feasibility study, too.
Consider Your Priorities
Every business using a contact center has a different set of goals; it's important to consider yours when drawing up an SLA. Maybe you value customer satisfaction above all else. Maybe you're defined by reducing abandon rates. Whatever the case may be, make your overall business goal the main event in your SLA.
Consider Your Clients
As much as your own business targets are important, you should balance the desire to deliver customer satisfaction with the cost you're willing to bear to achieve it. Industry consultant, Stuart Crutchfield from Genesys, suggests asking these three questions:
How do I want to prioritize my customers' wait time?

This often can reflect Customer Lifetime Value or Propensity To Buy, where customers of greater actual, or potential, value are prioritized for a prompt answer.
‌
Having segmented my customers by some measure of importance, after how many seconds in the queue does their Abandonment Rate start to materially increase?
‌

What is the impact of increased Abandonment Rate on our customers' satisfaction?

Compare higher abandonment groups to a control group
‌
Consider Your Contact Center
While you may be quick to set a lofty service level, keep in mind the people who might be working overtime to meet it: Your agents. Ask yourself:
Do I have enough agents in place to meet this service level?
What is a reasonable and humane workload for my contact center employees?
How will this service level impact work culture, productivity, and well-being?
Always remember the people behind the promise.
Consult the Certified Industry Standard SLAs
One other strategy to consider when putting together a service level agreement for your contact center: It is still always good practice to consult the industry standards, and ask other centers in a similar position to ask what service level they commit to.
For instance, you may consult the most recent standards laid out by the COPC to measure yourself against their benchmarks or gain insight into how others measure themselves. The most important thing is not to blindly create an SLA based solely on standards that the industry takes for granted. Your business — and your customers — isn't just a number.
As we've mentioned already, although industry standards are important, it's just as important to take into account how your business operates when setting a service level agreement……which brings nicely to the "80/20" industry service level…
Beware of Service Level Benchmarks
The 80/20 service level discussed above is the most universal metric to meet for the call center. This is the level that call center managers monitor and aim to meet. Failure to meet this agreed-upon expectation may mean a financial penalty; or the loss of that client's business.
This rule allegedly came out of an ancient AT&T study, which was conducted before many of the technology we use today in the contact center existed; IVRs, ACDs, virtual queues and recorded greetings. This makes it pretty inaccurate for the contemporary call center.
How you arrive at a service delivery level for your call center requires an extraordinary amount of research, data analysis, testing, and to some extent, experience and gut feeling. It's also important to remember not to view this metric in isolation from other—just as important—benchmarks for success in the contact center: Abandonment Rate and Average Speed to Answer, amongst others.
Meeting a service level is inextricably linked to the resources you have. It's not a one-size-fits-all standard. There is no true industry standard SLA — or at least there shouldn't be — because every business is different. Creating service levels that are reasonable and attainable, that align with both your's and your customers' priorities, is key to your contact center's success.
Meeting Your Call Center's SLA Targets
If there was a secret recipe to always meet your targets — whether your personal goals or your call center's SLA — life wouldn't be any fun. The truth is that each situation and each contact center is different, and so is every SLA; what's needed to satisfy them will accordingly be unique too.
There are, however, some general rules of thumb that you can follow to give you the best chance. Most of these should be satisfied before signing an SLA, but there are a few things you can do after the fact too
Measure Frequently and Publicly
As with most successful relationships, communication is key. The first step to this is choosing the right metrics to track to inform your decisions about the service level.
This includes the top-level figures mentioned in the SLA, and also other contributing metrics, which should be used as indicators of whether you're on track to meet your SLA targets.
Review each stakeholders' metrics routinely to monitor your progress towards the agreed targets, and make them publically available. This transparency creates accountability for both sides.
If a team isn't meeting their goals, it's important that this is communicated to the other parties involved in the agreement, so that their issues can either be addressed or their targets reassessed.
Use Technology to Meet Your Service Delivery Level Targets
One of the major differentiators between successful and unsuccessful contact centers is their use of technology.
The best call center managers know that there's a limit to what a human team can achieve. Luckily, we live in a time where automation is commonplace; and it's ideal for maintaining your service level numbers.
Whether that's by using a call-back solution to almost completely eliminate waiting times and abandonment rates, or implementing predictive modelling to anticipate call spikes, there are many ways you can use technology to put your team well ahead of its SLA commitments.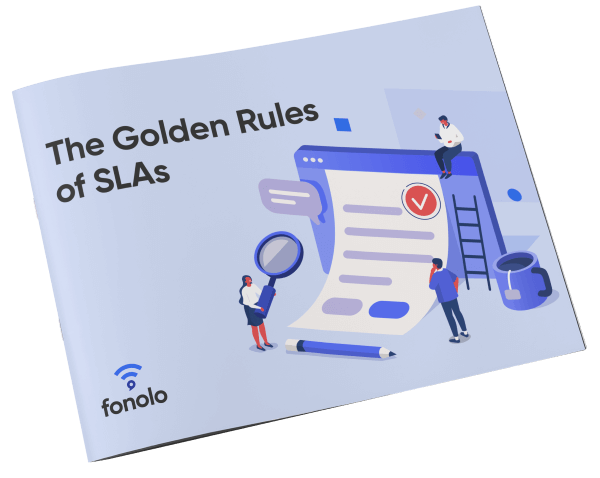 The Golden Rules of SLAs
If you're looking to quickly study up on SLAs, look no further. Download this free white paper to become an expert.