The buying experience often gets the most attention in customer service. Conversions are the name of the game for most businesses, so it would make sense that importance is placed on the process leading up to a purchase. For example, retail brands focus heavily on ensuring that sales associates help shoppers find the right sizes, greet guests warmly, create quick and easy checkout processes, and include thoughtful touches like water bottles in change rooms.
These are all important components of a great customer service experience, but so are the processes that take place after the fact. Indeed, the post-purchase experience can be just as important, if not more so, in securing customer loyalty. Customers want to feel that they are important even after they have handed over their money. So, how do you ensure you make your clients and customers feel valued after they've purchased something from your company? Here are a few strategies that can help.
Set Up Great Post-Purchase Policies and Processes
Just as there are policies and procedures set up for sales associates and live chat agents, there should be policies and processes set up to ensure a smooth post-purchase experience for customers.
Firstly, maintain communication with your customers after they have placed an order or made a purchase at your store. For digital brands, this might involve an e-mail pathway that confirms the transaction, sends a shipment notification, provides an estimated delivery date, and seeks feedback about the customer's level of satisfaction with both the service and/or the product.
Secondly, sales associates, call center agents, and live chat agents should know what to do when an order is delayed, or when a customer is dissatisfied or seeking an update on order status. If customer service agents are empowered with the tools to find answers and solve problems, customer satisfaction and retention will likely be improved.
Seek Feedback from Customers
Another important component of the post-purchase experience is the collection of feedback. Companies brands should reach out to customers after they have made a purchase to gauge how satisfied they were with the product or service they purchased. Not only does this help brands improve their own customer service, but posting reviews can help convert future customers as well. According to Invesp Consulting, it is five times more expensive to attract a new customer than to retain an existing one. So, pay attention to your existing customers and get their feedback to improve and refine your customer service skills and product offerings.
Seek Out Dissatisfied Customers to Provide Help
Nobody likes confrontation. However, ignoring dissatisfied customers is poor business practice. Brands should seek out customers who are complaining about their product or service on social media or in the reviews section of their website and then offer a resolution. For example, offering exchanges, returns, discounts, or even a simple 'Thank you for the feedback' can have a significant impact.
Additionally, it is helpful to have efficient ways for customers to reach a real person they can talk to about any concerns they may have post-purchase. This is where call centers with well trained agents and call-back technology are incredibly important. They ensure that customers can reach a real, live human without spending hours on hold.
Encourage Brand Loyalty
Finally, post-purchase is the best time for brands to start to work on customer retention, brand loyalty, and creating brand evangelists. Brands can do this by sharing special offers and incentives with their existing customers. For example, birthday gifts or discounts, early access to sales and new products, and loyalty or referral programs can all help ensure customer happiness.
Implementing policies and procedures, seeking feedback, helping out dissatisfied customers, and encouraging brand loyalty are all key components of creating a successful post-purchase strategy. With a strong focus on these strategies, you can set your brand apart and create a great community of happy (and repeat) customers.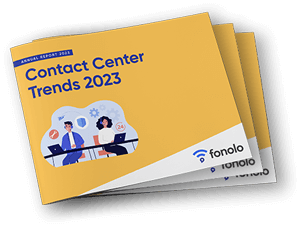 Trend Alert! Contact Center Industry Predictions for 2023
This report offers perspective on where the contact center industry stands today, plus our trend predictions for 2023.