With the powerful tool of social media, customers everywhere now have an expansive platform with which to voice their feelings about their customer service experiences. This puts a huge amount of pressure on call center agents to perform. Of course, companies hope that their customers use these social platforms to sing the praises of their brand. But, of course, this is not always the case: An IBM study found that customer service operations are often both pricey and inefficient. Companies spend $1 trillion on 265 billion customer service calls each year and 50% of the complaints were unresolved.
It's not a great track record.
That being said, as new technology emerges, customer service teams have the opportunity to use it and in turn become more efficient. Salesforce predicts that use of AI by customer service departments will increase by 143% in the next 18 months. Meanwhile, Zendesk has found that younger generations are keen to have more personalized customer support and believe that AI can help support these types of custom experiences.
Some brands are already way ahead of the game. Let's take a look at a few companies who are great examples of how to effectively use new technology to improve customer support. Each company takes a different approach; however, all are notable examples of the impact cutting edge technology can have on customer satisfaction.
Alexa, Call Audible
It seems that there's nothing Amazon's Alexa can't do these days! Well, you can now add a live customer service experience to the list. Amazon's e-book company, Audible, is leveraging Alexa's voice technology to create a seamless experience for customers looking for help with their accounts. All Audible customer's have to do is say: "Alexa, call Audible!" and they will be connected to an agent who can address issues with their account, troubleshoot any technical problems they might be having, or even offer up some book recommendations.
"At Audible, we are always looking to further personalize the listening experience on behalf of the millions of customers we serve," said Abhinav Mathur, Audible's senior vice president of Global Customer Care. "Enjoying Audible on Alexa has never been so easy and convenient, and we hope this innovation ushers in a new era of customer service," he adds.
Lenovo Teams Up With IBM
Lenovo and IBM prove that two is better than one by joining forces. The partnership harnesses the power of IBM's blockchain and AI to improve customer service for Lenovo consumers. IBM's virtual assistant will support call center agents by rapidly accessing customers' preferences and history as well as technical information to help resolve their complaints. In addition, field agents will have access to augmented reality tools to help them assist with machine repairs in real time.
Sephora And Whole Foods Get Chatty
Sephora and Whole Foods are two retail giants making use of chatbots to efficiently assist their customers. The Sephora chatbot uses messenger platform Kik, and aims to assess a potential customer's preferences in order to suggest products they might like. It can also provide product reviews, product information, and answer questions on make-up application techniques.
Whole Foods is also making use of chatbots to help users come up with great meal ideas. The bot can suggest recipes, of course, using ingredients sold at Whole Foods. Impressively, the bot is able to take into account dietary restrictions and allergies.
Lowe's Gets its Very Own Bot
Lowe's was lightyears ahead of the game, releasing their LoweBot all the way back in 2016. A 3D scanner is used by the bot to detect shoppers. AI helps the bots answer customer questions through voice technology or through the touch screen. Smart Lasers are then used to help guide customers to their desired product. All the while, the bot is scanning shelves to help keep track of inventory levels.
Plus: It never needs a coffee break.
These companies show that being on the cutting edge of customer service technology can certainly pay off. By making use of AI in a strategic manner, these brands allow their call center agents to focus on more complex customer service issues. This not only engages a customer service team in more interesting and stimulating work, but also helps make them more efficient. It's a win-win for customers and employees alike!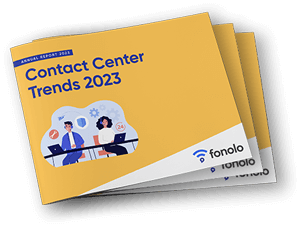 Trend Alert! Contact Center Industry Predictions for 2023
This report offers perspective on where the contact center industry stands today, plus our trend predictions for 2023.