A thoughtful human being on the other end of the line when you call for help.
An expertly-tied velvet bow adorning the top of a gift you purchased.
A hand-written note with charming keepsake tucked into a box containing your online purchase.
Empathy. Courtesy. Generosity. Humanity. Artfulness.
Whatever the customer service flourish we encounter on our journeys as consumers, we know when it works. At Fonolo, customer service is top of mind for every employee: Sun up, sundown. We see our customers offering humanity, agency, and choice to their own customers by offering them our patented Call-Backs, responsive widget, and Smart Portal. We see their hold times diminish by years, their customer satisfaction increase by multitudes, and their revenue climbing and climbing.
Like many other brands invested in a customer-first approach, they get it.
At this time around the holiday season, on the eve of a new year of possibility, we cast a long, studied glance over the year that was. This year, I turned the microphone on our own Fonolonians to articulate 2019 in terms of customer service. We're a group hyper-aware of when customer service works in other contexts. So, I asked: "What company, either local or online, was your favourite in terms of customer service in 2019? Who will truly innovate in 2020?"
Here's what they had to say.
Who: Anna Pavlenko, Fonolo's Senior Graphic Designer
Anna's Customer Service Pick: American Express
The Why: "I can think of one instance where I was recently surprised by American Express. I was about to report a fraudulent charge on my card (while chatting with the company, they auto-charged me without consent), and I had the complaint semi-completed. I closed the form as I resolved it with the company. But I got an email from them asking if everything was okay with that charge and if I wanted to continue. It was a pleasant and unexpected user experience on their end."
Who: Chris McLean, Fonolo's VP of Strategic Accounts
Chris' Customer Service Pick: Telus
The Why: "I woke up one Saturday morning and both my wife's and my Telus mobile phones had no reception. After doing the typical reboot and playing with different settings I decided to call their support desk. I surprisingly got through to a tech support agent fairly quickly, but they were not aware of any outage. They asked if they could research the issue further and call me back at another number. I reluctantly agreed, figuring I would never hear back.
Sure enough, an hour later I received a call letting me know that the source of the issue was located and my service should be back on within 30 minutes. To my surprise,e an hour later I received another call just checking to make sure that my service had been restored and I was satisfied with the service I had received.
It was refreshing to get both follow up calls when I honestly had little faith I would even get one. Great job Telus!"
Who: Daniela Puzzo, Fonolo's Vice President of Marketing
Daniela's Customer Service Pick: lululemon
The Why: "There are many options for athletic gear these days, one of my favorites being Fabletics, but from a customer service standpoint no one compares to lululemon. On several occasions, I brought back running/yoga pants that were several years old but no longer maintained their "new" quality appearance. Clothing will naturally wear over time, but lululemon is known for its superior quality so let's be clear, this wasn't because of lack of superiority if anything it was due to overuse. In any event, if the thread was coming loose, or the pants ripped, Lululemon would replace them, no questions asked, free of charge! They would give me any comparable running pant at no additional charge,  or worse case has their professional seamstress correct the pants for me.  It's this superior customer service that sets them apart from the rest and ultimately has me going back for more."
Who: Eva Temereva, Fonolo's Senior Web Developer
Eva's Customer Service Pick: Presence Family Care Pack from People Power
The Why: "They call it a "remote family connectivity product" that helps a family (or caregivers) to take care of their seniors if they live separately or when they are at home alone. It is based on all the "smart home" and "machine learning" technologies this company developed for many years and helps to detect the need for urgent help.
For example, it might detect if your grandma (or another senior in your family) forgot to take her medicine, didn't turn off the stove, or didn't close the refrigerator, the door, if she/they did not return from the walk at the usual time, fell down and not moving, woke up in the night and so on.
The 24-hours monitoring might include signals from different kinds of sensors like leak detectors, humidity and temperature control, medicine monitoring, bathroom activity, lighting, and motion sensors, and others. It can also be expanded by Amazon Alexa, Google Home, video cameras and other devices.
You can set up rules on who to alert in the different day time in case something unusual happens, or who to call if the default caregiver did not respond. It also provides a system of smart reminders for the whole family to call or check upon their loved ones at a certain time, like "It's your turn to call Grandma today" , or "Dan didn't find time to talk to dad today, maybe you could do it?", or "Order mom's medicine today."
Who: Ben Ringshall, Fonolo' Digital Content Manager
Ben's Customer Service Pick: Apple
The Why: "My girlfriend had a really good experience with Apple very recently. She bought a refurbished Macbook Air, but when it came the battery was fucked, along with some other stuff in the firmware; We weren't sure what but it wouldn't stay turned on and was very slow.
She called up Apple and they initially connected to her to a sales or something, and she didn't really get the answer she wanted – they said something about needing to post it back to them etc. So, she calls them back and gets the same agent she spoke to earlier. He's like, 'Woah, that never happens', totally agrees she shouldn't have to post it back and books her in at the store.
After running some tests in the store, they agreed it was kaput and offered her a discount on a brand new one that would make it the same price, but with a slightly smaller hard drive. She agrees.
Here's the best bit: When the customer agent calls her up the next day for a follow-up and finds out she had to trade for a smaller hard drive, he sends her a 4Terabyte physical hard drive to make up for it. Retail of that is at least $150."
Who: James Dantow, Fonolo's Solutions Engineer
James' Customer Service Pick: Dalstrong
The Why: "I always have a really enjoyable experience interacting with Dalstrong. Not only do they make great products, but they contribute to the cooking industry with training videos and recipes. In a time where good service is hard to come by, it's clear that Dalstrong prioritizes their customers' satisfaction.
They make high-end chefs knives and tools. They are family owned and ran, and add a personal touch to their customer interactions."
Who: Michael Roberts, Fonolo's Strategic Account Rep for Gotham City (He made us put that in!)
Michael's Customer Service Pick: Uber Eats
The Why: "Anytime there is a mix up with my order they are quick to make it right.  They make it easy to submit a support ticket and the response time is always very fast.  I have never been disappointed by the customer service I receive from UberEats."
We at Fonolo hope you had a year filled with positive, memorable, and even domain-shifting customer service experiences. As we know more than anyone else, offering your customers positivity, choice, agency, and the ability to interact with you on their terms in the customer service vein is key to brand loyalty and successes in years to come.
From us to you, have a happy holiday season and a prosperous new year.
May your 2020 be as exciting as ours is going to be! #staytuned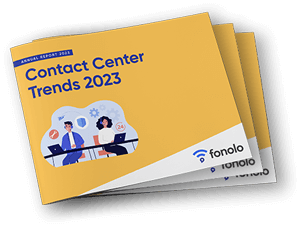 Trend Alert! Contact Center Industry Predictions for 2023
This report offers perspective on where the contact center industry stands today, plus our trend predictions for 2023.