Which customer service blog posts helped to shape the last decade for you? 
When we look back at the customer support industry in 2010, we see a very different beast to the one we work in today.
Not only has technology changed the way we interact with customers, but it's also massively changed the way we communicate with our peers within the industry. There are more customer experience management blogs and articles than ever before — not to mention the growing libraries of video and interactive content.
We've all come a long way since 2010, but we couldn't have done it without some of the most prolific influencers to ever lay hands on a keyboard. 
Here, we cover the 20 best customer service blogs and influencers to follow in 2020. You'll recognize many of these names, and we encourage you to check out those that you haven't come across yet; you won't be disappointed. And as always: This list appears in no particular order. 
Most of you will not be surprised to find Shep Hyken at the top of this list. When it comes to customer service and experience content, Shep is the Godfather. 
He is a New York Times and Wall Street Journal, bestselling author. And his blog is filled with great customer service insights, tips to improve customer satisfaction, and guides to help you create a customer service culture in your business. 
Whether you're looking for a quick round-up of industry news, or an in-depth program to turn your company culture around, you can probably find it on Shep's blog. We specifically like his wrap-up of customer service blog posts that he curates from a variety of resources and publishes weekly.
Top Pick: 20 ways to create an amazing customer service experience in 2020

Despite being relatively new to the industry, Helpscout has quickly become a reliable resource for customer experience professionals. As a help-desk software solution, they cover a variety of topics, including growth, marketing, culture, and product management, all themed around improving the customer experience.
Their blog is written by a variety of contributors and boasts over 250,000 subscribers, which makes it a great way to connect with the wider customer support community. 
They've labelled their blogs clearly, so you can easily find the article that suits your needs. And their mix of fun, quirky illustrations with a great UX, detailed information, and relevant case-studies make it one of our go-to resources.
Top Pick: Creating a winning customer-centric marketing strategy
Bliss is a fitting last name for the Founder and CEO of CustomerBliss, which focuses on improving the lives of customers in any industry. Jeanne has been helping companies create deeper relationships with their customers for over 35 years. She has worked Microsoft, Allstate, and Lands' End, pioneering the role of the "Chief Customer Officer". 
Her understanding of how to enrich customer loyalty and improve company leadership to propel growth has made her a celebrated keynote speaker. She's also an author and a podcaster (you can check out the Human Duct Tape Show). 
If Shep Hyken is the Godfather of customer service, Jeanne Bliss is the Godmother of Customer Experience. Her blog is a must-read for those keen on leadership in customer service, customer listening, and engagement.
Top Pick: 7 tips and resources for Chief Customer Officers and C-Suite Customer Experience Leaders
When it comes to call center blog sites, CustomerThink has it all. It's a global online community of business leaders with a customer-centric approach. 
They host a broad array of writers from across the customer care space, with a focus on improving the customer experience, increasing customer engagement, customer-first leadership and technology.
With more than 100,000 visitors a month from over 200 countries around the world, CustomerThink is a hub of resources for the customer support professional. It's one of our favorite places to learn about every facet of consumer-first business management.
Top Pick: Promoting a digital-first mentality throughout the contact center
Peter Lavers is a customer experience blogger and CRM expert, and one of the world's top influencers in customer experience management. 
He has spent half his career at the top end of customer management for businesses like OgilvyOneWorlwide and he now directs WCL's customer management department.
He publishes regularly on other domains besides thinkcx.co.uk, so we'd recommend following Peter on Twitter or Linkedin.
Top Pick: Trust is not a binary on/off switch
Roy is one of the top influencers in the customer service and support industry and his research, whitepapers, customer experience blogs, and keynotes have garnered him an international reputation. 
He's been featured in The Economist, Computerworld, BizTech Magazine, alongside many others, where he focuses on exploring the connection between customer services and technology. He was also the winner of HDI's Lifetime Achievement Award 
He's pretty active on his Twitter, if you fancy engaging in a useful and interesting debate with him and his community, and you can catch him featured regularly on thinkhdi.com's SPO podcast and blog.
Top Pick: Knowledge management and missed opportunity
Flavio Martins is the VP of Operations and Customer Support at DigiCert INC. He's a Huffington Post top 100 customer service professional with over 15 years of experience in the industry. His customer support blog has long been one of our favourites.
On his personal blog — named after his book 'Win the Customer: 70 Simple Rules for Sensational Service' — he explores his passion for technology, customer relations, and customer loyalty.
His powerful techniques are designed to be used to distinguish your business from the competition by providing customers with something truly special. And you can ask him about it anytime you like through his Twitter profile.
Top Pick: Customer self-service and the role of cloud contact centers
Annette is founder and Chief Experience Officer of CX Journey Inc. With over 25 years experience helping companies better understand their customers and employees, she wrote the book on Customer Understanding, quite literally. 
Business Insider recently named her as one of the Top 100 Most Influential Women on Twitter (you can follow her here). We'd add that she's one of the most influential women in the customer service game too.
The CX Journey blog is mostly written by Annette herself, with some guest writers, and is a must-read for anyone in the customer experience space. Its' main focus is helping business leaders to create exceptional customer experiences. 
Top Pick: Customer service happens when the experience breaks down
Blake Morgan is the author of two books on customer experience and a senior contributor to Forbes. A self-described 'customer experience futurist', Blake's clients include Intel, Comcast, Accor Hotels, Verizon, Adobe, and host of The Modern Customer podcast, among many other things.  
We'd recommend signing up for her weekly Customer Experience Round-Up, available on her website. This is a great summary of the latest customer experience industry news, seasoned with some of Blake's valuable insight.
Top Pick: Customer Experience Round-Up: Jan 6
Bill Quiseng is an award-winning speaker, influential thought leader, and celebrated blogger in the customer service and experience management space.
With 30+ years of luxury resort management under his belt, Bill's practical experience and the knowledge has won him many accolades as a blogger and social media influencer.
Quiseng's blog features content from leading professionals in the industry, making it easy to review material from the most insightful, innovative thinkers in the business. You can follow him on Twitter here.
Top Pick: Two questions every customer service manager should be asking every day
Jeannie Walters is the Chief Customer Experience Investigator and founder of 360Connext, a global consulting firm specializing in the customer experience. 
She's worked with some of the world's largest brands. And she was recently named as one of the Top 5 Women Customer Experience Influencers. She's definitely, "a CX influencer you should know". 
You're guaranteed to find excellent content on the Experience Investigators blog. Here, Jeannie gives her thoughts on the latest industry news, strategies and tactics to improve your customer journey, and round-ups of the conferences and events she attends. 
We'd also recommend checking out her podcast and Twitter profile.
Top Pick: 5 ways to instill customer-focused values throughout your organization
Despite her unorthodox beginnings, Marsha is a very well-known customer service consultant. She's the author of the "Ultimate Online Customer Service Guide" and over 40 books in the "for Dummies" series on best practices for eBay, Twitter, Facebook and social media. 
Her personal blog is a great read and covers anything from technology to social media, entrepreneurship, customer relations, and everything in between. 
We'd also recommend joining her huge following on Twitter, where she regularly engages in live discussions on topics like, "Customer service failure: What went wrong, why, and how to learn from it."
Top Pick: Creating connections with customers through the marketing experience matrix
If you haven't come across Forrester before, it's a market research giant and one of the most influential research firms in the world. Its 'Customer Experience Professionals' blog is written by professional analysts and gives actionable advice for customer experience managers and consultants at every level. 
Many of the posts are backed by Forrester's own proprietary research and are typically written by a thought-leader in the topic they're covering. 
This blog is tailored towards managers and executives and offers realistic advice on practical problems that arise in and around the boardroom.
Top Pick: The one-sentence business case for customer experience
Kate Nasser — also known as 'The People Skills Coach' — has been helping Fortune 500 leaders become more dynamic and inspirational for the past 25+ years. 
She was named as one of Huffington Posts' Top Customer Service Pros and long-running host of the weekly 'Global People Skills Chat (#peopleskillschat).
As a 'soft-skills' and people specialist, Kate focuses her content on how to create high-performing teams and exceptional customer experiences. Her focus is on the human side of customer care. 
We'd recommend getting involved in the #peopleskillschat on Twitter every Sunday at 10 AM EST.
Top Pick: Great employee attitude is essential, not negotiable
Nicereply is a nifty little feedback gathering software with a fun, interesting, and beautifully-designed blog. They're used by some huge companies, so you've probably come across their NPS & Customer Satisfaction scoring tools in an email footer or app recently. 
Their blog focuses on several topics including start-up culture, sales, and marketing, but they really excel in their posts on customer support, success, and CX. 
Their light, friendly tone, mixed with great content, makes this one of our favorite blogs to check in on.
Top Pick: Actually, customer support IS a cost-center …
bold360 is an AI-powered customer messaging platform that uses Natural Language Processing to help agents handle routine queries and tasks, and talk to your customers where they want to engage.
Their blog is a wealth of information about customer care and the customer journey. And if you're interested in finding more about the real-world applications of AI, tune into the AI: In Real Life podcast.
Top Pick: 4 important customer service statistics you need to know
ForeSee creates software that allows businesses to measure and improve the outcomes of their customer journey. They're the driving force behind more than 2,000 of the world's brands, including more than 50% of the Fortune 500 and 90% of US Government Executive Branch Departments.
Their blog, which is updated regularly, aims to educate the customer service community on the latest trends in CX. They also champion the use of Voice of the Customer programs to improve efficiency and grow revenue. 
They also cover real-life examples of how their customers use th e software and analytics to improve their business results.
Top Pick: See the Future of CX: How to listen, interpret, monitor, and act like a leader
Desk is Salesforce's support software solution, built to handle multi-channel, mobile, case management and productivity. Thanks to Salesforce's huge resources and detailed research, the desk.com blog is one of our go-to resources for market and consumer research and reports. 
Their blog talks about support strategies from customers, partners and expert bloggers, as well as some of their latest research into consumer behaviour.
Top Pick: How to differentiate customer success from customer support
If you've ever been a part of a customer support team, you've probably heard of Zendesk. Their products are designed to facilitate customer interactions across multiple platforms and make the lives of CX agents easier.
As you might hope from an industry leader, Zendesk's blog aims has some great writing and research about customer service management.
Top Pick: 6 steps to build your service recovery program
Finally, we have Playvox. Their software is designed to empower agents,  customer support team leaders, analysts and managers with real-time intelligence to delight their customers and drive incremental revenue. 
And their blog reflects that aim very well too. Not only is it visually very pleasing, it's bursting with articles on useful topics like customer retention, agent management, and how quality assurance is integral to customer experience.
Top Pick:  Quality assurance guidelines for call center managers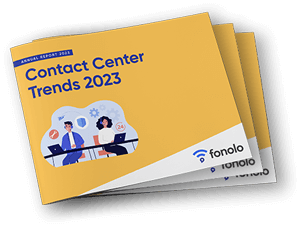 Trend Alert! Contact Center Industry Predictions for 2023
This report offers perspective on where the contact center industry stands today, plus our trend predictions for 2023.