Depending on which news outlets you follow, you may be under the impression that traditional brick-and-mortar contact centers won't survive the pandemic.
Undoubtedly, the contact center as we know it will change. But there are far too many sunken costs and entrenched values to make such a sudden change.
A lot has changed in the past few months but there should be no question that contact centers will return to their physical offices in some shape or form once the pandemic abates.
A lot has changed in the past few months but there should be no question that contact centers will return to their physical offices in some shape or form once the pandemic abates. #cctr #strategy Click To Tweet
What will contact centers look like after coronavirus?
This is still very much open-ended. The truth is, it's largely up to contact center leadership to decide what that transition will look like.
Here are some key things to keep in mind when planning your transition back to the contact center:
Best Practices for Returning to the Office After Coronavirus
Put safety first
Take things slowly
Plan for further change
Putting Safety First
When planning your transition back to the contact center, safety must come first. The first question you should ask yourself when forming any part of your post-pandemic strategy is, "How does this affect the well-being of our team?"
If the answer isn't positive, you're going to need some pretty strong justification for your decision, as well as measures to mitigate that increased risk.
Decide Who Needs to Return
The first step in deciding your post-pandemic transition strategy is to determine which employees need to return. It's better to take your transition slowly and complete it, than rush the process and face another potential outbreak.
Consider separating your teams into at least three 'waves of necessity'. If there isn't a real business need to bring a team back, put them in the final 'wave', or perhaps leave them remote.
If there is a need, how urgent is that need? The least urgent should be in the final wave and the most urgent in the first wave, with at least two weeks between each wave returning.
In order to make sure you do it right, it may be worth seeking the advice of a health and safety consultant at this point.
Determine Your Ability to Meet Demand Throughout Transition
One important aspect to consider is whether your transition is likely to impact your ability to handle customer demand. How equipped are you to cope if something goes wrong during the transition?
On top of your own transition, have you thought about whether your customers' own transition will cause a change in demand for your services?
Decide Additional Safety Measures
To reopen your office, you're going to have to put additional safety measures in place. Here are some you should consider when returning to the workplace:
1. Additional cleaning
Regardless of the size of your business — additional cleaning should be part of your post-pandemic protocol.
Common spaces such as washrooms, elevators, meeting rooms, and the canteen should be disinfected more frequently. And don't forget to instruct your cleaning crew to pay special attention to door handles.
2. Restricting the use of shared equipment
If your call center typically runs shifts with multiple agents using the same equipment, you need to change up your processes.
Assign agents to one station and restrict them from using other stations. If your shifts require at least two people to use a station per day, consider keeping one team remote, or introduce strict cleaning between shifts.
3. Rules for social distancing
Along with restricting the use of shared equipment, implementing social distancing protocols will help reduce the risk of an outbreak during your transition back to the call center. This should address behaviour in common spaces and corridors as well as your main contact office floor and workstations.
It would also be wise to reduce shift numbers so that agents don't have to sit in workstations directly next to each other.
One interesting way of doing this we've seen is by splitting employees into weekly shifts, with one team remote and one team in the office. The teams swap locations every week — with a thorough office clean in between.
4. Guidelines for Personal Protection Equipment and Contact Tracking
One way to help reduce the chances of transmission may be to introduce protocols around the use of PPE, such as masks and gloves.
Although it may be difficult to implement masks in a call center, wearing plastic gloves and disposing of them regularly may be one way to reduce risk.
Tip: Gloves have little effect if not used properly. Make sure you educate staff on how to wear gloves correctly if you are requiring their use.
Some contact centers are looking at introducing employee tracking, in order to trace anyone who may have been exposed if a case of coronavirus is discovered in the workplace. This is an expensive undertaking but will allow you to quickly isolate any cases and minimize the spread early.
5. Guidelines for visitors, clients, and contractors
Don't forget to create guidelines for visitors to your facility, whether civilian or contractor. It's probably best to avoid additional exposure as much as possible, so restrict visitations to essential visits only.
Ensure you have procedures in place to protect essential visitors. This could include making hand-sanitizer available, social distancing signage, rules around the use of PPE, and restrictions on travel.
What happens if there's an outbreak during your transition?
This may be one of the most important considerations you should make when devising your plan. Management must be prepared to respond quickly and effectively in the event of a case — or even an outbreak — during your transition. Remember, the safety of your employees should be your number one priority, so ensure you have a crisis plan in place!
Decide Changes in HR and Personnel Policy
You will need to make some policy changes for both the short and long term. The extent of these changes will be largely up to you — this totally new ground — although we may see government legislation at a later date.
In the meantime, here are the top areas to consider:
1. Preparations for the high-risk
Think about how transitioning back to the workplace will impact those members of your staff who are at high risk of contracting severe coronavirus. This may mean allowing high-risk employees to continue working remotely indefinitely.
We would advise also making preparations for employees who are not medically high-risk but still refuse to return to the office on safety grounds. This is a topic that many are watching closely — we'd advise you to do the same.
2. Arrangements for parents
It's likely that businesses will not open en masse and this will impact your employees in various ways. The most important of these to remember is probably that if schools and daycare centers have not reopened when you have, you will need to make provisions for the parents on your team.
3. Benefits to reflect remote working
If some of your agents will be staying remote for the long-term, you'll want to make some changes to your HR policy and benefits to reflect that.
Did you know? After-hours productivity increased by at least 20% YOY across all industries since people have started working from home.
This may include internet or tel-com charges as part of your expenses or benefits allowances, as well as equipment, or even home-office furniture stipends.
4. Changes to health and life insurance benefits
If you haven't already, it's probably a good idea to talk to your insurance provider about how you and your team are covered in the event of another coronavirus outbreak. For the longer term, it may also be a good idea to look at how you can add additional coverage for your employees.
5. Changes to your travel policy
In the short-term, you should seriously consider asking your employees to restrict their travel until we are well and truly in the clear. This is a tough ask but in the current situation, your staff should be understanding.
Determining Changes in Technology
Once you've got a better picture of how you're going to transition back to the contact center, you'll be able to identify if you have any pressing technological needs.
The transition to remote work has forced many technological adaptations. Is it possible that it'll be equally burdensome to return to the office? Can you make any investments now that will help you to better manage your move back to the office?
Create a Post-Pandemic Strategy for Your Call Center
If you're looking at the return to the call center floor as something similar to returning to work after a vacation, you're going to find yourself seriously underprepared.
For your call center to hit the ground running — and possibly even grow out of the crisis — you need a plan. Your transition back to the office should be part of a broader post-pandemic strategy that sets you up for success in the event of a number of eventualities.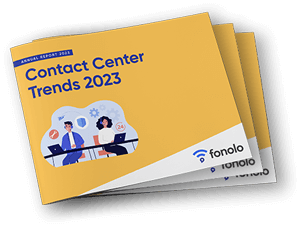 Trend Alert! Contact Center Industry Predictions for 2023
This report offers perspective on where the contact center industry stands today, plus our trend predictions for 2023.