As part of our State of the Contact Center Industry Report, we asked industry leaders and influencers what surprised them the most about the pandemic.
We were surprised at the similarities between each of their responses. The pandemic has forced a rapid change in an industry that has been long dragging its feet.
Here's how COVID-19 impacted contact centers — and the CX industry as a whole — as told by the experts:
Read the Full Report, FREE:
Contact centers pivoted practically overnight…
"What has been most surprising has been how quickly contact centers have managed to pivot toward a more virtualized delivery model in a short period. My view is that the home-working model has been latently gaining steam over the past few years, but the pandemic has thrust it into the limelight. That so many CX professionals have been able to incorporate this approach into their operations is impressive, to say the least."
"When looking back at it, we only had about ten days to get all the hundreds of our call center associates home. The speed that we had to operate to stay viable was pretty surprising. I was also surprised by how many call centers were unprepared for the move to work from home. I don't want to make light of a difficult situation, but for all the managers and executives that for years pushed back on moving to the cloud, found themselves in a really tough place."
Whether they were prepared for it or not…
"Organizations had planned on years of eventual transformation to become more customer-centric but were able to dedicate resources to do so in months or even weeks. Once the need was pronounced, brands could meet customers' needs and saw the impact immediately. Creating digital ordering, delivering hybrid experiences, and revamping their organizational charts suddenly weren't obstacles; they were opportunities to serve customers better."
"COVID-19 brought about a "perfect storm"—a surge in service requests coupled with a shift to a remote workforce—that forced businesses to rethink their entire approach to their contact centers. What surprised me most is how quickly they responded. Contact centers that have been hesitating on technology upgrades for years transformed their operations in a matter of weeks because it was a matter of survival. COVID-19 was a wakeup call for organizations that had been pushing back upgrades to their contact center technology."
Those that were prepared, thrived…
"The pandemic forced many customer service organizations to handle an exponential increase in call volumes while doing so across a distributed base of agents. Companies who had invested in migrating to more flexible applications — and who had the foresight to deploy technology that enabled them to process large call spikes — thrived. And those who did not found themselves scrambling or unable to provide the level of support to meet their customer's expectations."
We saw rapid innovation across the board…
"We've all heard the saying, 'Necessity is the mother of invention,' but it's also at the heart of innovation and ingenuity. We've seen virtual service and self-service technologies quickly implemented due to limited in-person service options. Many companies have optimized case routing, service calls, and can now handle common service calls through virtual methods. These significantly reduce customer service costs and improve time to resolution, leading to better customer experiences."
But some things haven't changed…
"Consumers' buying habits have changed almost overnight, forcing companies to pivot to new ways of doing business, like working remotely, offering delivery, adopting new technology, and finding new ways to offer customer support. But some things haven't changed: customers are still doing business with companies even if the way they do business has changed. If they have a problem or a question, they still want the solution as quickly as possible, and in the way they want it."
— Shep Hyken, CS & CX Expert, Keynote Speaker, and NYT Bestselling Author at hyken.com
How Has COVID Changed the Contact Center?
We'll be diving into the future of contact centers and the path ahead for the CX industry in much more detail over the coming weeks, as part of our comprehensive Contact Center Trends 2021 Industry Report.
We don't want to reveal all the juicy bits just yet. However, we repeatedly heard one theme that we want to share: the COVID crisis has created a more 'human' and 'empathetic' contact center for both employees and customers. And long may it continue!
"I believe COVID will have a human empathic impact on the CX industry and contact centers. As people who have been touched or have known personally someone affected by COVID. Support matters may be looked at more sincerely and authentically with a true "Walk in the customer shoes" mentality."
"Two things stood out to me. The first is how many CX professionals got laid off at the outset of the pandemic — and then how quickly they were hired elsewhere! Suddenly, customer insights became the golden ticket! The second is the realization by so many businesses that change is possible!
The hope is that the following are lasting: (1) the employee experience will be top of mind for CEOs and executives; (2) customer insights remain the most-sought-after information by the C-suite, which means that customers are also top of mind; and (3) change remains a real possibility, i.e., stop fighting change because you can; it's possible, and it's more often than not necessary for survival."
"The COVID-19 global pandemic has challenged contact centers in ways that other crises have not. Contact center agents had to up their listening and their empathy beyond what they had ever faced before. I predict that all the leaders, managers, team leaders, and agents will look back and realize how much they grew from the empathy and compassion they gave and how it helped their customers — their fellow human beings."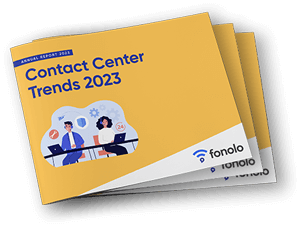 Trend Alert! Contact Center Industry Predictions for 2023
This report offers perspective on where the contact center industry stands today, plus our trend predictions for 2023.