Reducing call center shrinkage sounds like a no-brainer. If you schedule enough staff, give them the tools to do their job, and ensure they stick to a schedule, your problem is solved, right? Not so fast. For starters, everyone knows call center agents work very hard — but no one can be at their desk 24/7.
At any given moment, your scheduled staff may be attending a meeting, taking a break, or arriving late because their kid missed the bus and they had to drive them to school. Life happens. And a certain amount of shrinkage is baked in the cake for every business. But when shrinkage levels get too high, it's a problem you'll need to address.
DID YOU KNOW?
A shrinkage rate of 30-35% is considered to be acceptable in the contact center industry, and you should plan your staffing with this number in mind.
Why Does Shrinkage Matter?
When shrinkage starts to creep up, it can create a domino effect that has a negative impact on your call center operations. If too few staff are answering phones and helping customers, the agents who are at their desks are affected.  Stress levels go up and KPIs like First Call Resolution and Average Handle Time are impacted. When agents can't do their best work, the customer experience suffers.
If you've staffed appropriately but shrinkage is still a problem, these tips can help turn your ship around.
6 Ways to Reduce Call Center Shrinkage
1. Measure Your Shrinkage
First up, you need to calculate your shrinkage rate to confirm whether your numbers are indeed too high. To calculate shrinkage in hours, you'll need two figures:
the number of hours employees are scheduled to work in a week and;
the number of hours they spend away from their desk, for any reason, during that time.
Divide the time an employee spends doing other tasks by the total hours they were scheduled to work, and you've got your shrinkage rate.
Let's say a part-time agent is scheduled for 20 hours in a week, and spends 4 hours doing other tasks: the shrinkage rate for that person is 4/20 or 20%. (Not bad.) Look at these numbers in weekly, monthly or annual blocks to spot larger or seasonal trends.
2. Track Schedule Adherence
Schedule adherence is an area where your workforce management (WFM) tools can be very helpful. You can track adherence in real-time, cross reference against other employees' behavior, and gain a deeper understanding of factors affecting schedule adherence such as meetings running overtime or inadequate break scheduling. Share your data transparently with staff so they can be aware of their own performance—especially the pain points—and work together towards correcting them.
3. Address Absenteeism
Unplanned absences are part of your shrinkage metric. This includes agents taking unexplained leave or extended breaks, and overusing sick leave or personal days. Absenteeism can be caused by issues like work stress, employee burnout, or repeated scheduling issues. To reduce absenteeism, start with great communication. Don't ignore unauthorized leave and be sure to discuss it with your agents immediately. This can help you address problems quickly and also identify any larger issues that may be bubbling up.  Make sure your absenteeism policy is up-to-date, and discuss it with your agents. Working to improve your workplace culture can help, too: more on that below.
4. Engage Agents and Offer Incentives
Agent engagement makes employees happy, and that's great. But it becomes very powerful when helps agents feel involved in their company, committed to their work and enthusiastic about their role in your call center. It affects shrinkage, too. Engaged agents are more likely to be open to conversations about schedule adherence and less likely to make a habit of unplanned absences.  That's why it's important to prioritize agent morale by offering real incentives such as flexible work scheduling, health benefits, appropriate training and the opportunity for career advancement.  
Short-term incentives can help, too. Everyone loves winning something and call center games are a tried-and-true way of nurturing agent engagement. But if you're offering rewards as an incentive, be sure that they are meaningful. You could also consider letting agents choose from a selection of gifts. Some ideas include:
Professional sports tickets
A spa day
The latest mobile device
Gaming systems
5. Create Excellent Work Culture
Offering a competitive salary and creating a supportive, healthy workplace that people enjoy being in goes a long way to incentivizing behavior. We've already discussed the merits of offering employees a health benefits package and flexible scheduling. You can also work to improve the physical workplace with upgrades like improved lighting, ergonomic chairs, and a comfortable break room.
DID YOU KNOW?:
60% of contact center agents say their companies have not given them the right tech to address CX challenges.
6. Support Agents with the Right Software
If agents have the tools they need to succeed, your KPIs will improve, and so will your shrinkage rate. It's a simple as that. With the right technology in place, your call center can operate more efficiently, scale more easily, increase productivity, and deliver memorable customer experiences. Full-service CCaaS or Call Center as a Service software includes a suite of tools to improve CX and agent engagement. And specialized software like Fonolo Voice Call-Backs and Web Call-Backs (formerly Visual IVR) are two great tools that improve agent morale and CX by helping agents deal with call spikes and offering customers the opportunity to schedule a call-back at a convenient time.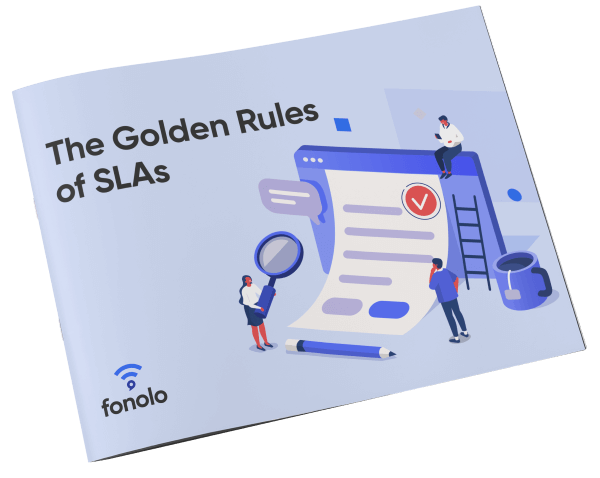 The Golden Rules of SLAs
If you're looking to quickly study up on SLAs, look no further. Download this free white paper to become an expert.