Improving customer experience yields a positive impact on your bottom line. That is a core part of every presentation I make to prospective users of Fonolo. To bolster that case, I am always on the look-out for data that helps to put some numbers to that impact. See, for example, my post from "Providing a pleasant calling experience helps your bottom line".
The folks at RightNow just released their fifth annual Customer Experience Report, and it does not disappoint.
Nearly all consumers (85 percent) said they would be willing to pay more over the standard price of a good or service to ensure a superior customer experience.
Nearly all consumers (82 percent) have stopped doing business with an organization as a result of negative experience and most (75 percent) do not return
55 percent of consumers became customers of a company based on its reputation for great customer service, and 40 percent of consumers have switched to a competitive brand simply because of its reputation for exceptional service
Thanks guys!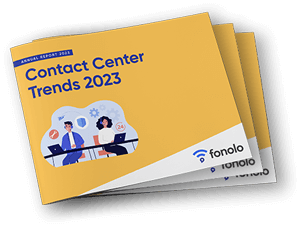 Trend Alert! Contact Center Industry Predictions for 2023
This report offers perspective on where the contact center industry stands today, plus our trend predictions for 2023.