I am always keeping an eye out for data that helps bolster the case that improving the customer experience yields a positive impact on your bottom line. That is a core part of every presentation I make to prospective users of Fonolo. See, for example, my post "Providing a pleasant calling experience helps your bottom line".
The recent Customer Experience Report explains why small decreases in customers satisfaction can have a bigger impact than you'd expect:
Customer service is still the number one reason consumers recommend an organization, more than products or price" and "Word of mouth is the number one influence on consumers' purchasing decisions (76 percent), followed by customer reviews and online feedback at 49 percent.
Give them what they want!
You can meet the expectation of these demanding consumers without breaking the bank and without changing anything in your call center. Fonolo can add intelligent calling to your website or mobile app with minimal effort.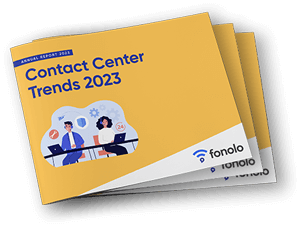 Trend Alert! Contact Center Industry Predictions for 2023
This report offers perspective on where the contact center industry stands today, plus our trend predictions for 2023.