A recent study found that:
… at least once a week, 33% of active Twitter users share opinions about companies or products, while 32% make recommendations and 30% ask for them.
The April 2010 study by ROI Research was commissioned by Performics and is available here.
The good and bad
Twitter allows awareness of your customer service quality to propagate quickly through a community or the public at large. On the plus side, the benefits of providing good service can be felt more quickly and more strongly. On the downside, stories of bad service propagate even more quickly.
Don't give people an easy target for complaints
Make sure you fill the social media echo chamber with good echoes, not bad. Step 1: Don't give people an easy target for complaints!  Two such easy targets are bad phone menus and long hold times. The good news is they are easy to fix. Fonolo's visual navigation and virtual queuing services can turn those bad echoes into good echoes with no changes to your call center and minimal expense.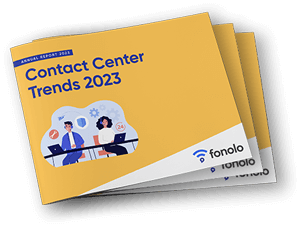 Trend Alert! Contact Center Industry Predictions for 2023
This report offers perspective on where the contact center industry stands today, plus our trend predictions for 2023.