The telephone is the most popular method for customer support. According to Forrester Research, 69% of US consumers still use the phone for customer service.
In an era of instant gratification, service expectations are much higher which makes customers tougher to please. Megan Burns of Forrester Research states, "They're accustomed to more options, greater control, and a worldwide platform to tell others what they think about the way brands treat them." Not surprisingly, only 37% of brands were rated good or excellent in The Customer Experience Index 2012.
Calling any contact center is a customer nightmare, so let's examine three of the biggest culprits and what you can do about them.
1. Phone Menu Hell
The issue with phone menus, aka IVRs (interactive voice response), is that people hate talking to an automated system. Callers want to speak to an agent, not an annoying phone menu. Lengthy prompts are hard to follow, let alone navigate.
A poorly designed phone menu can drive customers to be:
1. Extremely hostile by the time they reach an agent
2. Frustrated enough to zero-out (repeatedly pressing '0′), hoping to connect to anyone
3. Irate to the point of hanging up, then flocking to social media to publicly complain
This is a lose-lose scenario for both the customer and the company. IVR Menu Tips is a great source for those of you seeking advice and best practices.
2. Hold Times
American consumers have wasted over 60 million precious hours waiting on hold. The average American's lifespan is approximately 683,806 hrs (78 years old) – that's 88 lives lived and lost!
Are hold times a killer to our most precious commodity – time? Yes. Are consumers ticked off about that? You bet. It's human nature to want to get things off our chest. Social media channels are swarming with angry consumers venting their displeasure.
So just how big is this problem?
OnHoldWith is a Twitter-based website that tracks and reports real-time complaints about waiting on hold. Consumers will bond with one another while venting.
Curious to see how many people are complaining? Check it out.
Below is a screenshot of a few tweets pulled from the feed. Consumers have nothing to fear and are very vocal about sharing and tagging the company they're on hold with and the length of time they've been waiting. This information will NEVER be deleted. It forever lives on in cyberspace. I think it's safe to assume that this could have a negative impact on a company's reputation.
Tweets Complaining About Hold Times – OnHoldWith.com
Which companies are the biggest offenders?
Below is a graph from #Onholdwith which ranks companies by the number of complaints received.
Most Hold Time Complaints By Company – OnHoldWith.com
3. Repeating Information
According to a 2009 UK Survey Conducted by YouGov, 69% of respondents said they were frustrated when asked to repeat information after being transferred to another agent.
Blame company silos as the culprit for this aggravation. Because call centers neglect to integrate all of their systems, a complete customer view is not available to agents.
Customers couldn't care less about call center infrastructure. They want fast and efficient service. In fact, 76% of adults surveyed said that it only takes one unpleasant contact center experience for them to
take their business elsewhere.
SOLUTIONS: WHAT ARE YOU GOING DO ABOUT IT?
In an effort to help companies stay clear of social media suicide stemming from long hold times, we've outlined a few solutions to consider.
Better Phone Menu Design
Take a hard look at your phone menu/IVR and limit the options. This will make life easier for your customers – less to remember and saves time.
Bulk Up Your Agents
No, we're not talking about exercise tactics, although, you should exercise having ample agents scheduled. Cost-cutting measures should not be put in place at the expense of lost customers. Assign down-time tasks to improve productivity when agents aren't busy.
360 View of the Customer
Integrate your CRM and telephony systems so customer information is shared across your organization. This will prevent the frustration a customer feels from having to repeat account information.
SKIP THE HOLD TIMES AND PHONE MENUS
If you could eliminate the painful hold time experience your customers are subjected to, would you? The solution is quite simple. Provide customers with a
call-back service
.
How does it work?
Your customers are online and on their smartphone. Provide them with an electronic version of your phone menu that is accessible through these channels. They can visually navigate your phone menu ensuring they get to the right department. Once they 'place the call', virtual queuing is initiated and the system waits on hold on their behalf. They get a call from the next available agent, ultimately eliminating the dreaded hold time and significantly improving the call experience.
Call-Back In Action
Phone.com offers their customers a call-back service on their 'contact us' page. If you're interested to see the 'Talk to us!' widget in action, simply visit the page and give it a try.
What do you think? We'd love to hear your ideas/solutions in the comments section below or contact us.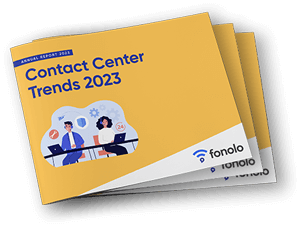 Trend Alert! Contact Center Industry Predictions for 2023
This report offers perspective on where the contact center industry stands today, plus our trend predictions for 2023.