Fonolo reached a great milestone last week when our customer, 1st United Services Credit Union, released a new iPhone app. The app's "Contact Us" section includes Fonolo's interface which lets their customers reach an agent with one tap — no phone menus, no waiting on hold.
What makes this deployment special? This credit union is also using Fonolo's widget on their website AND using our In-Call Rescue service for callers who dial-in directly. So this is the first time Fonolo is being used on all three channels. You could call it a call-back "hat trick", or a virtual queuing "triple play". Whatever you call it, this is the future of the call center.
Want to learn more?
Watch this on-demand webinar, where the VP of Member Services at 1st USCU will join us to discuss the implementation of and early results from this ground-breaking deployment.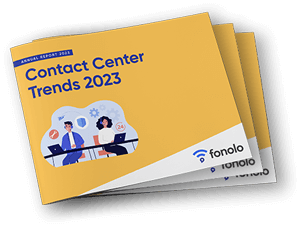 Trend Alert! Contact Center Industry Predictions for 2023
This report offers perspective on where the contact center industry stands today, plus our trend predictions for 2023.