Mark Edelman talks about how his organization, 1st United Services Credit Union, uses Fonolo to replace hold-time with a call-back. When members call the credit union, Fonolo's In-Call Rescue solution allows them to simply "press 1" to hold their spot in queue. They can then hang-up, knowing that they'll receive a call-back from the next available agent.
Some selected quotes:
A Customer-First Attitude
No-one likes to wait on hold… Fonolo turns a negative into a positive.
Credit unions have a well-deserved reputation for their attention to customer service. Mark is up-front about the primary motivation for Fonolo: they simply want to provide the best possible experience.
Competing with the National Banks
We're in a competitive market… we need to provide the features the [other banks] have…
Until recently, advanced contact center features like virtual queuing have been very expensive, and hence used only by large organizations. With Fonolo's SaaS approach, contact centers of any size can now afford to replace hold-time with a call-back.
Agent Training
As soon as agents realized that this was just another call… they adopted it very rapidly.
As with any change that impacts the call center, agent adoption is a major concern. In this case, it was smooth sailing.
In-Call Rescue as an Insurance Policy
It was a god-send.
Mark talks about how a flu epidemic took a big toll on his call center staff in January, and how the average speed to answer (ASA) went up significantly. In-Call Rescue helped to keep the customer experience pleasant until the call center could get back to full staffing.
Easy Deployment
Deployment was a non-event.
Since Fonolo is a cloud-based service, implementation was a snap. That, combined with the low cost, is what encouraged the credit union to choose Fonolo over the competition. As a result, 1st USCU's members are seeing an improved customer experience, and the credit union is realizing increased revenues.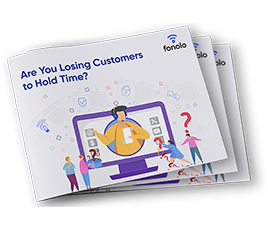 Are You Losing Customers to Hold Time?
Download our free whitepaper and learn about the best way to eliminate hold time and improve the customer experience.