Last week, Fonolo hosted a Google Hangout to discuss the future of the customer experience. This great panel of industry experts shared their comments and stories on some of the biggest stats and trends affecting the customer experience. To save you some time, we've extracted video snippets from each topic.
Let's take a quick look at the panelist introductions: Kate Nasser The People-Skills Coach™, Annette Franz from CX Journey, Roy Atkinson from UBM Tech-HDI, Rachel Miller from Nimble, and Shai Berger from Fonolo.
Are organizations not seeing the value of the customer experience?
In a recent Forrester survey, 93% said the customer experience is among their company's strategic priorities. However, the reality is that only 37% of companies have a dedicated budget for improving customer experience initiatives.
Annette leads the conversation by stating that a lot of companies still don't understand the importance of a great employee experience and how it drives a positive customer experience. Many organizations focus on sales and acquisition rather than retention. She breaks companies into two different groups: The ones who don't get the value of the customer experience and the ones who don't think they need to focus on it.
Roy comments that companies should go through the process that they ask their customers to go through and see if it's an experience they enjoyed.
The key takeaway from this segment is that you need to have the right leaders in place. If leaders don't get the customer experience, maybe it's time to get a new leader. Hear from the experts as they share their stories.
How do companies stay ahead of changing channel preferences?
Customers expect to use a broad range of communication channels to interact with a company. Voice is still the primary channel, but it's quickly followed by self-service, chat, and email. It's clear that channel usage rates are quickly changing. In the past three years Forrester has seen a 43% rise in chat, a 39% increase in the use of communities, and an 18% rise in web self-service.
Roy says customers tend to use self-service before anything else, but generally when things get complex people want face-to-face or phone interactions. This is also the case in extremely urgent situations. Shai adds that understanding multi-channel customer service needs to be taken from the perspective of the task at hand. In other words, channel preference is dependent on the customer inquiry.
The discussion closes with bringing the human element into your online corporate brand. Rachel states, "This is the easiest way to humanize your brand, by capitalizing on your employees and presenting them as an advocate of your brand."
With so many different channels and preferences, how do businesses maintain a consistent customer experience?
There are many ways to interact with a company including social media, the web, in person, calling a contact center, reaching out on a mobile device, etc. Where businesses are suffering and where customers are feeling the pain is in the consistency. It's absolutely critical to deliver the ultimate customer experience 100% of the time, regardless of the channel.
Kate advises on four basic steps:
Listen and adapt to close the gap
Define consistency as consistency of quality not uniformity of response
Help first and collect big data second
Training
She goes through the details of each step in this segment.
How can companies deal with the negative publicity on social channels?
Forrester data shows that 57% of US online consumers say that they've had unsatisfactory service interactions in the past 12 months and 27% of them have vented through social media.
As a side project, Fonolo runs a site called OnHoldWith. It catalogs tweets from people all over the world complaining about hold time and displays them in real-time. It's illuminating to see how many people resort to Twitter to complain about brands.
Since Rachel is in the business of social relationship management we had her tackle this discussion first. She says the first step is awareness: You need the tools available to track brand mentions so that you can handle the bad publicity. The second step is having properly trained staff to handle them. She recommends taking the time to research the customer comments and to provide an empathetic response instead of sending a canned message.
Shai adds his concerns about Twitter being suitable in the long-term as a customer service channel.
Here are some final comments.
Annette starts by saying you must walk in the customer's shoes and be where they want to be.
Kate says, "Strive for excellence through continuous improvement, not uniformity and repetition."
Rachel adds to Annette's point by stating that you should strive to be where your customers are and adequately maintain those platforms.
Roy says we can't fully create the customer experience (it's owned by the customer), but we can provide the circumstances so that they can have a great experience.
Shai takes the call center perspective in the customer experience and states that we have entered a new era in this relationship.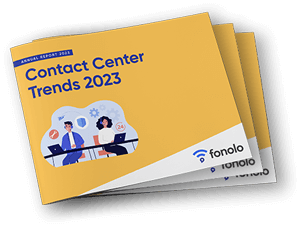 Trend Alert! Contact Center Industry Predictions for 2023
This report offers perspective on where the contact center industry stands today, plus our trend predictions for 2023.