Executives charged with overseeing a call center face a multitude of challenges. Many fast-changing trends continue to change the nature of customer service. Meanwhile, consumer expectations have never been higher.
How should executives allocate their limited resources? Improving operational efficiencies continues to be a top objective for call center and customer service executives, but no matter how efficient you are it's not effective unless you can create a positive customer experience.
These 5 graphs provide a peak into what other executives in the space are thinking.
1) The Top Priorities in the Contact Center Today
Let's start with the most direct question: "What's your top priority?" When InContact's online survey asked C-level executives for their answers, the top selection was "improving the customer experience" at 34% with "improving agent productivity and utilization" coming in second place at 26%.
A slightly different perspective comes from Aberdeen which puts improving agent productivity in first place at 46%.
Source: The InContact Online Benchmark Assessment
2) Primary Business Goals for 2013-14
Taking a slightly different approach is this chart from the "CMIQ Executive Priorities Report". When asked about business goals, executives responded that "Improving CRM processes" and "Increasing Customer Loyalty" were both close for the top spot.
Source: The CMIQ Executive Priorities Report
3) Absolute Spending Priorities for 2014
There's the old saying of "follow the money". In what areas are executives planning to spend this year? A report from Aspect tells us "Process Improvement" (which is, admittedly, a pretty broad topic) gets the top slot.
Source: Aspect 2014 Executive Priorities Report
4) Pressing Business Issues Today and Tomorrow
It's interesting to see how priorities change over time. This report from CMIQ shows which business issues were ranked as "most pressing" over the last 3 years.
Source: The CMIQ Executive Priorities Report
5) Is the Contact Center an Asset or a Cost?
This final chart isn't directly about priorities, but I think it addresses an issue that directly impacts the way projects are prioritized in the call center. Contact Babel asked executives if their board saw the contact center as an asset or cost. The chart below shows how this yes/no answer changes by sector.
Source: Contact Babel's 2013 US Contact Center Decision Maker's Guide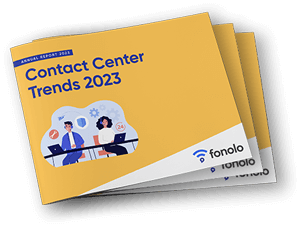 Trend Alert! Contact Center Industry Predictions for 2023
This report offers perspective on where the contact center industry stands today, plus our trend predictions for 2023.