Marketing departments may love it, but to my ears it has to be one of the most overused phrases in the service industry: "Delight your customers".
As a customer, how many times have you truly been delighted? Not many, I'm sure. When I pick up the phone to call a company, my expectations are usually a far sight lower: I would gladly settle for "don't stick customers on hold for extended periods" (note: at Fonolo, we fix this), "don't transfer customers around from agent to agent", or even "don't hang up on customers".
The point being: there's a real disconnect between what we tell customers, and what they've been trained to expect from us. So why are we kidding ourselves here?
There's a difference between "customer delight" and "customer satisfaction". While delighted customers may pay more, satisfied customers won't go to the competition. How many service organizations can truthfully say that they're satisfying their customers? According to Accenture, 51% of U.S. consumers switched service providers in the past year due to poor customer service experiences, up 5% from 2012. Accordingly, there's a potential $1.3 trillion (yes, trillion) of revenue at play in the U.S. alone, due to customers likely to go to the competition. That's a lot of unsatisfied customers.
It gets worse: according to a recent BDO/Economist report, 84% of companies acknowledge that customer service is important to their financial performance, but struggle to recognize and measure its impact. In fact, just 36% have a formal strategy that recognizes a link between service and financial impact. So while executives believe in the financial impact of customer service on a company's bottom line, organizations still remain unclear about how to make the connection.
It's easy to tell customers that they'll be "delighted", but it's hard to actually do that, especially when most companies aren't sure what that means or how it will affect the bottom line.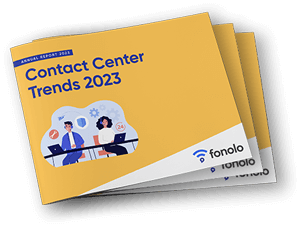 Trend Alert! Contact Center Industry Predictions for 2023
This report offers perspective on where the contact center industry stands today, plus our trend predictions for 2023.