As companies embrace multi-channel service options, it's clear that chat is here to stay. Chat allows consumers to quickly engage in a conversation with a company in an efficient manner – which is why users like it and why adoption has risen from 30% in 2009 to 43% in 2012.
With so many other channels to support, how can the contact center effectively embrace chat? Here are 3 strategies:
1) Know When to Chat
To make the best use of resources, many companies encourage customers to use self-service options on the web. A successful chat implementation should enhance this approach, not detract from it.
Identify key opportunities for chat by analyzing website data and customer feedback. Offering customers a chat request too early in the site visit can result in them feeling pressured when they're not ready to communicate. By contrast, offering to chat at opportune moments (when customers have questions or are ready to leave your site altogether) can make all the difference.
2) Personalize the Interaction
For chat to be successful, agents must maintain the 'human element' in the conversation, bridging the gap for individuals browsing a company's website and in need of assistance. More than just proper language skills, chat agents must develop a rapport with customers, allowing them to get to the point of the interaction and uncover customer needs in the process. The results will be improved customer experience and issue resolution.
3) Escalate to Voice When it Matters

While chat allows for real-time interaction with a customer, it isn't always the right channel for a conversation. According to Amex, customers prefer a voice conversation when it matters. For a complex inquiry (e.g. product return or product assistance), 38% prefer speaking with a real person on the phone, while only 10% prefer chat. For a more difficult inquiry (e.g. making a complaint or disputing a charge), this jumps to 46%, in contrast to 4% who prefer chat.
Given this, it's important for chat agents to know how and when to escalate to a voice conversation. Tools like Fonolo's Web Rescue allow agents to trigger a call-back to a customer from a telephone-based agent with minimal effort – even letting agents pass information from the chat session to the agent on the phone.
Chat with you later  🙂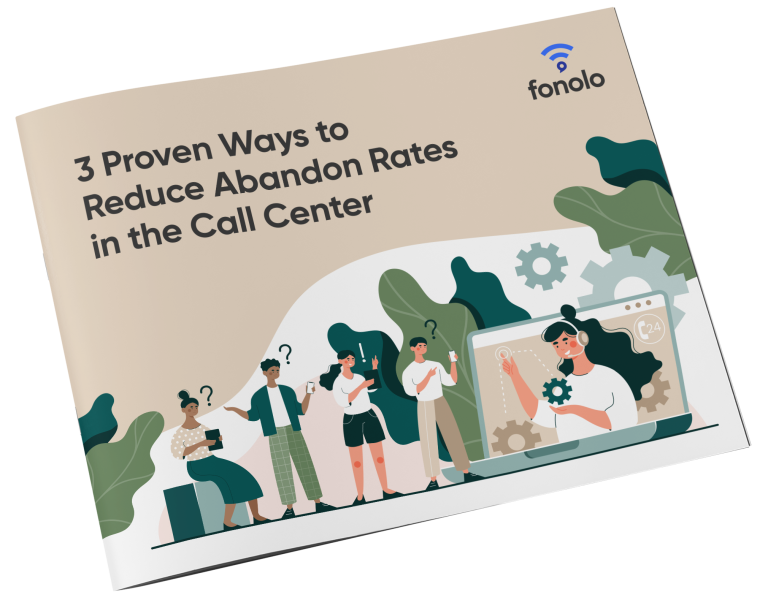 3 Proven Ways to Reduce Abandonment Rates in Your Call Center
Reducing your abandon rates has been proven to lower costs, improve customer satisfaction and deliver a better call center experience.