The ability of Twitter to reach so many people, so quickly, has made it an extremely powerful tool for consumers. In particular, it has provided them with a public form to shame companies who don't live up to customer service expectations.
For example, take the following tweets from onholdwith.com, a site that catalogs complaints from frustrated customers, stuck on hold:
Companies, faced with the prospect of having their brands publicly tarnished, have scrambled to adapt their contact centers to social media channels, with varying degrees of success. But at what cost to customer service departments, who have long been told to "do more with less"? How many call centers have lost phone-based agents to "Twitter duty", and how many CX initiatives have been postponed, leading to a decline in service levels?
Perhaps a better question is, given all the attention being paid by consumers and companies alike, is Twitter an effective channel for customer service?
According to a recent study by Eptica, it's actually the least effective channel, with only 39% of companies able to respond to questions via Twitter. It turns out that companies are great at establishing a presence on Twitter, but fall short when it comes to actually servicing customers this way.
For example, take the Bank of America, whose automated responses drew the ire of angry Twitter users and resulted in an article by NBC News, "Companies alienate customers with Twitter bots, scripted responses":
Bank of America's @BofA_Help account repeatedly responded to a vitriolic cycle of foreclosure criticism with robotic-sounding, "Please let us know if you need assistance," messages. Public embarrassment soon followed. When an account called @OccupyLA wrote, "You can help by stop stealing people's houses!!!," @BofA_Help responded, "We'd be happy to review your account.
When implemented correctly, social media allows companies to service customers on the most visible of channels. However there's plenty of evidence to show that the added burden of operating multiple channels actually detracts from the quality of service delivered.
One thing is for sure: no matter what channels you offer for customer service, you'd better deliver. These days, consumers have more choice than ever, and they're not afraid to tweet about it.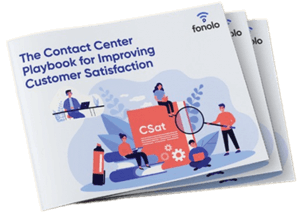 The Contact Center Playbook for Improving Customer Satisfaction
In this handy playbook, contact center leaders will learn the ins and outs of improving customer satisfaction.