One of the easiest ways to lose a customer is through a poor call center experience. For example, a survey by YouGov showed that 76% of consumers said that "just one unpleasant contact center experience was likely to make them take their business elsewhere". Yet, three in ten (29%) consumers think that businesses have not changed their attitude towards customer service. Today, positive experiences are even more crucial. Through social media channels, disgruntled customers have immediate access to spread the word about poor service.
With all the technology options out there, what are the best tools a contact center manager can select to deliver good customer engagement? It turns out, one of them isn't technology at all – it's your brand voice.
Many Channels, One Voice
Brand voice is the overall tone and style of communication between your company and your customers. The best brand voices have a positive tone and are consistent across all channels. That latter point can be tricky in today's world where channel choices keep growing and changing.
A vast majority (88%) of all organizations are already delivering a multi-channel service experience. If you have not yet embraced this trend, it's going to be harder and harder to catch-up. A recent study reports that 77% of consumers use more than one channel when seeking service.
If you care about millennials, then this topic is even more important. A recent survey by SDL asked more than 1800 millennials about their purchasing behavior during the first quarter of 2014. The most important findings, from the perspective of customer service, is that these consumers naturally hop from one channel to the next in dealing with a company and that they expect a consistent "voice" across those channels. In response to the question, "Should it feel the same when dealing with a company whether you're online, in a store, or on the phone?" 60% said yes.
Contact centers need to realize the importance of maintaining this "one customer voice" if they want to win the hearts of these critical consumers.
Agent Personality
The voice that customers hear loudest is often the voice of your agent. You simply can't overstate the importance of agent performance in delivering a good customer experience, regardless of the channel. You can't present a consistent "voice" if your agents aren't all on the same page.
A great deal of effort goes into hiring, training and maintaining an effective call center workforce, composed of people with different personality types. And while personality may not be the dominant factor, it is one of many components used to select and properly motivate agents, who really are your front-line brand representatives. Our recent post has more on this: Does Personality Matter for Call Center Agents?
Corporate Culture
Many successful companies have learned the importance of maximizing every opportunity to interact with customers, rather than treating contact centers as just cost centers. That attitude has to emanate from the CEO and trickle on down to CSR's.
Online retailer Zappos achieved legendary status for its customer service by focusing on employee culture. In fact, their CEO is famous for saying, "We're a service company that happens to sell shoes". Call center workers at Zappos receive seven weeks of training on company culture and customer happiness. And, to the point, employees at all levels of the company are required to spend time on the phone so they understand what it's like.
Social Media
Social media presents both a challenge and an opportunity for developing your brand voice. The challenge: monitoring, maintaining and providing a consistent support experience through social platforms. The opportunity: surpassing customer expectations and creating an evangelist of your brand. However, not all brands are utilizing social media and as a result, 56% of customer tweets to companies are being ignored.
According to, Echo Research and Fishburn Hedges, 65% of consumers who have communicated with companies through social networks believe this is a better way to interact with a company rather than through call centers. While multi-channel support is more in demand today than ever before, the most popular channel for service interaction continues to be voice support. In addition, approximately 35% of customer inquiries, which originated through other channels, eventually escalated to voice. The opposite occurs when phone service is not up to par, as customers resort to social channels to publicly complain.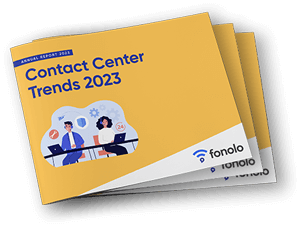 Trend Alert! Contact Center Industry Predictions for 2023
This report offers perspective on where the contact center industry stands today, plus our trend predictions for 2023.