Across the board, consumers continue to be dissatisfied with contact centers. Take for example, the recent study from CFI Group which notes a 10% drop in their "Satisfaction Index". The top complaints remain the same: long hold times, "starting over" when calling an agent, repeating information between agents, annoying phone menus.
Airlines are particularly guilty in this regard. A report released in April shows that, over the past 5 years, total complaints about U.S. airlines have risen by more than 30%. These data points, and others like it, are able to show us who is succeeding, who is failing, and why.
1) OnHoldWith
The impact of social media on customer service has been addressed on this blog many times. To put it simply, customers have been given the power to publically shame a company whenever they have a frustrating experience, and that has put pressure on call centers to deliver a better customer service experience. Another impact is that social media gives us a window into how well a given company is performing in terms of customer service.
Because the interaction between customer service and hold time is such a central theme here at Fonolo, we've been running a side project called OnHoldWith.com for several years. OnHoldWith searches for tweets that are complaints about hold time and categorizes them by company and industry. From time to time, we look through this data to find out which companies are doing better or worse in their category for hold time. Here's an example of data comparing on hold complaints across airlines.
In a way, this data is quite remarkable. Keep in mind that companies never directly publish their call center wait times. Before the social media phenomenon, all we had was anecdotal information about which companies had excessive waiting times. (It would be terrific if one day companies were mandated to do so – in the way that airlines have to publish their on-time departure rates – but that's unlikely to happen.)
It's hard to deliver a great experience to callers after they've been put on hold. Most customers will tolerate a little hold time but will lose patience quickly, resulting in either an angry caller or – worse – an abandoned call. Either way, the result is a poor customer experience, something no company can afford to take lightly.
2) Complaints to the Department of Transportation
The report mentioned at the beginning of this post was the result of examining 5 airline passenger complaints to the Department of Transportation.
This article did an excellent analysis of what distinguishes those companies that succeed versus those that don't. They note that Southwest ranks very low among carriers in terms of on-time departures (only 3 airlines are worse) yet has the LOWEST complaint rate. Forbes proposes (and we concur) that the reason for their success is a strong focus on customer service, including a very active and responsive social media team.
3) Sentiment Analysis of Social Media
Another perspective on airline customer service comes to us from Luminoso, a text analysis startup.  They analyzed the social media mentions of five airlines (157,000 tweets in total) during this past August (one of the busiest travel months). They found that Virgin America was well liked while United Airlines was least liked. United scored last or next to last in 6 of the 9 categories. You can read more here.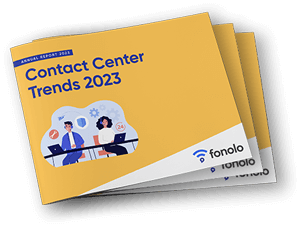 Trend Alert! Contact Center Industry Predictions for 2023
This report offers perspective on where the contact center industry stands today, plus our trend predictions for 2023.