I've always believed (perhaps naively), that anything that improves the experience for call center agents also improves the experience for callers, resulting in a net financial benefit for the company wise enough to invest in said experience.
Of the many ways to positively impact the agent experience, using wallboards to display a public dashboard is an innovative, yet affordable way to improve the call center environment. When implemented correctly, wallboards can display a wealth of key information that can have a dramatic improvement on performance.
I'm a big believer in dashboard data. In my role as COO of Fonolo, I rely on a number of dashboards to keep tabs on our operations and delivery data- the most fun of which is our "Live Calls" display. This allows me to track the status of all call-backs – to our entire customer base – in real-time. I've often thought that this sort of data would be invaluable to companies, as it's a measure of current hold times, talk times, call volumes, and more.
Today I'm happy to say that this is a reality, through our new partnership with SJS Solutions. SJS is a global leader in creating the most flexible, easy to deploy visual communications products for companies of varying sizes with varying needs. And now their data set includes virtual queuing data from Fonolo, allowing companies to see the benefits of call-backs, in real-time. (You can read the full press release here.)
For many years we've played an important role of many contact centers. Now, we're looking forward to been "seen" by everyone!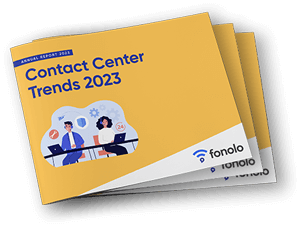 Trend Alert! Contact Center Industry Predictions for 2023
This report offers perspective on where the contact center industry stands today, plus our trend predictions for 2023.