How do you view the role of the call center? Most executives see it as an outright cost. Accordingly, for many support teams, the goal is to reduce expenditures, rather than focusing on the customer. For them, it's more important to minimize call time, even if it means providing mediocre service. Many contact centers will invest heavily in saving just a few seconds per call (a few seconds!) at the expense of the customer. They monitor analytics like a hawk just to make sure their agents perform accordingly.
It's time to change that antiquated perspective. We, at Fonolo, have a clear reason for LOVING the contact center and here's why you should too – it's the new sales tool. Instead of viewing the contact center as a cost, look at it as an opportunity to profit.
Many call center agents speak to customers more frequently than sales reps do. And, the dialogue occurs at a very important time – when the customer is unhappy. So your support team has the opportunity to rescue a customer and save your business (even if it means a few extra minutes on the phone).
Agents not only help to generate revenue, they also take care of the customer which, in turn, provides them with a better experience. As you're considering the potential of this perspective, keep these numbers in mind – companies who focus on providing a superior experience realize a 10-15% increase in revenue and a 20% increase in customer satisfaction.
How to Move from a Cost Center to a Profit Center
This is no simple task. Is it reasonable for you to attempt the transition? The best way to answer that question is by making a business case. Can your specific organization profit from making the switch? Here's a great infographic that illustrates the subsequent steps you should take.
Remember, every interaction with a customer is an opportunity to learn more about them and can, ultimately, help you upsell. Your agents hold the success of your business in the palm of their hand – use that power to improve your business and you will love the contact center too.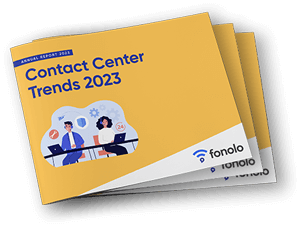 Trend Alert! Contact Center Industry Predictions for 2023
This report offers perspective on where the contact center industry stands today, plus our trend predictions for 2023.