Customer service is a costly undertaking and getting more expensive, which is why most businesses will consider routes such as outsourcing when aiming to save on expenses.
Should your contact center outsource part or all of their operations? This is a common debate and often poses much discussion around the executive table.
There are pros and cons to both sides of the equation – and the right answer can be different for every call center. To make an informed decision it's important to investigate the true challenges of outsourcing.
Companies with the best outcomes will be those who invested the time to fully understand the task at hand. There's no better way to accumulate this knowledge than by listening to the professional themselves. As luck would have it, we have a one-hour live conversation discussing this exact topic. Join us on Thursday, February 25th at 2:00 PM ET as we highlight the most important topics to consider before deciding if outsourcing is right for you.
Here's a sneak peek at the slides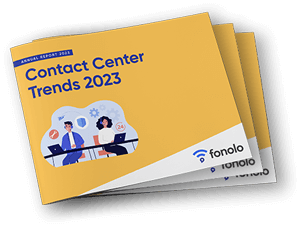 Trend Alert! Contact Center Industry Predictions for 2023
This report offers perspective on where the contact center industry stands today, plus our trend predictions for 2023.