The 2015 Global State of Multichannel Customer Service Report found that 60% of customers have higher expectations for customer service than they did only one year ago. There's no doubt; customer demands are growing exponentially year after year, which means that businesses need to constantly evaluate how well they're delivering service – or risk falling behind.
For example, processes that might have worked only 12 months ago may need to be revamped to be "future-ready" today. There are a few pointers that contact center managers and agents can use to re-engage with customers and make sure the service they're delivering is top-notch throughout the year.
Keep these 10 tips in mind when evaluating your contact center's performance:
TIP 1: Be Conversational, Not Confrontational
Customer service isn't easy – reps need to be prepared for anything. But it always helps to remain calm and keep the conversation going throughout a transaction, no matter what channel it happens on. In fact, 71.5% of positive customer service experiences that people share on social media began as a negative experience. So, remember, there's always room to turn the conversation around.
TIP 2: Ask for Feedback
The first step in delivering great customer service is to know how your customers feel. Harness their feedback after every interaction. According to a report by Deloitte, 55% of companies view call/contact monitoring as the best way to gain customer feedback. But not all customers use the phone for support, so deploying new ways to monitor interactions, like a CRM software solution (i.e. Sprout Social) is important. Overtime, that feedback can be vital to your growth and operations.
TIP 3: Give Credence to Complaints
Complaints should not only be addressed when resolving an isolated event but should be followed up on even after a resolution. Many times a customer will go silent despite being dissatisfied with customer service (and that $10.00 coupon may not be enough to win a customer's trust back for good).
TIP 4: Research and Deploy
After evaluating feedback and complaints, it's your duty to research key solutions to better serve your clientele. If long hold times are a persistent issue, then looking for a call-back solution should be a clear next step. Deployment is also important because the more time you make your customers wait, the more time they have to go somewhere else.
TIP 5: Be Knowledgeable
Thoroughly educate your staff to safeguard their customer interactions. If an agent has to address important issues without proper training it's easy for them to not only get things wrong but to also get defensive in the situation to save face. In 82% of negative customer service stories employees were perceived as not caring, while 29% of customers switch because they are annoyed by a lack of staff knowledge. There is no need to dissolve a customer relationship because an agent is ill-equipped to help. Training is a must.
TIP 6: Offer Self-Service Options
Sometimes your customers know exactly what they want and how to get it – offering ways to make that easier for them to do, not only helps them, it helps you too. Plus, 90% of consumers now expect a brand or organization to offer a self-service customer support portal. Therefore, there should always be an option to bypass a human agent to fulfill an order; otherwise, your call center is going to be inundated with calls for absolutely no reason.
TIP 7: Issue Rewards
It costs 500% more to acquire new customers than it does to keep the current ones. That's why rewarding your customers is important to maintain the relationship and keep them coming back time and time again. Though not all rewards programs are created equally, they should be easy to achieve and understand. If your customers have no idea what their points earn them, they may completely abandon collecting them altogether. It's important to let your customers know when they're approaching a value-added bonus to keep them interested and feel their business is being valued.
TIP 8: Keep Tabs on What Your Competitors (And Non-Competitors) Are Doing 
HootSuite founder, Ryan Holmes said, "…ever since I launched my company, the very first thing I do in the morning before I get out of bed is take a peek at what my competition is up to." Of course, he mentions using his own platform to accomplish this but the point is, this act will only help you push your customer service forward and inspire you to look for more innovative ways to improve. Customers today enjoy a unique customer experience and will take note of a company that's a step ahead of the game.
TIP 9: Perfect the Multi-Channel Experience
57% of customers have reported switching from web to phone during an interaction. So, even if you think you're delivering great customer service through one channel, it's important that your customers can access multiple channels (phone, chat, social media, email etc.) easily. Fonolo's "Web Rescue" and "Mobile Rescue" are great tools for this.  They enable customers to seamlessly transition from web or mobile to live voice assistance without losing any context. With web and mobile on the rise, these features are a must-have to ensure stellar customer service.
TIP 10: Be Transparent
When customers trust you, they stick by you. By admitting to your mistakes and doing everything you can to correct them, customers will forgive, forget and continue to buy from you. One example of the worst way to handle customer complaints is the story of "Crazy Amy" from Gordon Ramsey's Kitchen Nightmare's. Not only do the restaurant owners kick out customers who complain, deny error, and project all their problems on negative customer reviews, but they also refuse to give their staff any responsibility. Watch the clip to fully understand the cringe-worthy service and then remember to do the complete opposite of what they've done to meet your customer's needs.
Have a tip to better serve customers? Share it in the comment section.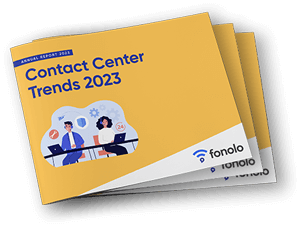 Trend Alert! Contact Center Industry Predictions for 2023
This report offers perspective on where the contact center industry stands today, plus our trend predictions for 2023.