Most people don't realize the impressive scale of the contact center industry. It accounts for one in every 25 jobs in the US! By some estimation, there are 14,000 call centers in the United States and over 120,000 worldwide.
It's a growing industry as well. According to the Bureau of Labor Statistics, 2.6 million people had the occupation "Customer Service Representatives" in 2015. That number is up 17% over the past 5 years and 27% over the last 15.
For the last few years, this industry has been undergoing an extraordinary transformation. In the early 2000s, running a call center through a cloud service was dismissed as impractical. A few years later, it was viewed as "just for the smallest call centers", but by 2008 that argument was dead and the migration was in full swing. Between 2008 and 2012, the cloud market grew by some 224%.  Just between August 2014 and August 2015, the total number of cloud seats jumped 49.9% (both data points from DMG).
What explains this remarkable shift? And what comes next?
Some Forecasts
According to Call Center IQ, 80% primarily housed their contact center technology on-premise 1 year ago. That number is down to 58% in the present, and it will fall to just 44% in the next 12 months. That information, as well as the chart below, is available in their Executive Report on Contact Center Technology. (A report we featured last week in our post 7 Contact Center Reports Worth Your Time.)

IDC forecasts U.S. spending on hosted contact center services to grow at a compound annual growth rate of 17.7% to reach $2.0 billion in 2019. DMG forecasts that by 2016 more than 18% of contact center seats will be delivered via the cloud.
The worldwide picture follows a similar trend (just with bigger numbers). Research and Markets estimates the worldwide cloud-based contact center market will grow from $4.15 billion in 2014 to $10.9 billion by 2019, a compound annual growth rate of 21.3%.
The Motivations
What is motivating companies to make the switch? Let's see what some of the industry's brightest folks are saying:
Analyst Sandra Gustavsen states "There are obvious budgetary advantages to selecting a cloud solution such as reduced capital expenses, fewer IT personnel and predictable per-user monthly fees, to name a few. But, there are also strategic advantages in terms of scale, consistency across a network and the ease of adding future innovations that are appealing particularly to organizations with multiple, geographically-dispersed offices."
Analyst Donna Fluss, of DMG, puts it this way: "Companies are moving their contact centers to the cloud to realize the flexibility, agility, scalability and cost benefits of this implementation model. The new seats are coming from competitive replacements of dated on-premise solutions and a growing number of first-time users who are attracted to the cloud-based model, with its low start-up costs and ready availability of experienced vendor resources to assist with implementations and ongoing operations."
Analyst Aphrodite Brismead cites the ability to get continuous upgrades, among other features, as a prime motivator: "With access to the latest features and functionality whenever they are released, contact centers can add multi-channel features when they are rolled out rather than having to wait to upgrade. While cloud contact centers traditionally had reduced feature sets to make them faster and easier to deploy, they are rapidly catching up to their premises-based counterparts."
Not All Roses
Deploying a cloud call center can also present new problems. CCIQ surveyed companies that recently made the switch and asked about the challenges they faced.
As the chart below shows, the top complaint was that the implementation was not as easy as expected. That's a fairly generic complaint, and we think we can chalk that up to over-zealous sales folks trying to get a deal done. (No offense to sales people… we wouldn't be anywhere without you!) If we look beyond that, the top complaints were integration with current systems, integration with processes, higher cost, and downtime.

A Competitive Landscape Drives M&A Activity
DMG estimates there are over 150 competitors selling cloud-based contact center infrastructure. So it's a very competitive sector. This is driving prices down, making it a buyer's market. It's also driving significant acquisition and partnering activity in the last 2 years including:
RingCentral (a cloud UC provider) partnered with cloud-based call center provider InContact (NASDAQ: SaaS)
InContact, itself, was just acquired by NICE System (NASDAQ: NICE)
Marlin Equity Partners acquired LiveOps
West Corp (NASDAQ: WSTC) acquired Magnetic North
Shoretel (NASDAQ: SHOR) acquired Corvisa
What Took So Long?
For many years, companies had a general reluctance to moving their call center away from the tried-and-true premise-based equipment model.
One reason for that was, as you can see from the chart below, the IT department has a very dominant influence on the decision making.

Those IT folks had a number of concerns that were showstoppers for many years:
People thought the real-time, mission-critical nature of the call center meant it wasn't a good candidate to be a cloud service.
The high-bandwidth needs of voice, which are unique to the call center, made people worry about audio quality, dropped calls, and impact on bandwidth available for other applications in the business.
Security and privacy concerns have played a big role. There are a number of regulations that apply different standards to voice as opposed to data. On an intuitive level, the idea of a customer's call being intercepted and recorded by a nefarious 3rd party seems much scarier than a regular data breach.
Call center equipment has traditionally had a long replacement cycle – 5 to 10 years was typical. This is longer than other parts of enterprise IT and it naturally means a slower upgrade rate.
Given all that, it is understandable why the call center was a "laggard" among other systems to embrace the cloud.
Looking Forward
It's a safe bet that cloud deployments will continue to grow in number and size throughout the industry. One day, an on-premise call center may seem as quaint as a rotary-dial telephone.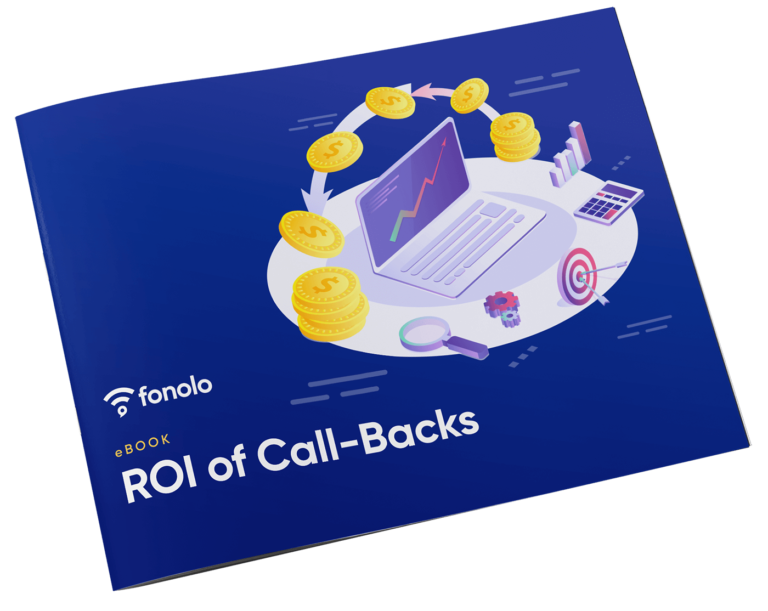 Find out the Real ROI of Call-Backs
Learn how you can build a business case for call-backs using this ROI eBook.