Hiring the right customer service agent is incredibly important to the success of your contact center. You've probably seen how less-than-stellar support interactions can go completely viral in a matter of hours. It just goes to show that a contact center is only as good as its agents! After all, onboarding committed, motivated, and qualified agents helps your call center achieve its purpose.
The foundation of any successful support team is built from a carefully crafted hiring process, where you have a clear vision on the type of person you want to hire. Check out these 4 tips to help you prepare for employing the right customer service agent.
1. Hire People that Fit Your Ideal Contact Center Agent Profile
The first tip in creating the ideal hiring process is developing an agent profile. Simply assess the qualities that your top agents possess and then develop a profile that encompasses those skills, attributes and behaviors. Provide your HR Manager with the candidate profile and ensure that each applicant fits within those guidelines.
2. Prepare a Solid List of Questions that You Will Ask Each Candidate
The second tip encourages you to understand your goals for the interview. It's important to ask the right questions, ones that will help you determine whether a candidate possess certain competencies. To help ensure that your frontline folks are top-notch, here are a few questions that you should ask.
3. Score Candidates Based on Their Answers
This third tip is intended to help you understand how you would rate each response. Basically, what sort of answers are you looking for? Once you've determined that, you can then complete the agent profile sheet. Have a section in the profile where you can categorize the applicant's answers with a score. Each score can have a weight and the total points can reflect if they're a good fit. Here's an example of a scorecard.
4. Ask for References
The fourth and final tip can be a bit trickier, since some companies would rather not share their experiences with previous employees. If a company is being particularly tight-lipped about a former staff member, try asking if the person is eligible for rehire. A simple yes or no can give you good information. It can also be useful to have a section on the job application where the candidate gives you permission to check references. Former managers may also be more likely to speak up if you assure them that their reference will be kept confidential.
After you've hired the most eligible applicants from the pool, there are signs that you can watch out for to ensure you've made the right decision. This article discusses four distinct signs that reflect if you've hired the right agent for the job.
Good luck in your hiring process!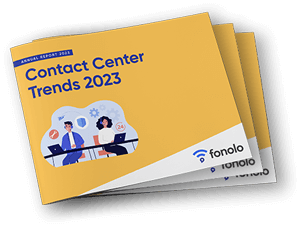 Trend Alert! Contact Center Industry Predictions for 2023
This report offers perspective on where the contact center industry stands today, plus our trend predictions for 2023.