According to a recent study by Contact Center Pipeline, nearly 25% of call centers report their top challenge as being high attrition.
We know this has always been a problem for call centers. Typically, we would suggest that you examine your environment: introduce gamification, improve training, or allow for more empowerment. Today, we're taking a different approach. Maybe the continuous challenge of agent churn has nothing to do with your ongoing operations, and everything to do with your hiring process.
Let's see if your customer service representatives fit in line with these 4 indicators before we decide for sure.
1) The Style of their Greeting
What do you prefer: an agent who is bland and unexciting or a happy cheerful agent who exudes enthusiasm in their calls? My guess is you would pick the latter. This is a tell-tale sign that you've got the right representative on board.
Great greetings are imperative (and unfortunately rarer than they should be). Luckily, these agents are happy to assist customers and will show this in the first few seconds of the call.
2) Their Willingness to Actually Help
The best call center agents actually get excited when they have a problem to solve. Their eagerness to help and ensure customers' leave happy is what makes their job so much fun. They DO NOT say things like, "I don't know" or "calm down" to your customers. They fully understand the sayings that will make your customers happy and use that in their day-to-day guidance.
These agents are empathetic, engaging, and reactive. They have meticulous follow-up skills and always go above and beyond expectations to ensure customer satisfaction.
Employees who are able to form personal and lasting bonds with customers contribute tremendously to consumer loyalty. They actually take the time to learn who the customer is and what they want. They address them by their first name several times in the conversation. They ask relevant questions and repeat the answers for a clear understanding of the problem and how they can help address it.
These agents are completely focused on relationship building and understand the importance of personalizing every interaction they have.
4) The Power of Posture
Strange huh? Funnily enough, it matters. Posture can reflect emotions, attitudes, and intentions. How an agent sits in their chair is a true sign of how involved they are. If they're slouching and keeping their heads down, they're clearly unengaged. The opposite is true if they're sitting upright, nodding, and actively interacting with their dashboards.
It's not just the position of their bodies that can indicate how they feel; facial expressions also play a role. Pay attention to agents that spend time smiling – this promotes positivity and reflects what they feel about their work.
If you can check these indicators off your list then you're on the right track. Keep focusing on improving operations to sustain agent engagement. However, if your agents aren't showing you these signs it's time to shake up your hiring process.
Good luck in attracting and retaining the best of the best!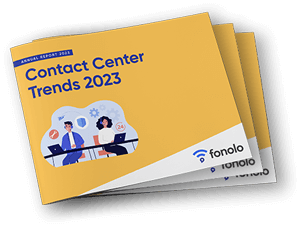 Trend Alert! Contact Center Industry Predictions for 2023
This report offers perspective on where the contact center industry stands today, plus our trend predictions for 2023.