When you're on the phone for the majority of your shift, the workday can seem quite endless. To break up the monotony, call center managers can embrace a fun environment. Some do this as part of their ongoing culture – good for you! Others just look forward to certain times of the year – either way works. Luckily, a fantastic opportunity is just a week away: Halloween.
Halloween is an amazing way to promote agent engagement, encourage team building and, best of all, have a spookingly fun time doing it! Here are 4 ways to make your call center hauntingly fun this Halloween.
1) Have a Costume Contest
Encourage your team to dress up the Friday before Halloween. Email them in advance with the date, contest rules, and any additional office policies like types of costumes that are off limits. At the end of the day select a winner, give them a prize, and take lots of pictures. This is a great opportunity for your social media team to brag about all the fun happening at your call center.
2) Decorate Your Cubicle
Get into the festive mood by decorating your desk. Use fake cobwebs, plastic spiders, pumpkins, witches, or other creatively spooky decor. You can even host a contest on the best decorated space!
3) Plan a Potluck
Who doesn't LOVE food?? Coordinate a Halloween luncheon with your team and assign a type of dish to each person. Make sure you have a good variety of food and allow people to get creative – you never know what dishes they may think of!
4) Trick or Treat
It's only everyone's favorite part of Halloween: candy! Encourage your team to set out candy on their desks so that coworkers can stop by to trick-or-treat, mingle, and have fun.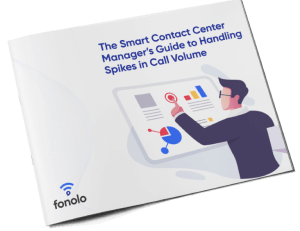 How to Manage Call Spikes in the Contact Center
Download this free guide to learn how to protect your contact center from call spikes.