First Call Resolution is one of the most commonly watched call center metrics. There's good reason for this attention: When done properly, FCR captures both efficiency and effectiveness of a call center. Many other metrics fall into trap of sacrificing one for the other. For example, if you focus on reducing handle time, you can end up with shorter calls (and a superficial improvement in operational efficiency), but a less effective customer service operation overall.
If you want to make FCR a focus of your call center, you need to design a plan to measure it and this can be tricky. Continue reading for some tips on measuring FCR and interpreting it properly.
The Basics of FCR
On the surface, First Call Resolution is an easy metric to understand. You simply count all the calls where the customer's need was fully addressed during the call and divide that by the total number of calls. The key is that a second call (or other type of transaction) is not required to handle the same issue. See the image below.
How do You Determine Resolution?
There are several ways you can determine whether a call was resolved or not. No matter which option you choose, there are always going to be some grey areas and edge cases that are specific to your company.
Repeat Call Tracking
This is a fairly simplistic approach to measuring FCR: simply track repeat calls from the same phone number within a certain window of time. While it is simple to implement, the flaws are obvious: the same person might call from a different number, the follow-up call may not happen immediately, etc. But, if you understand the limitation, this can be a good approach to look at changing FCR over time.
Post-Call Surveys
This is a popular approach where callers are asked directly whether or not the issue was resolved, soon after the call. The questions can be asked via email, IVR or a human agent. Many companies contract a 3rd party to conduct these surveys. This approach yields high accuracy, but can be costly.
Agent Questioning
You can instruct your agents to specifically ask a question like, "Did we solve the reason for your call today?" and make a note of the answer in the CRM.
Speech Analytics
An approach that is growing in popularity is to use software that analyzes the phone calls and determines automatically whether a call had a successful resolution or not. This can be accomplished by looking for key phrases in the dialog. For example, the same closing question may be used as above but now, the agent doesn't need to manually record the answer. Speech analytics can also perform a more advanced form of repeat call tracking by looking for phrases like "called before" or "last time I called".
The Danger of Conflicting goals
Even if you've properly designed a system for measuring FCR, you have to be careful not to sabotage the effort by having other goals that conflict with FCR reduction. For example, if you instruct agents to keep handle times short, you may force them to choose, in some cases, between keeping a call short and solving the problem.
One Contact Resolution
An alternative to First Call Resolution is "One Contact Resolution", popularized by the SQM group. (Their book on the topic is available here.) You can also learn more by watching, "5 Ways to Master One Contact Resolution".
SQM defines OCR as "the percentage of customers who resolved their inquiry or problem on their first contact and did not use another contact channel prior to, or after, using the contact center".
OCR addresses a critical flaw in FCR in that it doesn't take into consideration whether other contact channels were used. If you're only focused on the voice channel, that's fine but most customer service organizations today want to focus on the big picture so it makes sense to take other channels into consideration. This is especially true if email, social media and chat are all channels that draw from the same agent pool as the call center.
The Benefits of FCR
Is all this effort worth it? The implications of handling every issue with one call are very powerful:
More efficient use of agent time. (That's the most precious commodity in a call center, after all.)
Higher caller satisfaction. (The need to call again is top complaint from consumers.)
Fewer inbound calls. (Freeing up resources like telco lines, IVR ports, etc.)
It's clear from this why FCR is considered such an important metric.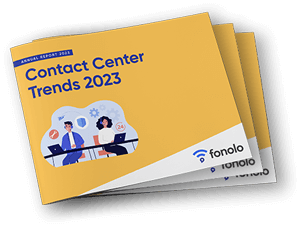 Trend Alert! Contact Center Industry Predictions for 2023
This report offers perspective on where the contact center industry stands today, plus our trend predictions for 2023.