Avaya's annual customer conference ("Avaya Engage") just wrapped up and I believe they made good use of a unique moment in their history. Under normal circumstances, this type of conference is a high pressure situation. Avaya is in complete control of the content and production so if they can't look perfect here, that's bad news. If there are missteps or flubbed announcements, or if the crowd isn't enthusiastic, analysts are quick to take note and turn that into a story.
That's under ordinary circumstances; this no ordinary time for Avaya. Having declared bankruptcy just 3 weeks ago, the pressure was doubled. Luckily, they stepped up to the challenge.
CEO Kennedy's Keynote
Right out of the gate, CEO Kevin Kennedy gave a keynote that tackled the bankruptcy. You can watch the whole thing here.  I found it amusing that he used many euphemisms, without once saying the "b" word:
"…we had to re-organize our asset base…"
"The filing was put in place to … cut the debt in half … reduce the debt service … and have more free cash flow."
"we will … evolve from this condition over a series of months."
"…we will emerge stronger as we go through this period of time …"
But despite the corporate-speak, he painted a convincing picture that Avaya will in fact emerge in great shape.
What About that Declining Revenue?
Those bearish on Avaya usually point to the declining revenues as the most damning evidence. Kennedy briefly acknowledged this, saying "the revenue is what it is" then quickly pivoted to talk about more flattering metrics. (e.g. "Revenue per employee" which has been increasingly steadily, because they've shrunk their workforce dramatically.)
So, how can you be bullish in the face of declining revenue? Because the whole pie is shrinking. As communication moved from being a hardware purchase to a software purchase and then to a service subscription, the absolute price for any given function has been dropping. As I wrote last week, voice has gotten "easy" and that has eroded pricing power.
[It would be great if we had data that showed the 5 year trend in cost-per-seat for call center software, PBX, or IVR. That would really put it all in perspective. Then we could ask: Is Avaya's revenue decline tracking with the global decline of price? I haven't seen that anywhere, but if someone has it, please let me know in the comments.]
So it is possible for Avaya to be a dominant player even if its revenue is shrinking at the moment. Of course, at some point, that has to level out and start growing again. The question is when.
Cloud-Based Call Center is Still a Sore Spot
One of the biggest criticisms of Avaya's call center business is the lack of a proper multi-tenant cloud-based offering. This opening has allowed Five9, 8×8, Interactive Intelligence, RingCentral and others to grab a lot of market share in the last 5 years.
They do have options for companies to deploy in "private cloud" mode via Avaya Private Cloud Service (APCS) or Enterprise Private Cloud (EPC). I'm not clear on the differences yet. Two years ago they announced "OnAvaya powered by Google Cloud", but I haven't heard anything since then. (Does anyone know what happened to that?) No doubt there are a lot of options in their toolbox, but nothing that has the straightforward simplicity that's come to define what we mean when we say "cloud based call center".
The fix may come with Avaya's new offering "Oceana" becomes available on a subscription basis. I saw a timeline that showed that happening by the end of this year. (It's going to run on Amazon's cloud, which I'm sure Google isn't happy about.) Meanwhile their Zang division is planning to launch a SMB-focused pure cloud offering as well.
But is that soon enough? Genesys, having purchased Interactive Intelligence last year, now has a very powerful and full featured cloud offering. (Also running on Amazon's cloud, coincidentally.) And many other competitors have been there for years.
Zang Got a Lot of Attention
Avaya's newest business unit, Zang, got a lot of attention. It seems Avaya has switched from presenting Zang as a totally separate group, to being more of an integral part of Avaya. There is still some inconsistency about how it's referenced. Often, I saw people talk about Zang as Avaya's CPaaS play. For example, Gary Barnett spoke of Zang as a direct (and better) version of Twilio.
.@garyavaya #ZangCloud is our #CPaaS, our "Twilio" component, only better. Bigger, faster. Twilio :: CPaaS as Scotch :: tape. #AvayaEngage pic.twitter.com/zePqg2B3yg

— Sheila McGee-Smith (@McGeeSmith) February 13, 2017

But CPaaS is only part of Zang. There is also Zang Office (a cloud-based PBX) and Zang Spaces (collaboration) and soon, Zang Agent (a cloud-based call center for SMBs that I mentioned above). In a way, Zang is a becoming a horizontal brand similar to "Aura".
I also heard people talk about Zang as a cloud-based compliment to Breeze, the open development platform. That's kind of misleading. It's true that Breeze is on-premise while Zang CPaaS is cloud. But the functionality of the two is different. Breeze is about building on top of Avaya's call center and UC offerings. Breeze is only useful if you already own Avaya software. Zang CPaaS is independent of other Avaya software and offers stand-alone functions like sending/receiving SMS.
The Pressure Is On
For the first time in many years, Avaya will not be presenting or sponsoring Enterprise Connect, the industry's largest show. (I'm not sure the reason why, but that absence is definitely going to be felt.) This put even more pressure on Avaya to execute well on the Engage conference.
All in all, I came away impressed. What was said on the stage was important. But even more so was the attitude of the attendees. From my perspective, that attitude seemed to be "cautiously optimistic". Which is where I'm sitting as well.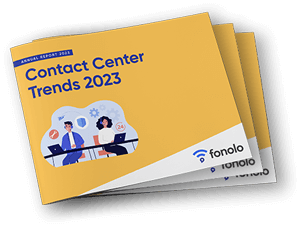 Trend Alert! Contact Center Industry Predictions for 2023
This report offers perspective on where the contact center industry stands today, plus our trend predictions for 2023.