It's no secret to the savvy traveller that most leading airlines will limit the amount of empty seats to help boost profits. The problem is, when flights get overbooked paid passengers have to be "accommodated" to give up their seat, or in Delta's case, it makes it difficult to rebook passengers whose flights have been cancelled. The airline industry is certainly getting its share of bad press lately. Although, unlike the abomination of an innocent bystander being ripped from a United Airlines flight, at least Delta has good reason for its negative publicity.
Last week, Atlanta was hit with severe thunderstorms, flash floods, and hail resulting in a logistical nightmare for Delta Airlines. The storm came crashing in on Wednesday, but the cancellation of flights trickled into Friday, and by the end of the week 3,000 flights had been cancelled!


Hartsfield-Jackson Airport is a busy spot for Delta, with more than 60% of its aircraft using the airport on a daily basis. You can imagine, with 3000 flights being cancelled, how many passengers were affected by the delays. Of course, the result was an outpouring of calls into the Delta Airline call center and a substantial spike in hold time. In total, Delta had 930 people complaining on Twitter, publicly shaming the airline for its long hold times. This made them the worst hold time offender on OnHoldWith.com, a community driven website that captures people complaining about being on hold.
Hold Time Complaints:

The disgruntled messages started on Twitter on Wednesday, April 5th, with 82 people complaining, but that grew by 183% in just two days with more than 230 people outraged by lengthy hold time.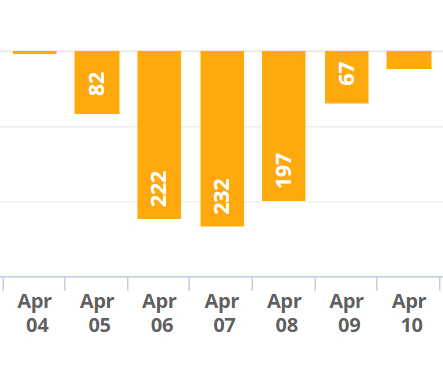 Now, to play devil's advocate, the airline couldn't possibly prepare for such a catastrophic change in weather; parts of Georgia even experienced tornados. Gil West, the airline's Chief Operating Officer, explains that the storm was "unprecedented" and hard to forecast. Naturally, the call center wouldn't be staffed for this unexpected spike in call volume, but this is exactly why call-back solutions can be so valuable. Fonolo explains this scenario as, "using call-backs as your insurance policy", so that when these unforeseen events occur your call center can be armed and ready.
Watch a time lapse video of storms moving into Midtown Atlanta https://t.co/SM40Xoqu0v pic.twitter.com/l00s8jCXCf

— AJC (@ajc) April 5, 2017
On a positive note, Delta Airlines was quite active on Twitter during the delays. They explained that travelers whose flights were cancelled could get a refund, and also offered to waive change fees for those who rebooked their plans.
We apologize to our customers that have been affected by storms this week. We're working hard to rebook everyone as soon as possible. (1/3)

— Delta (@Delta) April 7, 2017
You are entitled to a refund if your flight has been cancelled. Waivers to change fees that were issued Thursday remain in place. (2/3)

— Delta (@Delta) April 7, 2017
If you are traveling Friday,  monitor your flt status via the Fly Delta app or https://t.co/yQj0bzerMw  before heading to the airport. (3/3)

— Delta (@Delta) April 7, 2017
Although overbooking flights could turn into a nightmare for both airlines and passengers, one story actually led to a beam of customer satisfaction. Check out this passenger who made a whopping $11,000 off of Delta flight delays! Cha-Ching 🙂
---
It's essential that your contact center is built for the future. Here are the 10 biggest trends that can help call center professionals stay ahead of the curve.
What's Inside:
Omni-Channel Communications
Go Digital or Go Home
Social Media – a Not-So-Secret Weapon
Measure Your Performance and You'll Go Far
Plus So Much More!
DOWNLOAD THE FREE 13 PAGE REPORT TODAY