Fonolo
 is excited to return as a sponsor for this year's Contact Center Demo & Conference, happening September 25-27th at Mandalay Bay in Las Vegas, Nevada. The Contact Center Demo & Conference is produced by ICMI – a trusted advisor in the contact center industry – and is an independent, forward-thinking program focused on future contact center trends.
Attendees will have the opportunity to solve new challenges facing the call center space, chat with industry recognized thought leaders, and speak to vendors about the latest solutions.
At this year's event, Fonolo will be showcasing its brand new feature-rich customer portal, equipped with scheduled call-backs, improved call-back metrics, and a more simplified way for international contact centers to deploy call-backs.
Here's a teaser shot of the new portal:
The ICMI Demo & Conference will serve as a great location for Fonolo to demonstrate the amazing benefits of call-back technology to new and existing customers. Attendees can visit Fonolo in the Demo Hall at booth #704 to learn how its cloud-based call-back solutions can help to lower abandonment rates, smooth out volume spikes, and improve the customer experience. Fonolo will also be inviting guests to "shoot a rocket" for the chance to win an Amazon gift card, so be sure to swing by for a great time!
If you're looking for more information about ICMI Demo, or still need to get tickets, visit icmi.com/contact-center-demo-conference.
To see live updates and contest winners from the show – follow @fonolo on Twitter.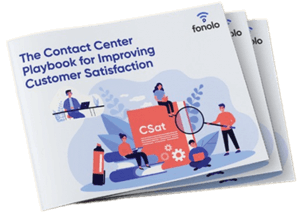 The Contact Center Playbook for Improving Customer Satisfaction
In this handy playbook, contact center leaders will learn the ins and outs of improving customer satisfaction.