As a child, I hated going to the dentist. The idea of keeping my mouth open, for what felt like an eternity, while someone poked and prodded at my teeth, was never a pleasant experience. Funnily enough, what helped me get through those torturous endeavours was the artwork displayed in that dental office. Strategically placed on the ceiling, above the chair, I had the pleasure of gazing at so many lovely pictures.
Now, I'm not saying they had a Picasso on their ceiling, but the distraction of a group of puppies or even a "Where's Waldo?" poster really took my mind to another place. Isn't it amazing what pictures can do to your state of mind?
This same idea can be applied to the call center space. In my opinion, bare walls in an environment where you're trying to build a strong customer service culture is a big no! Choose pictures that encourage CSR's to learn, to feel something, or to see beyond the bad interactions they may have had that day. (The "big picture"- pun intended.)
Here are some motivational pieces of art that customer experience leaders can scatter throughout their office space.
Don't Be Afraid to Make Mistakes
Sometimes agents fear making mistakes, or they feel insecure because of the mistakes they've already made. Show them that mistakes are completely normal and are a learning experience. When CSR's make mistakes, it just means they're trying. This piece of art is created by GraphicsByAlex and can be purchased on Etsy.
Let Success Make the Noise
Think of every successful email, phone call, chat transcript, tweet – let those dialogues make the noise in your call center space. Find ways of showcasing successful interactions with your team in order to encourage an environment of positivity. This piece is created by Koalusky which can also be purchased on Etsy.
Don't Stop, Regardless of the Journey
I just love how relevant this quote is. Sometimes it takes agents a longer than normal time to find the right answer, but as long as they keep moving towards their destination, it really doesn't matter how long it takes. What matters is that they don't give up, no matter how bumpy the road might be. This quote is from Confucius (a Chinese philosopher) – various pieces of artwork can be found on Pinterest, Etsy or Amazon.
Take Time for Yourself
Sometimes the stress of the day can feel like a thousand pounds on your back. Agents carry that weight and, subconsciously, bring it into every interaction they have. Encourage them to take some time to themselves, whether that means going into a quiet room, taking a walk, or just stepping out of the office. I found this particular image on Pinterest, but variations of it can be found on Etsy for purchase.
It Seems Impossible, Until it's Done
Have you ever started a task that just felt impossible to complete? But then, when the task was done, you thought, "Well, that wasn't so bad." Agents deal with this all the time. They have, what feel like, impossible tasks to complete, but somehow they manage to get through it. Let them know that the feeling of doubt is completely understandable, and encourage them to strive for that feeling of accomplishment. These wise words were spoken by Nelson Mandela, the artwork was designed by Tang Yau Hoong and can be purchased here.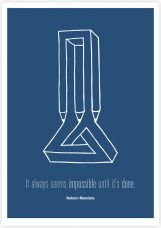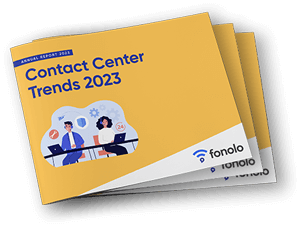 Trend Alert! Contact Center Industry Predictions for 2023
This report offers perspective on where the contact center industry stands today, plus our trend predictions for 2023.