After assessing how the pandemic had changed the call center in 2020, we decided to peek over the parapet at 2021.
We asked the contact center industry's top influencers and business leaders what they thought the most significant contact center trends in 2021 would be.
Read the Full Industry Report Here:
Here's what they said.
Contact Center Trends 2021
1. Increasing Empathy
The one word that came up time and time again in our research was 'empathy.' That doesn't happen all the time.  We had to listen.
"Agents are responding with genuine empathy and care because they are as worried and concerned as their customers about this pandemic and its impact."
— Bill Quiseng CX Expert, Speaker & Consultant
We were all given a little empathetic medicine this year. Nobody escaped the long lines and endless waiting times.
COVID-19 wasn't 'somebody else's problem.' It was everyone's problem. And contact centers were utterly overwhelmed in the floods of anxious customer calls.
We believe that increasing empathy due to the ongoing conditions will significantly impact contact centers in 2021.
"I see the CX industry finding new, faster and more efficient ways to meet their customers' needs, maybe through the use of new technology, while also balancing a deeply personal, empathetic human connection."
— Shep Hyken, CS & CX Expert, Keynote Speaker, and NYT Bestselling Author at hyken.com
2. The Great Contact Center Diaspora
They say it takes 21 days to 'form' a habit and 90 days to make it a permanent lifestyle change. I would argue that 90 days isn't long enough. But 300+ days must be.
"The obvious statement here is that WFH is here to stay. How do we evolve working from home to make it easier, more secure, and efficient for the business and our associates?"
— Thomas Laird, CEO, Expivia
It is HIGHLY unlikely that we will see a return to the contact center in the way that many anticipated at the beginning of the crisis. Even if as little as 30% of agents remain WFH, it'll still be a significant increase in less than a year. And we believe it's likely to be more.
The investments in infrastructure and new contact center technology to make remote working possible won't vanish. Virtual working has many benefits that haven't even been realized because companies are resisting the change. The companies that realize there's no going back will be ahead of the pack, just as those contact centers who invested in cloud technology before the pandemic found migration a lot easier.
"Sometimes, external factors force us to challenge the status quo of how we've delivered CX and run operations. These optimizations will continue long after the epidemic subsides."
— Matt Beatty, Executive Vice President of Sales & Marketing at Brightmetrics™
3.  The Voice Channel Strikes Back
For many years, it seemed like technology companies were waging war on the voice channel. Lockdown illustrated just how crucial the voice channel is in a digital world.
Voice is still the dominant channel in the contact center and will remain so for many years. We need to find ways to make it better instead of trying to stamp it out.
"Expect to see more focus on digital and self-service, less brick and mortar, more efficiency-builders for company and customer, and an increased call for the return of voice to handle the challenging stuff. Consumers feel isolated as it is. Demand for empathetic human connections is increasing, not decreasing."
— Kristyn Emenecker, Executive Leader — Marketing, Strategy, Product, CX
In an increasingly digital world, humans will continue to seek out ways to make a human connection. There's no substitute for a human voice when you have a complex problem. Sometimes, you just need to speak to a person.
"If 2020 has taught us anything, it's that people need human connection and clear communication. To achieve that within a remote or hybrid work environment, we're going to see more contact centers reach for a cloud-based technology that drives camaraderie, increases visibility, allows supervisors to coach from anywhere, and enables agents to self-manage."
— Paul Liljenquist, President of ClearView
Find Out the Rest of the Trends:
---
Historic Call Center & Customer Experience Trends
We saw this year that most people in the contact center industry believe the pandemic has changed the contact center forever.
As a mark of that watershed, we thought it would be interesting to look back over the call center trends of the last decade, so you can see how the story unfolds.
Contact Center Trends 2020
Change is the only constant trend.
Everything from how we shop to how we listen to music has changed in the last two decades. That includes our experience as customers. Modern consumers are no longer willing to accept poor customer service. More than 80% of customers now say the experience a company provides is as important as its products. 
The contact center is destined to evolve further into the 'Customer Experience Hub' of the future. With this 'meta-trend' to give us some context, here are the top trend predictions for the call center in 2020.
Omnichannel, Cloud-Based Contact Centers
As the contact center melds into the 'experience hub,' omnichannel communication will become the standard. It will allow companies to standardize and unify customer communications across multiple communication channels.
To deliver this, we expect to see many more contact centers migrate to the cloud in 2020. On the business end, cloud-based software can improve local service reliability and allow for faster upgrades and better functionality. 
We're expecting to see more than two-thirds of service providers move their contact centers to the cloud over the next 12 months.
AI is here to stay
AI has been a growing trend in contact centers and customer service providers for a couple of years now, but in 2020 we're expecting to see it come to the fore.


More than a third of service organizations already have a defined AI strategy, and more than half are currently investigating ways to use it in the business.
Whether it's handling and routing necessary inquiries through self-service tools and chatbots or using AI to improve reporting and predictive modeling, AI will be essential in delivering excellent customer experiences in the future.
But this doesn't mean you'll get a robot on the other end of the phone; AI will instead free up humans to better handle more complex cases, cases that require empathy and time.
As the focus of contact center turns to creating value rather than reducing expenses, KPIs like customer satisfaction and service level will become increasingly favored over metrics like Average Handling Time. #contactcenter #2020trends
Click To Tweet
Call Centers Will Change in 2020
As the contact center's focus turns to creating value rather than reducing expenses, KPIs like 'customer satisfaction' and 'service level' will become increasingly favored over metrics like 'average handling time.'
As managers look to improve the customer experience, 'soft-skills' like empathy and active listening will be more in-demand in contact center agents. Perhaps more importantly, managers will look at 'agent satisfaction' as a critical differentiator.
It is an exciting time for the contact center, and we look forward to seeing how these trends develop in 2020.
Contact Center Trends 2019
In 2019, contact center superheroes should watch for the plots, characters, and villains within them. As always, we keep watch of the continuously shifting trends and issues pertinent to contact centers.
Understanding these trends will help strengthen your contact center game and give you "hero status" with customers and employees. Read on about these industry issues and trends so that you can power-up and defy the odds in 2019.
Storyline: Gamification
While much has changed in the last decade, one storyline will remain constant:
Contact center teams will continue to face surges in call volume bravely.
Managing a contact center has a unique set of challenges. Employee attrition is high on the list (contact center turnover was as high as 33% a few years ago). While the cause of the high turnover rate is debatable, managers can help keep agents motivated via interactive, game-like principles in different contexts. By adding playful elements such as competition, rewards, and recognition in your contact center, you can facilitate and reward learning, creativity, and social and personal growth.
And remember: As a contact center manager, anything that benefits customers, agents, and your overall infrastructure benefits you. Only you can control the heroic arc of your brand's
Storyline: Investing in Agents
'Saving the day' for contact center agents will be a predominant quest in 2019. While companies are fixated on the bottom line, they will increasingly acknowledge that agents form their business's backbone. It's time to treat them right.
Contact center culture will get a much overdue upgrade in 2019 – it is a needed investment. As Richard J. Snow of Ventana writes, "90 percent or more of most contact center's operating budget is allocated to keep existing processes and systems running," rather than improving agent support bolstering contact center resources.
Contact Center Trends 2018
This coming year, several key trends are poised to impact contact centers around the globe significantly. Some of these have transitioned from being "nice-to-have" to being essential, while others are brand new and expected to play a substantial role.
Here are trends for 2018 that are sure to shake up the industry.
1.  A Focus on Customer Experience Strategies
How would you feel if 45% of your customers switched to a competitor who charged more for an equivalent product simply because of a better customer experience? It's a scary thought; however, it's the reality these days. According to this Customer Experience Executive Report, customers place a premium on great experiences, and 63% of them would pay more for a better experience.
The Temkin Group's 2017 Customer Experience study showed a severe decline in customer experience ratings from 2015 to 2016. But the number of companies that scored 'good' or 'excellent' increased from 18% in 2016 to 38% in 2017 – the highest rating ever. Companies have realized that the customer experience directly affects loyalty and, accordingly, the trend is expected to continue in and beyond 2018.
2. Consistency Across Multi-Channel is a Top Challenge
Consistency means that regardless of the channel (email, webchat, phone, etc.), the experience – and the information conveyed – is the same. If you don't ensure consistency across multiple customer service channels, then the overall experience will be negative, potentially negating your investment in multi-channel.
That's a challenge for companies today, and it will only get more challenging in 2018. According to the State of Customer Service, customer experience leaders' main objective will be to deliver an 'effortless' multi-channel experience.
Which Topics Are Most Important for Your Customer Service Department in 2017?
3. FCR is the Most Important Metric
Customers and businesses both identify FCR as the top priority during interactions. And when circling back to the issue of consistency across channels, FCR becomes even more critical.
Getting customer interactions right the first time, with accurate information across all mediums, ensures fewer further engagement requirements.
The Customer Experience Executive Report reveals that FCR is a customer's #1 priority. 70% of customers identify First Contact Resolution as the most important factor when interacting with a brand. Unfortunately, only 10% of organizations believe they are "excellent" at delivering on this expectation.
In 2018, contact centers needed to put extra efforts to ensure FCR is being met – regardless of the channel.
Which of the Following Are IMPORTANT When Receiving Customer Service?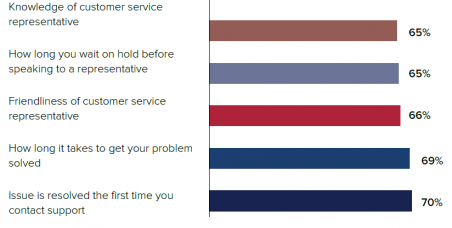 4. Increased Pressure to Showcase Real ROI
Customer service leaders tend to use a combination of KPIs to track performance, with NPS (Net Promoter Score) and CSat (Customer Satisfaction) being the most common. While these metrics are crucial, they only indirectly help a company understand how the contact center contributes to financial success. According to the State of Customer Service, the ability to calculate the return on investment from customer care is a weak point. Expect executives to put more pressure on tracking and measuring ROI in 2018.
How Well Can You Measure the ROI of Your Customer Service Initiative?
Call Center Trends 2017
The contact center industry is currently in a transition phase, where modern ones will refashion legacy systems, and the once 'low-level' agent positions will be replaced by robust technology. You must build your contact center for the future. And while the thought may seem daunting, there are several new ways to resolve the problems that will erode call center operations' success around the world.
Here are the ten most prominent trends that can help call center professionals stay ahead of the curve.
1. Omni-Channel Communications 
The ability to escalate from channel-to-channel was once a luxury; however, today's customers demand nothing less. Only 36% of contact centers can track a customer journey that spans multiple channels, and only 17% can locate problem hotspots that impact the customer experience. By 2020, the demand for omnichannel support will be amplified by the need for nearly perfect execution.
From the 'Inner Circle Guide to Omni-Channel Customer Contact' by ContactBabel, the image below reveals the current state of multi-channel, multi-modal, and omnichannel offerings by contact centers.
Most contact centers have adopted multi-channel; however, only 12% describe themselves as omnichannel. Indeed, the leap towards omnichannel will be a big one, and it should happen very shortly.
2. Go Digital or Go Home
Greater access to information and the convenience of doing business on the go means that call centers must configure their applications to be agile and responsive. People under 55 years of age now rate mobile applications as a top choice for customer service channels.
As contact center leaders begin to catch on to the importance of user-friendly online customer experiences, digital channel planning is set to increase by the following percent over the next 12 months:
Web chat: 44.3% to 81.1%
Mobile apps: 41.6% to 75.45%
Social media: 51.4% to 76.1%
A digital transformation strategy will be critical as mobile bandwidth's cost goes down and omnichannel / machine-to-machine communications advance.
3. 'Hello?' Is it the Voice Channel You're Looking for?

ContactBabel surveyed 221 contact center managers and found that 63% of the time, the telephone is still the best communication method for complaints. Although digital channels are growing in popularity, the phone still handles 57.7% of interactions.
How can contact centers provide the best care on the voice channel?
1. Training:  Proper, consistent, and ongoing training will help ensure those voice interactions are met with quality and precision.
2. Technology:  Hold times have always created a concern for customers using the voice channel and must be eliminated at all costs. Cloud call-back solutions like Fonolo have been around for several years, but many call centers are still unsure if it's the right fit for their business.
Tip:
If your contact center cares about the customer experience, wants to reduce abandon rates, and decrease telco costs, then a cloud call-back solution is a must-have solution for 2017.
4. Measure Your Performance, and You'll Go Far
This year, contact centers will see an increase in the number of implementations for performance management solutions. While 89% of contact centers measure the quality of voice, only 50% measure performance on digital channels, down from 61% last year.
In 2017, more contact centers will recognize the impact of tracking analytics and use those benchmarks for future growth.
5. Social Media − a Not-So-Secret Weapon
Hootsuite released a report this year, which found over 2.7 billion active social media users, for a global penetration of 37% and an annual growth rate of 21%. Though most businesses have observed the need for social support, 29.3% of them are still not utilizing it; instead, they're redirecting customers to another channel.
Consumers want a place to give quick feedback, vent, and interact with their favorite brands. Responsive social support teams see this trend as an opportunity to create a unified customer experience.
On the flip side, any negative comments can be detrimental, and if they go unanswered, it can make customers suspicious.
Call Center Trends 2016
Did you know the cost of poor customer service is over $41 billion per year? Zendesk also reported that 82% of customers stopped doing business with a company because of subpar customer service.
The best way of deciding how to improve performance at the contact center is to step back and look at it from a 360-degree view. It's a lot to consider, which is why this whitepaper will help highlight the most popular areas being forecasted this year.
These nine call center trends will give contact center managers a solid understanding of how they can help shift operations into high gear.
1) Customer Communication Will Move Across Channels
According to Forrester, 95% of customers use more than one channel to communicate with companies, while Accenture reports 65% of customers are frustrated by inconsistent experiences.
Today, customers can communicate through several channels: web, chat, phone, email, and text, each of which need to support a positive experience. Companies need to start transitioning between channels in a much more sophisticated and intuitive way for your customer service agents to provide quality assistance in a multi-channel environment.
2) The Cloud Will Reign Supreme
The Cloud Contact Center is predicted to become the number one platform of choice for many businesses in 2016. According to recent surveys, 18% of call centers moved to a cloud-based solution by the end of 2015. Gartner further suggests that in 2016, more than half of the Global 1000 companies will store sensitive customer information within the cloud. Therefore, companies will increasingly adopt virtual call centers due to improved security and efficiency.
While cost reduction is typically the main factor when investing in an enterprise solution – it's no longer the sole motivator for moving to Contact Center as a Service (CCaaS). Other noteworthy reasons are:
Speed of deployment
Flexibility and scalability
Ease of operations
3) Customers Want to Help Themselves
Harvard Business Review reported that 57% of customers visit a company's website to resolve an issue but, due to bad user experiences, are forced to dial into their call center instead. That will shift in 2016, as self-service will become a critical factor in any successful multi-channel strategy.
In the last five years alone, customer preference for automated self-service has doubled to 55%, and Gartner predicts that by 2020 customers will manage 85% of the relationship without any human interaction. Forrester found that at least 45% of customers will abandon an online purchase if they can't quickly find answers to their questions.
Companies need to ensure that they provide quick resolutions to inquiries as customers are more frequently browsing the web with their mobile phones to locate information.
4) Video Chat Will Get More Face Time
Video chat is reportedly handling less than 0.2% of contact center traffic. Still, forward-thinking companies such as Schuh and Amazon have already deployed video as part of their customer service strategy. In 2016, the demand for this type of service will only grow, and more companies will be encouraged to test their effectiveness.
When the customer requires a more in-depth, more technical experience, video chat is a quick and affordable way for agents to assist them. Although not new to social communication, this system is in its infancy as a contact center tool.
5) Social Media is Synonymous With Customer Support
While only 3% of companies communicate on social media, it doesn't stop customers from voicing their dissatisfaction through these networks. A study by NewVoice says 59% of 25-34-year-olds share poor customer experiences online. That's why customer service agents need to be present, active, and alert on these channels.
Last week, Fonolo hosted another insightful Google Hangout, discussing the top 3 call center trends for 2016. To save you some time, we've extracted video snippets showcasing highlights from the discussion.
The Surge of Mobile Customer Care
Here are some stats to think about when considering mobile customer care.
87% of people say their smartphone never leaves their side
80% of people say the first thing they do when they wake up is check their phone
78% say they spend more than two hours every day using their phone
And 68% say that in the next five years we will do everything on mobile devices
So what does this mean for customer support? Let's hear what the panel has to say.
Self Service as a Consumer Preference
More and more, customers simply want to solve inquires on their own – especially for simple questions like "what's the balance on my account." In fact, according to Salesforce, 72% of people think self-service support is a fast and easy way to handle issues.
The problem is that users are complaining about poor online experiences (57% according to Harvard Business Review), and therefore they're forced to just dial into the call center. Meaning, merely providing self-service doesn't mean a customer will find it useful.
So the question is, how can companies improve self-service so that it's tailored to the customer's needs? Listen to what the panel has to say.
The Impact of Social Media Support
Here's the face of social media today. 56% of companies did not respond to messages posted on their Facebook page, and 71% of Twitter complaints went ignored entirely. Customers are sharing their negative experiences online, and companies are NOT using that as an opportunity to save the customer and protect their brand image.
With all the tools available to manage social media, why are so many contact centers falling behind? Let's hear the panel discuss this topic.
Question about Chat-Based Customer Service
Audience members ask a question about Chat. They want to know where we see this trend going in 2016.
Let's watch the panel address this question.
Call Center Trends 2015
In the past, dealing with the phone system's nuances and agent training were the biggest hurdles. Today, those challenges span multiple channels and include demanding metrics and increased competition.
Contact centers will continue to transform in the year ahead. Adapting to changes in the call center industry has become an annual requirement.
Here are the top 10 trends that contact center leaders must understand and address this year.
1. Why Gamification Matters
Keeping employees motivated is a challenge in every industry. 70% of business transformation efforts fail due to a lack of agent engagement.
Gamification guides and reinforces high-value activity by capturing employee performance data and, in turn, using that data to motivate them with rewards and points. According to Gartner, by the end of 2015, more than 40% of the top companies will be using gamification to transform their business operations.
In this video, experts discuss if gamification will grow in the next year.
2. Customer Service Goes Mobile
Mobile devices are rapidly becoming the preferred choice for consumers when communicating with companies. As business executives look for better ways to engage with customers and partners, more than half of these decision-makers will focus on mobile.
This year mobile apps will be a $55.7 billion market (Chart A). Here are some other interesting stats to keep in mind:
Business spending on mobile projects will grow 100% by 2015.
One billion consumers will have smartphones by 2016.
US consumers alone will own 257 million smartphones and 126 million tablets by 2016
(Chart B).
3. Video Support
Another trend that will impact call centers this year will be video chat. Many companies have already incorporated some form of video support (e.g., "how-to" videos, answering common support questions). However, the new shift in the video channel will be toward live support. Chat solutions have become so popular that consumers want the same experience, but with video instead of text.
4. SMS in the Call Center
Texting via SMS is turning out to be more important than once thought. Consumers are accustomed to this mode of conversation, and we're finally starting to see it trickle down to customer service. Customers expect an immediate response to texting. 44% of consumers with texting capabilities would prefer to press a button to initiate a text conversation immediately, rather than waiting on hold to speak with an agent.
Traditionally, businesses use texting to send a widespread marketing message or alert/reminder; however, customers want more than that. According to Harris Interactive, consumers want the ability to start a conversation via SMS for answers commonly found on self-service channels. Customers are looking for more convenience when it comes to SMS.
Overall, 64% of consumers would prefer to use texting over voice as a customer service channel. Ensure that you consider these capabilities to stay ahead of the competition, as customers will expect texting to be a part of the conversational dialogue.
5. Virtual Queuing
81% of all consumers agree that it's frustrating to be tied to a phone, waiting for customer service help. This is where virtual queuing (call-back technology) comes into play. The basic concept has been around for decades, but only in the last few years have we learned how beneficial it could be for both the call center and the caller.
There are five significant reasons why call centers will deploy call-back technology this year:
Improving First Call Resolution (FCR)
Reducing Abandonment Rate (read the success story)
Escalating from a digital channel to voice
Improving Average Handle Time (AHT)
Smoothing out volume spikes (watch the video)
Call-back technology is finally getting the mainstream acceptance it deserves.
Call Center Trends 2014
The call center industry relies heavily on understanding the trends that affect client communications and ultimately leads to customer satisfaction.
Here are the top 12 trends that contact center leaders need to understand and address this year to stay competitive and deliver a great customer experience.
1. The Cloud and the Winds of Change
According to DMG Consulting, cloud-based infrastructure is the fastest growing area for the call center industry, predicted to almost double between 2013 and 2015. Change is coming, and the proof is in the numbers:
2013: 6 out of 10 contact centers had plans for cloud-based deployments.
2015: 18% of contact center seats will be delivered by cloud-based infrastructure. (Up from just 2.2% in 2008.)
2016: 50% of Global 1000 companies will have stored customer-sensitive data in the cloud.
2. The Value of Metrics
Tracking KPIs and other metrics to improve call center performance continues to be necessary. Understanding and benchmarking against these metrics is still the best way to maintain high standards of customer service.
As of last year, only 43% of call centers had a high understanding of KPIs. In 2014 it was crucial to measure and understand the metrics that matter most, including; First Call Resolution (FCR), Abandonment Rates, Average Handle Time (AHT), Average Speed to Answer (ASA), and Cost-per-Call.
3. A Knowledge Base is Crucial to Online Services
In 2013, Zendesk stated that 72% of customers were going online to serve themselves; however, only 52% found the information they needed. This year, expect companies to adopt best practices in knowledge management so that information is easier to find and utilize for greater service efficiencies.
A properly scripted menu leads customers to the answers they need, provides them with the opportunity to navigate to a live agent, and decreases the overall call volume that reaches the call center. 69% of customers surveyed attributed their good customer service experience to a quick resolution of their problem.
4. Mobility is Climbing to Higher Peaks
Forrester stated that companies would spend about $900 million on mobile processes in 2013 and expect this number to triple in 2014. Seven hundred twenty-two million smartphones were shipped in 2012, bringing the worldwide installed base to 1 billion. In 2014, smartphone shipments were expected to surpass 1 billion for the first time, marking another milestone in mobile devices' dominance.
The focus is now on customer engagement and user-friendly navigation. Ensuring that the interaction with customers is clear and easy to understand will be crucial in redesigning or creating your mobile applications. It's equally important to provide the best customer experience on your mobile app by combining tools that enhance customer interaction. Adam Faulkner, a specialist in customer service and contact center systems, says, "2014 will see mobile apps combine with services such as call-back and web chat to make engagement even easier for customers".
Source: The Contact Center Satisfaction Index Mid-Year 2013
5. Big Data is Getting Bigger
Companies are increasingly trying to obtain a 360-degree view of the customer by blending customer feedback data with their existing CRM systems.
IDC predicts that the market for Big Data will reach $16.1 billion in 2014, growing six times faster than the overall IT market. With that in mind, Data Scientists have become more desirable since it's the management and use of all this data that will be the key differentiator. Ultimately, businesses need to find more ways to connect the mix of structured and unstructured data, helping them better address their customers' needs.
6. The Rise of the Super Agent
In a perfect world, you could staff your call center with highly trained "Super-Agents." These agents are able to take on a range of responsibilities and engage with customers across multiple channels, resulting in operational efficiencies, increased customer loyalty, and higher sales.
For many companies, developing a corporate culture where the real value is placed in the call center and reflected in hiring, training, and nurturing talent is a readily achievable goal.
Creating the super-agent takes time and patience, both scarce commodities in most call centers. Not every employee is up to the challenge, but recognizing, training, and promoting the ones is key to this objective.
Call Center Trends 2013
The gap between customer expectations of phone-based support and reality is more significant than ever. Read the following list of call center trends that will help shape your support strategy in the coming year and beyond.
1.    Cloud Call Centers
Cloud-based infrastructure is the fastest growing area in the call center industry, which DMG predicts will almost double between 2013 and 2015.
The proportion of call center seats in the cloud will reach 18% by this time, up from just 2.2% in 2008.
Initially, the recession drove financially-pressed companies to embrace the cloud because of quick deployment and great value. Now that the functional gap with premise-based solutions is narrowing, cloud-based infrastructure is not only a viable alternative to more call centers – but a more logical one.
2.    Smartphones 
Global smartphone shipments are expected to jump this year by 25%, according to Digitimes Research. By 2015, IDC expects more US consumers will access the internet through smartphones than PCs.
Smartphones' potential to improve the call center experience, combined with their widespread adoption, resulted in a flurry of mobile customer service product releases in 2012:
Forrester reports that 68% of call center decision-makers believe mobile integration is a high priority for customer relationships.
They predict this trend will grow the number and sophistication of mobile customer service vendors in 2013.
3.    Gamification
Gamification promises to make the workplace more fun by applying game design elements to business processes such as customer support, and it's quickly gaining traction. Gartner predicts that over 70% of Global 2000 companies will have incorporated some form of gamification by 2014.
We expect the number of vendors and sophistication will increase in 2013, and more call centers to give gamification a try.
4.    Customer Feedback
When it comes to improving customer interaction, a whopping 38% of call center managers say that measuring results are one of their biggest challenges. Call centers are notorious for implementing many different technologies, making reporting difficult, convoluted, and time-consuming.
Managers want to tackle this challenge head-on. Over 40% of call center managers plan to upgrade their customer feedback surveys within two years, more than any other customer interaction upgrade.
As the customer experience becomes a top priority, timely and accurate feedback becomes an absolute requirement. According to Gartner, customer feedback surveys are "especially important for learning about end-user dissatisfaction before it gets escalated."
5.    Video Support
Video is making its way to the call center, thanks to the amount and detail of information it provides customers. 18% of managers plan to introduce or upgrade this emerging technology in the next two years.
The following companies have embraced video support, IKEA just recently, and are reaping the benefits:
IKEA – How To Assembly Videos
Verizon – Frequently Asked Questions Videos
iRobot – Videos Related to Roomba Vacuum Cleaners
We expect more call centers to introduce video into their support strategies to give their customers a better service experience.

At the end of 2012, Fonolo hosted a Google Hangout with industry experts to discuss upcoming call center trends for 2013. This fabulous panel was eager to share their expertise and thoughts on five hot topics to watch for; cloud-based call centers, mobile customer service, social media, Web Call-Backs (formerly Visual IVR), and virtual queuing.
Call Center Trends 2012
The call center industry continues to evolve as it responds to changes in the global business environment. Economic pressures, new technologies, increased competition, and customer behavior are all affecting the landscape.
Here are ten call center trends to look out for in 2012.
1. Emotion Detection
Emotion detection is an automated way to measure how a caller feels. It is based on how loud a customer is talking, their tone, pitch, and how fast they speak.
Some call centers prioritize callers based on how angry they are. The system will intuitively listen to the caller while they are on hold, and if a caller is vocally upset, they will receive a higher priority in the queue and connect to an agent faster.
While on hold with Scotiabank, I was immediately connected with an agent when I started yelling. That mitigated my frustration and demonstrates how emotion detection can make for a less frustrating experience.
2. The Cloud
More call centers are migrating to the cloud because of the benefits it provides. The biggest driver for this is the cost reduction, followed by scalability and easier call center management.
By 2013, Gartner Research predicts that at least 75% of customer-focused call centers will use a form of the cloud in their call centers.
3. Mobile
The rapid increase in mobile adoption has altered the call center landscape. DestinationCRM.com published an article, "Can Mobile and IVR Avoid a Fight?", which identifies a new generation of consumers who are choosing their mobile devices as their initial point of contact for customer service. That leaves the call center in the back seat in terms of interaction preferences.
Mickey Ristroph, Chief Technology Officer of Mutual Mobile, says, "Mobile will not completely replace an IVR or the Web, but it will become people's first choice." Mobile plays a significant role in deflecting calls from traditional call centers, and we expect this trend to continue as mobile adoption increases.
4. Scheduled Call-Backs
Nothing is more frustrating to a caller than having to wait on hold. And it's far too common in an era where call center budgets have been repeatedly slashed.
A scheduled call-back eliminates the time spent waiting on hold and offers the customer the option to receive a call when an agent becomes available.
5. Voice of the Customer (VOC)
The call center experience is inherently emotional, and qualitative analytics is an effective way to measure and make sense.
As a result, Voice of the Customer (VOC) programs are becoming more popular because they gather feedback on customer expectations and satisfaction. Bruce Temkin defines it as "A systematic approach for incorporating the needs of customers into the design of customer experiences." If appropriately used, VOC programs will help companies optimize the call center for their customers.
6. 360-Degree Customer View
Customers use multiple channels to interact with a business, including the web, telephone, email, and mobile. Customer data, however, is typically not shared between these channels.
Industry leaders are getting closer to achieving the elusive 360-degree view of the customer. That will empower agents with additional insight into the customer and result in a more personalized experience and fewer frustrated customers.
7. Call Center Analytics
New technology is providing call centers with access to more data than ever before. Real-time analytics, the voice of the customer programs, and post-call surveys give the call center more in-depth insight into customers.
Sometimes, less is more. With so much data available, it's easy to fall victim to "analysis paralysis." To drive performance, managers should focus on following a manageable number of KPIs and ensure they are actionable.
8. Agent Attrition
Call center agents experience a lot of stress. They deal with rude customers, are monitored continuously, and are underpaid. Unsurprisingly, call centers have the highest employee turnover rate out of any industry out there.
Agent attrition results in significant training costs for call centers, one of their most significant expenses.
We expect to see more focus placed on initiatives such as work-from-home, knowledge-base, and scheduled call-backs. These initiatives make an agent's life more comfortable and less stressful, which leads to higher retention rates.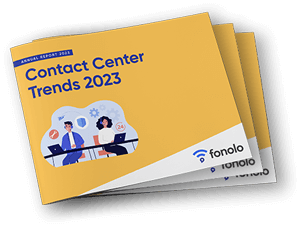 Trend Alert! Contact Center Industry Predictions for 2023
This report offers perspective on where the contact center industry stands today, plus our trend predictions for 2023.