We're excited to share with you our most recent success story featuring The General Automobile Insurance Services!
The General is a licensed insurance agency headquartered in Nashville, Tennessee, with offices across the US. Its call center handles 170,000 customer service calls per month – and experiences regular spikes in call volume. During these unexpected call surges, the company has seen an increase in hold times, abandon rates, and, accordingly, customer frustration levels.
The General turned to Fonolo's Voice Call-Backs and Web Call-Back (formerly Visual IVR) solutions in order to offer customers the convenience of a call-back without making them wait on hold during busy periods. Now online customers can easily schedule a phone call via the online "call-back widget" on The General's website. In addition, callers phoning into the call center can simply "press 1 for a call-back", and Fonolo will hold their place in line until an agent is available.
We wanted to offer our customers the convenience of a call-back without consuming time actively waiting in a call queue. We also wanted to mitigate our abandon rate on busy days. Fonolo's simple implementation and subscription-based model encouraged us to move forward with this solution.

Allison Garretson, SVP Operations and Customer Engagement, The General
Overall, the solution has improved the experience for the General's customers and is viewed by the company as a competitive differentiator for the brand. For a copy of the success story click here.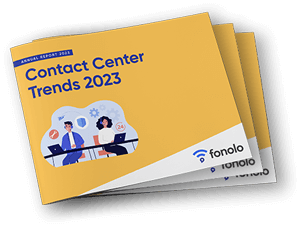 Trend Alert! Contact Center Industry Predictions for 2023
This report offers perspective on where the contact center industry stands today, plus our trend predictions for 2023.