"I feel the need, the need for speed!"
In Top Gun, the 1986 classic, Pete "Maverick" Mitchell's famous phrase effectively summed up the future of customer service (CS). While it wasn't intended to evoke the relationship between business and consumer, over 30 years later, it speaks directly to the state of CS today.
Speed is arguably the most significant benchmark for every single customer service interaction today.  Businesses can never be too fast to reply, react, or resolve an issue. As channel choices continue to stack up, and consumers navigate through them with swift precision, the expectation to be 'ready and waiting' at all times of the day is now the gold standard in customer service.
Despite this, recent reports reveal that the average time to handle a customer service request is 15 hours and 17 minutes – a far cry from first-class service expectations. But of the 12 industries that improved customer satisfaction in 2016, nine of them had something in common: They each sped up First Response Time (FRT). When issues are resolved in the initial five minutes of first contact, the average customer satisfaction score is 90 (on a 100-point scale). If resolved in six to 10 minutes, the satisfaction rating drops seven points to 83, and continues dropping steadily as additional time passes. Therefore, responding quickly will help to stave off declining satisfaction.
That being said, we have a cautionary note about speed: While desired, it will not make up for emotionless customer service; in fact, empathy is weighted above speed when it comes to overall customer satisfaction. The goal, then, is for CS teams to be both quick and compassionate. In this report, we outline the predicted trends for improving service levels for the coming year, and how to deliver timely and thoughtful customer support.
1. Advances in Live Chat Will Provide Greater Customer Satisfaction
Customers want increased access to live chat. In this report by Zendesk, 92% of customers say they feel satisfied when they use a live chat feature, and 42% say that they prefer it because they don't have to wait on hold. Live chat allows businesses to enable round-the-clock service and, by making chat available for a longer period of time, companies are able to convert tickets into real-time chats and close cases with fewer interactions.
A study by Live Chat Inc. discovered that the best-performing companies kept their reply time below one minute and handled cases in one touch, even if it lead to longer chat times.
Shep Hyken, Customer Service Expert, NYT bestselling author, emphasizes how integral live chat is becoming to the customer experience:
When I get on live chat, whether it is a live agent or AI, it doesn't really matter whether it takes six or 12 minutes. If I'm having my question answered and there is little friction between the time I start and the time I get the answer, I will be completely satisfied. Customers don't want to have to repeat the problem. You want to constantly be moving towards the solution.

When there's confusion, when the customer has to repeat themselves, that's when they are going to hit the company negatively on a survey rating. Yes, they may get their answer in the end, but the overall satisfaction is not as good because it took too long!
In 2018, businesses will be able to quickly address customers using more advanced live chat capabilities. The ability to resolve a problem as painlessly as possible is the key to customer satisfaction.
2. Social Media Monitoring: 'Do or Die'

Brands are becoming increasingly aware of the importance of using social media to engage with customers. This digital evolution has fostered a significant increase in customer expectations: 84% of consumers now expect companies to respond within 24 hours of reaching out on social media, while 72% of Twitter complainants expect a response within an hour. Still, one-third of all social media complaints go unanswered, and failure to respond can take a heavy toll on customer advocacy: The Net Promoter Score of customers who don't receive a reply to social media comments drops by a whopping 43%.
Conversely, the benefits of using social media for support are great. A study by Bain & Company reported that when companies engage and respond to customer service requests over social media, those customers, on average, end up spending 20% to 40% more with the company.
Bill Quiseng, an award-winning customer service speaker and writer, explains that social media monitoring is not a passive customer service task:
 Social platforms will need to be monitored to respond promptly to concerns and complaints that may not even be directed to them but may be simply a customer venting.
Social media has created a "call-out culture", wherein customers utilize social platforms to vent about poor customer service, thus holding brands responsible to a larger public for their actions. In the chart below, Sprout Social has ranked the ways in which social media promotes brand accountability:
In 2018, customer service teams must actively monitor and prioritize replies on social media, a court of inscrutable public opinion. In fact, swift reconciliation on social media should take priority over other traditional channels of customer feedback. Luckily, social monitoring tools like Sprout Social are available to help brands get better at this growing trend.
3. Marked Urgent: Improving the Voice Channel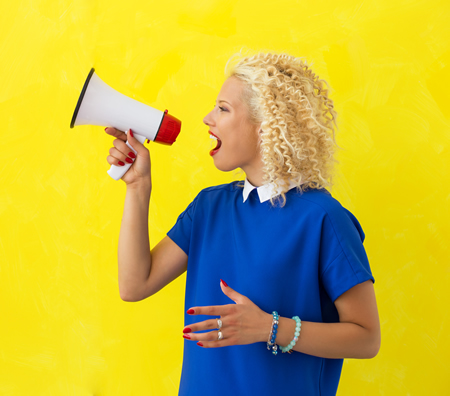 Over the years, Interactive Voice Response (IVR) has earned a bad rap for being a less-than-perfect tool, though it actually has the potential to be of tremendous value to customers. Part of IVR's troubled past is that organizations have historically approached it from the wrong angle. Instead of designing and implementing IVR solutions with customers in mind, businesses focused solely on operational, cost-oriented benefits. Unfortunately, lack of focus on the user experience has become a source of strife, rather than a source of value, for customers. Accenture reports that humans prefer human contact for a variety of reasons:
58% prefer dealing with humans to get quick answers to questions
73% prefer human interactions to resolve service issues
73% seek out humans to get advice
Therefore, businesses can no longer run from customers by keeping them in "IVR hell". (As mentioned earlier, social media holds brands more accountable for poor service.) This is why it should be of no surprise that, in 2018, voice is said to be one of the most urgent channel-oriented investment priorities for customer service.
One popular way to improve the IVR experience is by offering a call-back option. 76% of consumers feel that offering a call-back as an alternative to waiting on hold is "Very or Somewhat Important."
This feature is a simple yet effective way of showing customers that their time is being respected. To understand how to build a case for call-backs in your contact center, download Fonolo's eBook, "The ROI of Call-Backs".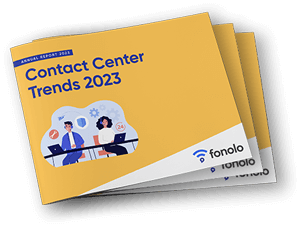 Trend Alert! Contact Center Industry Predictions for 2023
This report offers perspective on where the contact center industry stands today, plus our trend predictions for 2023.