As in any field, it's important to be aware of key trends and best practices in customer service to ensure that you are delivering an experience that is on par with the best players in the game. From servicing customers on social media, to curating unique "real life" opportunities for consumers to interact with your brand, there are many emerging standards in the world of customer service that companies are striving to meet.
A company's CS standards can set them apart if they always aim to go above and beyond for customers. And: The more unique, the better. One great source of inspiration is examining the customer service practices of different cultures – especially those outside North America. Many cultures have unique customs and practices related to service – some even date back centuries.  
Here are some great customs and practices from cultures around the world that can serve as a source of inspiration for your own business.
Customer Service Is A Way Of Life in Japan
Customer service in Japan is internationally regarded as some of the best in the world and unlike any other. So, what is at the core of this reputation for exceptional hospitality and customer service? Japanese hospitality centers around a term called 'omotenashi': 'Omote' means 'public face', and 'nashi' means 'nothing'. Together, the term speaks to an honest and open approach to hospitality. In Japan, everyone strives to 'serve wholeheartedly'.
For example, both customer greetings and goodbyes are carried out with great purpose in Japan. Upon entering an establishment, customers are greeted loudly and enthusiastically by shop and restaurant keepers with "irasshaimase" (the Japanese word for 'welcome'). Upon exiting a store, it is very common to be escorted out and sent on your way. At gas stations, workers will often help guide you safely into traffic. It's not surprising that customer satisfaction rates in Japan are among the highest in the world.
United Arab Emirates Sets A High Standard
The United Arab Emirates (UAE) noticed an important gap in customer service standard regulation. Specifically, the UAE wanted to create a standardized rating system for hotels in which excellent service was given as much weight as excellent accommodations and amenities. For example, in order to qualify for a five-star rating, hotels must offer free unpacking and packing services to guests, and turn down services must include a gift.
The UAE values customer service so highly that the rating system has been applied not only to luxury hotels, but also to budget accommodations, hostels, and even government entities. These entities are evaluated on eight key criteria every two years including citizen experience as well as service efficiency and innovation. With their rating system, the UAE have set an unprecedented standard for customer experience in both the private and public sectors.
Maritime Hospitality Goes Above And Beyond
Canadians are known for being nice but, it is likely that no one better embodies that spirit than the Maritimers of Canada's beautiful East Coast. The pinnacle of Maritime hospitality and customer service can be found on Newfoundland's Fogo Island.
Included in your stay at the Fogo Island Inn are individual daybreak baskets customized to your dietary needs delivered straight to your door each morning; all the outdoor gear you could possibly need for your next hiking adventure; and a fleet of cars available to all guests at no extra cost. Talk about going above and beyond!
Applying Unique Customer Service Practices to Call Centers
These international customer service practices all share one thing in common, and that is that these practices all emerge from deeply-rooted cultural values. In searching for unique customer service offerings in a diversity of cultures, you'll be expanding your cultural knowledge; gaining an appreciation and understanding of global CS practices; and gearing up for an out-of-this-world call center customer experience will bring customers back to your company time and time again.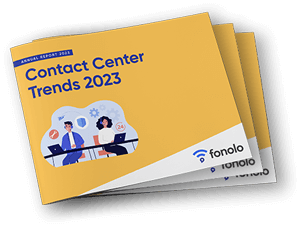 Trend Alert! Contact Center Industry Predictions for 2023
This report offers perspective on where the contact center industry stands today, plus our trend predictions for 2023.