"I just want to speak to a real person" has become a token phrase used by people during almost any type of automated customer service experience. Even so, gone are the days when talking to 'a real person' is the customer's preference: Today, 70% of customers expect self-service options and most brands are taking note.
Customer Self Service, or CSS, is any type of electronic or automated support that allows customers to find answers or resolve problems without having to connect with a customer service agent. Examples include FAQ sections on websites, help center blog forums, self-service account creation, password resetting, and interactive voice technology in call centers.
Despite the clear demand for these services, 55% of consumers find self-service portals difficult to use. So, how can these customer self-service strategies be implemented in successful ways that not only increase efficiency but also cut costs for companies? And, using self-service offerings, how can brands create happier customers who are more likely to become repeat customers (or brand evangelists)?
Dive Into Your Analytics
The first step towards creating a high-quality customer self-service strategy is to dive right into analytics. It is important to track key metrics that will help determine which information is the most important to share, as well as how that information should be shared. Most call center agents will tell you that the same questions and pain points arise time and time again from different customers. Ensuring that these answers are readily available on a website FAQ section, blog post, or help forum for customers to find will help increase the efficiency of customer service agents. It will also help decrease the customer wait time and likely improve customer satisfaction.
Companies can also look at key search terms related to customer pain points to see which problems are arising most often. To help identify these key questions and pain points, companies should not only look into Google searches but searches on their own websites as well.
Answer Frequently Asked Questions
Once key questions have been identified, companies should make efforts to ensure that answers to these key questions are readily available to customers in an FAQ section. Whenever possible, video or screenshot examples should be included to help customers walk through the process as simply as possible.
Importantly, these FAQ pages should be constantly updated and optimized to ensure that information is up to date and easy to understand. It is also crucial to ensure that content is optimized for both desktop and mobile experiences. Taking these steps will ensure that, no matter how the customer is accessing the information, they will have a positive user experience.
Incorporate Balance & Options
Everybody loves choice. In order to have a successful self-service strategy, there should be as many options as possible for consumers. For example, call centers may want to incorporate interactive voice response technology, but they should also make sure that a customer service agent is easily reachable if that is the customer's preference. Research has shown that there can be a significant return on this investment. Specifically, a study by Forrester Research and Oracle discovered that web self-service can reduce call center costs by as much as $11 per call. For a high-volume call center, this can be quite a significant amount of savings.
Self-service technology should not work to replace customer service agents. Rather, these strategies should be in place to free up agents to deal with more complex complaints, as opposed to having them answer repetitive, mundane questions that could easily be found on an FAQ section of a website. By implementing a hybrid solution, both your customers and your bottom line will certainly thank you.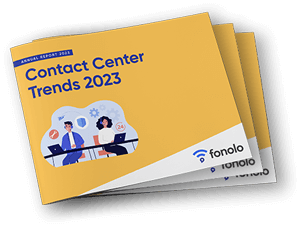 Trend Alert! Contact Center Industry Predictions for 2023
This report offers perspective on where the contact center industry stands today, plus our trend predictions for 2023.