Text-based communication plays a growing role in customer service. There are several big questions around how it will evolve. The most important one, in my mind, is how text should work alongside voice. What is the ideal arrangement between typing and talking?
The second big question is: What channel will carry the messages? We have four broad categories: Web-based chat, SMS, social media (e.g. Twitter DMs), and proprietary networks (e.g. Facebook Messenger, Apple Chat). I know that other people divide things differently, but this structure makes sense to me. On that second question, there's been quite a bit of news in recent months. Let's go through it.
SMS is Still King of Deliverability
The only text channel with truly broad adoption is SMS. The other channels all have areas where they are strong, but nothing can touch SMS in terms of reach.
Apple's chat offering (iMessage and its new sibling Apple Business Chat) has very powerful integration with the mobile OS. It wins for the most frictionless experience for the user. But, best case, you can only address iOS customers, and that's about 50% of the US.
Facebook has multiple platforms (Messenger, WhatsApp, Instagram) and is cross-platform, but you still have a limited install base combined with a new distaste for all things Facebook.
Some companies have had good success in adding chat functionality to their mobile app. But that's a tall order for most companies. App development is expensive and time-consuming, and getting app install rates above single-digit percentages is a challenge.
SMS has its own weaknesses, but in terms of reach, SMS continues to hold the crown. I don't see anything on the horizon that can touch it. And as soon as they get a Rich-SMS going, it's going to be hard to beat the impact bulk SMS messaging can have for businesses of all types.
Channel Jungle
The bullish case for proprietary messaging channels is how many billions of messages are sent or how many millions of people are "daily users." But the problem with those metrics is that most of that usage is person-to-person communication, not business-to-person communication. It's hard to know who's winning for that particular use case.
Even if you use overall usage as a proxy for business-to-person usage, you still have serious fragmentation, as you can see in the below image:

Even if Apple, Facebook, Google, or Twitter executed perfectly on business-to-consumer messaging, they won't get to such a dominant position that you can ignore the others.
The situation is even more complicated if you look globally, as shown in the image below:

Facebook Turbulence
I talked about this same issue about a year ago, saying "Facebook … is bloodied from weeks of bad press over privacy issues." Well, the "weeks of bad press" has turned into "months of bad press."
There's a lot of discussion about how consumers are souring or even leaving the social network. But, surely another impact of the bad headlines has been the slow adoption of Facebook's "Messenger for Business" program.
Then last week, Facebook's CEO dropped a major announcement focused on a renewed commitment to privacy. One of the promises was encryption across all the messaging channels it owns: Messenger, Instagram, and WhatsApp. This could re-energize interest by businesses.
A good counterpoint is this piece by Jay Baer: "The Facebook Messaging Push Is Not About Privacy — It's About Control"
Baer writes: "This isn't a time-specific move forced upon Facebook by market conditions and a skeptical public. This was ALWAYS THE PLAN. If you want to be the conduit for global communications (which Zuckerberg has admitted is their aim), what are the only two communications modalities that are bigger than Facebook is today? 1. SMS and 2. EMAIL."
Apple Business Chat
Apple's roll-out of Business Chat has seemed slow and deliberate. I get the impression they're playing a long game with this. The first UK company to use it (possibly the first outside the US?) is Npower, an electric and gas utility. The deployment was done by IMImobile, who announced it in October.
Read more here: "Apple's Business Chat Has a Golden Moment to Dominate Customer Service"
Google and RCS
Google has cut a confusing path through this landscape. In December, it retired the product Allo, the latest in a long list of fizzled messaging apps. On the business-to-person front, they have announced (quietly) a product called "Google My Business" to rival Apple's "Business Chat" and Facebook's "Messenger for Business." TheNextWeb put together a good overview here.
In parallel, Google is betting on a system called RCS, which is supposed to be the successor to SMS, created by the telecom industry. The siren song of RCS has led to a lot disappointment, but maybe Google can make it work.
The Two Greatest Words in the English Language
I have to admit that, looking back at my notes and blog post from last year, it doesn't seem like much has changed. If you're really watching the horse race closely, you could make the case that vendor A or vendor B has pulled ahead, citing various stats. But from a big picture perspective, it's hard to point to a winner. We still have the major vendors all fighting for adoption as the future for business-to-person communication.
SMS benefits from this lack of a clear winner. It's true that overall global SMS volume is declining (it peaked in 2012). It's lost a lot of the casual person-to-person communication to the proprietary messaging channels. But its importance as the go-to channel for business-to-person (a.k.a. application-to-person) has only gotten stronger.
SMS is winning by de-fault. Like Homer said, they're the two greatest words in the English language.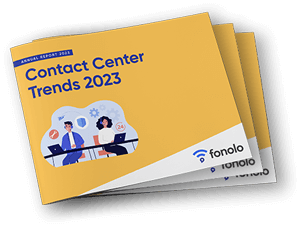 Trend Alert! Contact Center Industry Predictions for 2023
This report offers perspective on where the contact center industry stands today, plus our trend predictions for 2023.