Apple announced "Business Chat" in June, staking a claim to a vital piece of the eCommerce landscape: the channel for customer service communication. The product went into live beta this week with about 10 companies participating, and the timing could not be better for Apple. Facebook, their main rival in this field, is bloodied from weeks of bad press over privacy issues.
Apple clearly has a vision for how customer service should work. How much will it enforce that vision when the program scales up to hundreds or thousands of companies? Can Apple take advantage of this golden opportunity?
The Chat Onboarding Challenge
Chat has been the tantalizing future of customer service for a long time. Companies love it because it is much cheaper than voice (agents can handle parallel conversations, plus there are no telco costs). Consumers love it because it removes annoyances like waiting on hold, and it feels like a natural extension of their person-to-person communication habits. You'd think this would be a slam dunk, but the data has been kind of puzzling.
On one hand, when you ask consumers, they strongly favor chat over phone calls. But at the same time, we don't see the decrease in phone calls that you would expect (see this report, our blog post and this article). It's probably safe to say that chat volume is increasing, but it's not safe at all to say that it is significantly replacing voice*.
Restating the situation: Consumers say they prefer live chat over voice, but their actions don't align with that. An economist would call this a case of revealed preference.
How do we make sense of this disparity? Consider a consumer named Bob. He prefers to chat in theory, but when it's time to engage in an actual transaction with an actual company (let's say "Acme") he ends up reaching for the phone because he is factoring in the effort required to get the chat started. Bob has to figure out: "Does Acme offer chat? On what channels is the chat offered? Via their website? Can I tweet them? Can I send an SMS? If so, to what number?". So there's a cost that has to be factored in to find how to chat. Then Bob has to consider that he may start a chat only to find, after several turns, that he has to call the company anyway. So Bob, consciously or not, figures that he's better off calling to begin with.
Apple has a chance to break this stalemate by making this onboarding process as pain-free and risk-free as possible. They know this is their strength, which is why the Business Chat page opens with "A conversation that's easy to start". And then "connecting with your favorite companies as easy as texting your favorite people."

Apple made it a point to have onboarding points throughout the iOS experience. You can see above how the chat appears via Maps, Safari or Search. This tight integration is something only they can do.
Apple is also making it possible to launch Business Chat via online links, either at the company's site or elsewhere, but this is something that their rivals can also do. (Both images are courtesy of Gadgethacks.)

Apple's Privacy Windfall
Apple's advantage via iOS integration was well known last June. What wasn't known is the unexpected boost they would get from the controversy around privacy with Facebook (which has now become a government investigation). Apple is making sure to underscore this difference. The Business Chat launch page says prominently, "Control what you share… the company can't see personal information, like your name or phone number, unless you choose to share it for appointments or deliveries."
For Apple, this is the pay-off from years of investing in their credibility around privacy. And for Facebook, the negative sentiment has been growing for years as well (examples in this blog post and in this post too). This will not be an easy fix for them.
Apple added another feature which was a surprise: a "verification" badge so that you know you're chatting with the real company. The trust issue goes hand-in-hand with the privacy issue. Consumers want to know if it's really "Home Depot" that they're talking to, and they want to control which information they get.

This is reminiscent of Twitter's verification badges. In fact, I proposed 3 years ago that Twitter adds a special badge for customer service accounts.
No Bots Please
Apple is emphasizing that Business Chat is about human-to-human communication and not about "chatbots" or "bots". This is, again, a contrast with Facebook Messenger, where its role as a bot platform received a huge amount of attention, but then a backlash.
Again, from the Apple Chat page: "Talk to a real person…Most often, your conversations will be with a live agent. You might get fast, automated responses for simple requests, but a real person will be available if needed."
I wonder how they're enforcing that with the companies that are participating? Is this a solid commitment that Apple requires to get the certification badge, or just a suggestion?
Big Questions Ahead
While we're asking questions… How will Apple scale up this program? Right now, it's limited to a dozen companies that allow very tight control over the experience. But at some point, I assume it will be open for all companies to participate.
Will there be upfront or ongoing cost?
Will it be mandatory to accept Apple Pay?
Can we expect a level of review similar to getting on the App Store?
How rigorously are they going to police the human-vs-bot expectation or response times?
Will there be a mechanism for reporting abuse?
This is going to be interesting!
* We don't have strong data here, so I'm drawing an impression from an assortment of proximate data. If anyone can make a good quantitative case in the other direction, I'd love to hear about it in the comments.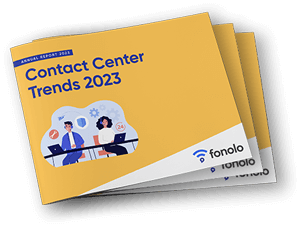 Trend Alert! Contact Center Industry Predictions for 2023
This report offers perspective on where the contact center industry stands today, plus our trend predictions for 2023.