While on a call with a customer, the language used is incredibly important. Call center agents are likely to have many, many conversations over the course of a work day, so it's easy to forget the importance of each and every interaction you have with a customer on the line.
When handling multiple customer service tickets each day, using certain phrases or expressions can become second nature. Certain repeated phrases can make customers feel like they are not being heard, or as if they are being spoken down to – these are not ideal results, and indicate a language problem that, luckily, is easily solved.
Let's take a look at a few commonly-used phrases that call center agents should avoid at all costs.
"No Problem"
What's the problem with "No problem"? The phrase seems perfectly benign, or maybe even polite. However, much has been written by customer service experts about why the phrase should be banished by service industry workers. They argue that, by using this phrase, service and hospitality workers are actually making customers feel like their requests are problematic. That's why it's best to use phrases like "My pleasure" or "You're welcome" instead.
"As I Said"
When dealing with a customer who is having a difficult time either accepting or understanding the information that is being delivered to them, "As I said" is one of the worst phrases one could use. It's likely to make the interaction even more volatile. This is because language of this nature can make customers feel belittled and spoken down to. Similar phrases like "As I mentioned earlier" can have a similar impact. While it may be frustrating for agents to repeat themselves, their best bet is to patiently explain the situation again without referencing the fact that they have already shared this information.
"Hold Please"
This phrase is dismissive and doesn't give the customer either a choice or a chance to respond. It's no secret that nobody likes to wait on hold. This is why call-back technology is a helpful tool for call center agents: It avoids the need to ask a customer to take time out of their day while an agent looks into their request. Instead, a call center agent can ask the customer for key information; spend time resolving the problem; and call the customer back with a solution.
If call-back technology is unavailable, it is best to ask the customer: "May I put you on hold for a few moments while I look into this further?" Agents should be specific about the time they expect customers will be waiting, and let them know exactly what will be looked into while they wait.
"I Don't Know"
Nobody has all of the answers and there is nothing wrong with admitting when you're not sure how to address a customer concern. However, simply saying "I don't know" is not sufficient. It can make the customer feel as if you aren't invested in helping them find a solution to their problem.
Instead of "I don't know," call center agents should try, "I'm not sure about that. Let me look into it for you." Alternatively, they could say, "I'm not positive. Let me find someone who can confirm." Language like this helps the customer feel that their concern is being taken seriously and their problem will be resolved on the call.
The type of language used by call center agents can make or break a customer service interaction. They should be mindful and aware of the type of language that they employ in common customer service scenarios. A few minor changes can make a world of difference to the person on the other end of the line.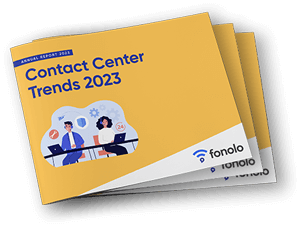 Trend Alert! Contact Center Industry Predictions for 2023
This report offers perspective on where the contact center industry stands today, plus our trend predictions for 2023.