It seems like, every month, Apple is coming out with a new product or service for its customers to take advantage of, a gadget or a gizmo to "improve" their lives. A steady stream of people visit Apple stores to view, purchase, or try out some of its convenient gadgets hands-on. If you've ever walked through a mall where an Apple Store is present, you've seen the phenomenon: A mass of people congregating within its glass walls, standing at the product kiosks, handling items with interests and speaking with customer service professionals about the latest and greatest in Apple technology. When you have hundreds of people walking through the doors at any time, one can only imagine the demand on its customer service professionals.
Common practice in a retail environment dictates that you use a customer's name, greet them at the first available opportunity, and smile whenever possible. But in an environment like an Apple store — where you could have up to 10 customers at any given time — there's more to consider. We went onsite to investigate their customer service practices and to see how they respond to such high-volume demands every day of the week.
Every Customer Service Interaction Matters
Apple Store professionals are trained to walk customers through an in-store journey: Approach an incoming customer with a personalized, warm welcome; probe to understand the customer's needs; present a solution for the customer to take home; listen for and resolve issues and concerns; and end with a farewell and, most importantly, an invitation to return.
We fought our way through the crowd on a busy Saturday afternoon to see how long it would take for someone to recognize us. After just two minutes, we were greeted.
Great sign.
What sets the Apple Store apart from other experiences in customer service? The store itself doesn't offer a typical "store experience"; it's more like going to a fair. Customers can freely interact with the gadgets strategically displayed around the floor space, and staff can approach and engage them while they're doing so. At that time, customers may ask questions about the products when they need to, but the products themselves are available to tinker with and experience at will. Whether it's the latest iPad, iPhone, Apple Watch, MacBook Pro or Mini, or even the Apple TV, the customer can give these products a test-run at any moment, taking the pressure off the customer service rep by giving the customer some agency to experience the products as they please.
We saw it in action. After five minutes in the Apple Store, we realized that customer service professionals are mainly there to answer questions and help customers purchase items. Each customer service professional is given a mobile pay device to allow for purchases anywhere in the store. There's no front desk, no lineups. Staff take care of customers anywhere in the environment and at any stage of the buying journey: They're are able to handle checkouts or returns without having to go anywhere, and help multiple customers at once. We even spotted them carrying iPads to look up items that are available at other stores; with these tools at their fingertips, no one needs to take great strides to have their needs met.
Price checks? The same thing is the case. The infrastructure is perfectly laid out and orchestrated to ensure that you, as a customer, are getting the information you need, while also handling the influx of people that walk in and out of the store at any time. By having the customer service professional directly in front of you, there's little time for them to get distracted by other customers who need help. And, for those who want to know they will be helped the minute they walk in the door about a particular problem, Apple offers the option to schedule a service session at a future time; this is useful for those customers who want and expect their problem to be solved at a concrete time.
Customer Experience Above All
We came in looking to purchase a MacBook Pro. Having an older computer dating back to 2014, it was definitely time for a change. Not only were we able to test the product, but we were also shown how to use them. Apple stores have designated employees — Creative Pros — who are hired basically to show you the ins and outs of the product suite. These specialized customer service professionals teach you whatever you desire, such as how to take better pictures, how to use apps, and what certain programs can do for you.
According to Coresight Research — which tracks store openings and closings in North America — retailers have announced 5,994 store closures and 2,641 store openings as of early April 2019. That compares to 5,864 closures and 3,239 openings for the full year 2018. In an environment where retail chains are struggling to stay open, Apple's ability to provide a memorable, interactive product experience while delivering a quality customer journey should serve as a blueprint for others in the industry. By providing meaningful information that you actually need — not that they're trying to sell you — their approach to customer service is an experience that many retailers can draw from. They appeal to your lifestyle needs, not your product-specific needs. And they are memorable, which means they will likely come to mind when you're ready to buy.
At a time when customers are generally looking for more for less, stores have to figure out how to provide a quality customer service experience while making buying a secondary factor — a very hard thing to do. More could certainly follow in the giant footsteps of Apple and wonderland that is its in-store experience.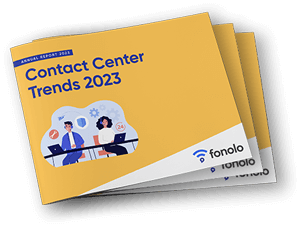 Trend Alert! Contact Center Industry Predictions for 2023
This report offers perspective on where the contact center industry stands today, plus our trend predictions for 2023.