If your feet are firmly planted in the customer service and experience industries, you're probably as excited as we are about next month. Fonolo is pleased to announce that we'll be making our triumphant return to Customer Contact Week (CCW), held this year from June 24-28th at The Mirage Hotel in Las Vegas, Nevada. Now in its 20th (yes, 20th!) year, the conference, considered the #1 event in the industry, is synonymous with education and inspiration in the customer service ecology. We can't wait to return.
While Customer Contact Week began as a forum for call center managers to gather annually and discuss best practices, over the course of two decades it has evolved to become the place where customer service leadership can excel professionally, engage with colleagues, and educate themselves, all through community-oriented networking and interactive experiences.
Along with celebrating its 20th anniversary, this year's event is rooted in the people, processes, and technologies that power customer service operations. In addition, the event will feature some impressive headliners (you may have heard of them): Tony Hsieh, CEO of Zappos; Nancy Brinker, Founder and Chair of the Susan G. Komen Foundation; and Earvin "Magic" Johnson, Chairman and CEO of Magic Johnson Enterprises. With technology and innovation being top of mind for CCW's important anniversary, Fonolo is thrilled to be exhibiting its call-back solution there once again.
"The focus of this year's event is on people, processes, and technologies. These are significant themes for us, especially when it comes to how to implement technologies that will improve internal processes and, at the same time, better the human/customer experience. We look forward to once again sharing how our cloud-based call-back solutions complement the modern contact center's infrastructure by improving customer experience through improved speed and efficiency."
– Shai Berger, CEO, Fonolo
Fellow attendees can meet our enchanting team and learn all about Fonolo's cloud-based call-back software solutions (while 'rocket-launching' for the chance to win a prize!) by visiting Booth #709. Further information on this event can be found on the Customer Contact Week website.
For live updates, media, and insights from the show, follow Fonolo on: Twitter, Facebook, and LinkedIn.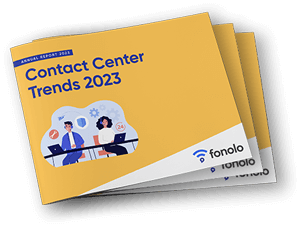 Trend Alert! Contact Center Industry Predictions for 2023
This report offers perspective on where the contact center industry stands today, plus our trend predictions for 2023.