Ah, the great outdoors. In Canada, we are blessed with an abundance of wildlife, majestic mountains, pristine lakes, and seemingly endless forests. Since the 1970s, if you were an experienced outdoorsman seeking to explore the authentic, raw, outdoors, then a trip to your local Mountain Equipment Co-op (MEC) was in order. Customers came to MEC stores to buy the best hiking, rock climbing, and back-woods skiing gear.
Back in 2008, then CEO David Labistour looked at the tea leaves and saw that "the times they were a-changin.'" The granola-powered, anti-consumerist community MEC relied on post-inception was steadily being replaced by a more diverse, urban cohort. As a result, they engineered a shift away from their original mission statement of encouraging "self-propelled wilderness recreation" to one that wanted to "inspire everyone to get off the couch and out the door." The gambit paid off: For the second year in a row, MEC topped the list of Canadian companies with the best reputations, compiled by market research firm The Reputation Institute.
This is the little-told tale of how MEC put the customer first during the company's transformation from niche purveyor of mountaineering equipment to hub for outdoor lifestyle enthusiasts. The results speak for themselves: In the intervening years, MEC has doubled its brick-and-mortar locations and nearly doubled its membership, which currently tops five million people, during this period of transformation.
They focused on building diverse communities.
While many brands compete in the outdoor lifestyle space, MEC has positioned itself as an industry leader by building a community around its brand. As the company is structured as a co-op, every customer is a part owner of the brand, which has undoubtedly helped. Yet, the co-op doesn't stop there and has been putting on races, events and clinics for the last seven years. They have even started offering MEC Adventures' tours where people can book trips around the globe.
While people who partake in these events don't necessarily buy from MEC, they can still become active members of the community. In essence, they are focused on providing their customers with more than just "stuff." MEC also does a great job of adding experiential components to the company's retail operations. Its flagship Toronto store, for example, features a 1,000-square-foot bouldering wall and augmented reality applications that allow customers a dynamic 360-degree view of each tent.
The organization has also looked to broaden this community and challenge what they call "the perpetuated image of a predominantly white outdoor community." In a letter from the CEO of MEC, he apologized for prior lack of representation and subsequently committed to ensuring that they would do a better job of representing the diversity of their members.
They doubled down on a customer-first mentality.
MEC has managed to remain relevant, even as more competition has entered the marketplace, by consistently meeting the needs of its members, and by producing and offering high-quality gear at affordable prices. All of MEC's decisions and operations are geared toward this member-centric mentality.
As each customer is also a member, MEC has access to copious amounts of retail data, making for a better understanding of purchasing needs, ultimately allowing them to focus on what their members want. This, coupled with their focus on hiring people that share an enthusiasm for sustainable outdoor recreation, leads to consistency and trust from their members. The staff's knowledge and experience about the MEC gear and the activities in which members engage provide a high-quality in-store customer experience.
As Mr. Labistour noted, "it's trying not just to sell product but tying the community, the supply-chain pieces and the service into one cohesive brand statement." While MEC's co-op status is unique, companies are short-sighted if they focus solely on just meeting short-term revenue goals. The focus needs to be on creating new customers and maintaining newly-formed customer relationships.
What struck me most about MEC's transformation is that throughout there remained an obsession with the needs of their customers. In other words, when you put your customer's interests first, you gain important, lasting relationships that are mutually beneficial.
That's how a business achieves long-term success.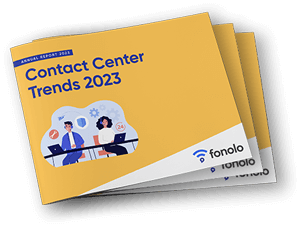 Trend Alert! Contact Center Industry Predictions for 2023
This report offers perspective on where the contact center industry stands today, plus our trend predictions for 2023.