Every year we ask: What can contact centers do to bolster their efficiency, productivity, and customer service offerings in the future?
How can they survive and thrive in the face of so many variables?
Well, it's that time once again. We invited some of the top contact center experts from Ada, J Arnold and Associates, The Belding Group, Callzilla, Expivia, and other vibrant CX and CS avenues to offer us and you, our dear readership, their best pieces of advice for contact centers in this increasingly complex customer age.
As you read on, you'll notice some pertinent themes arising for the coming year, some established, and some brand-spanking-new: Leveraging AI and self-service in an increasingly competitive contact center space; optimizing training and education for employees; keeping the 'human' element of customer service in mind when incorporating new channels; being strategic with automation; and more. This year's soundbites are rich with well-researched insights that a) act as a warning; and b) can help your contact center win.
Now: Ready yourself for the dawn of a new customer service decade, and read this timely and useful advice from the mouths of the experts themselves. Their 20/20 industry insights will propel your contact center to success in, fittingly, the year 2020.*
*Note: These experts, who generously gave their time and know-how to this article, appear in alphabetical order by surname.
Jon Arnold, Technology Thought Leader, Analyst, and Speaker:
"The two themes I cited here last year – messaging and AI – continue to dominate the contact center landscape. Consolidation has meant there are fewer players at the top, but equally important is how the contact center is now being added to the portfolios of cloud providers, especially at the lower end of the market. The net result is that the hegemony of incumbent, pure-play contact center vendors has been broken, and the race is on now – not so much about who can provide the best telephony experience, but who can best leverage AI to make for a better overall customer experience. Players of all sizes have been making strategic acquisitions, many of which are AI-related. While it's still too early to tell what impact the likes of Amazon and Twilio will have on the contact center space, messaging, cloud and AI are the disruption drivers, and everyone else have to at least be thinking about how they're going to keep pace with all this."
Learn more about Jon and Arnold & Associates here and here.
Shaun Belding,  CEO, The Belding Group of Companies, Customer Experience and Leadership Expert:
"The world of customer service is continuing to change. More and more organizations are forcibly directing customers to self-serve solutions. Chatbots, IVRs, crowd-sourcing and more are the first gauntlets that customers have to pass. This is a trend that is not going away. The result, unfortunately, is that by the time customers navigate these to get to a human, a great many are profoundly frustrated. This means that the very first impression that you create when you connect with these customers is critical. A frustrated customer needs to know from the moment they hear your voice or read your message that you are both skilled and compassionate. Your tone of voice, your choice of words and your knowledge all need to convey that you genuinely care, and are committed to a positive outcome. Research tells us that the great majority of customers who become 'difficult' do so not because of the issue at hand, but because of the way we respond to it. Those first few moments will often dictate how an entire call will go. Make sure right away that there is no doubt in their minds that you are an awesome person to be talking with!"
Learn more about Shaun here and here.
Shai Berger, Co-Founder and CEO, Fonolo:
"If you are trying to maximize the productivity of your contact center, the most important factor is actually unrelated to technology: It's the people working there! Keeping agents happy and engaged is key to delivering a good experience to customers, and doing so efficiently. Once you've taken care of your people, there are a bunch of technology-related improvements you could pursue. Replacing hold-time with a call-back is a no-brainer: It eliminates something that customers universally dislike while lowering abandon rates. It has added a side of improving agent morale because callers that have not waited on hold are often more agreeable when they reach an agent."
Learn more about Shai and Fonolo here and here.
Jeanne Bliss, CCO Pioneer, Keynote Speaker, Author and Consultant:
"Build your "RESPECT DELIVERY MACHINE!" Recognize that customers need to be given multiple options for how you will honor and take care of them – that need to be available on customer time.  And: Know that, as much as many customers want to self-serve, when they opt out and need a human – it's more important than ever that they reach someone who truly cares and can truly solve their situation!"
Learn more about Jeanne here and here.
James Dodkins, Customer Experience Rockstar, Author and Keynote Speaker:
"I love the approach that Zappos takes. No matter who you are, no matter what your background, no matter what position you will be taking in the company, you have to spend four weeks on the phones at the start of your time with the company, helping customers, dealing with complaints and being immersed in the company's customer service culture. I honestly believe this initiative helps the entire organization not only empathize with customers but also with the call center agents. An added bonus is that the folks at Zappos can see if a new hire genuinely cares about customers or not, you can't fake it for 4 weeks. But that's not all, every year, every employee must go back on the phones to help out during the busy periods; this ensures a constant connection between the customers, the agents and the company at large. This helps non-call center employees remember what a tough job it can be at times on the phones and reminds them what rock stars the call center agents really are!"
Learn more about James here and here.
Annette Franz, Customer Experience Consultant, Speaker, and Author:
"Here's the thing about technology: It is a tool and a facilitator of the customer experience, but it is not the experience. There are so many other things that comprise the experience. Yes, customers love the self-service capabilities that some technology affords them, but ultimately, they still crave the human touch, human interaction, and human help to get most things done. That won't go away in 2020, and it will probably still be a requirement in 2050! People buy from people. If you're looking at me cross-eyed at this point, just remember this: the best way to design the experience your customers desire and deserve is to ask them. Get their feedback. Understand them and their needs, pain points, and problems to solve. If technology can help, great! But I'm guessing that your contact center reps will be top of mind for customers – now and well into the future. And, by the way, ensure that your reps are equipped with the tools, systems, processes, and policies that allow them to do their jobs well and to deliver a great customer experience."
Learn more about Annette here and here.
Sheri Greenhaus, Managing Partner, Cyber M@rketing Services/CRMXchange:
"Is customer service getting worse?  As a consumer, it seems like that at times.  After being in the CX/Customer Service space for over 30 years, allow me to suggest a few simple things companies can do so as not to exasperate your customers: 1) If there is chat function on your site, make sure there is someone on your end to respond.  Having a chat button with no agent is frustrating. 2) In the age of self-service, remember many still need to talk to you; don't make it impossible to find your phone number. It's even worse if you don't provide a phone number at all.  This just leads to angry customers tweeting about you. 3) If the customer is going to be on hold 20 minutes or more, give them the option for a callback. 4) Know your customer.  There is nothing more annoying than being a customer for years and the company has no idea who you are. Give your agents the tools they need to know the customer. We are all customers of someone, think about how you want to be treated and treat your customers in kind."
Learn more about Sheri and CRMXchange here and here.
Shep Hyken, Customer Service and Experience Expert, Author and Keynote Speaker:
"The use of technology in customer service continues to grow. AI, chatbots, and more are driving a digital support experience. And then there is self-service. No doubt our customers want self-service options that will give them answers to their questions and quick fixes to their problems. Customers like taking control of the support experience because it takes less time and is easy. All of this is great … until it's not. That's why support centers need to offer back-up at every channel. For example, a live agent can be available to step into an AI-fueled chatbot that isn't giving the customer what they need or a phone number that is easily found and is quickly answered by the support team. It is the company that finds the balance between digital and live support that gain the customer's trust and confidence, and eventually, their loyalty."
Learn more about Shep here and here.
Thomas Laird, CEO, Expivia Interaction Marketing Group:
"As an industry, we need to start to look beyond the standard call center metrics such as SLA, AHT, and ASA. Its time to also move beyond CSAT and NPS surveys and start to embrace speech analytics not just as a tool, but as a culture change for all of us.  For too long we have just been measuring how efficient our centers are and stopping (even with NPS and CSAT) at digging deep into the customer experience each of our customers are having. Use analytics to change your call centers culture.  You can (as we do at Expivia) incent your associates off positive sentiment, actually pay associates that exude measured niceness! With analytics you can track 100% of all interactions an associate has and measure tone and word choice. Speech analytics lets you learn about the entire customer journey and give you actionable data via keywords to change and improve the sentiment of your customer as well.  My one piece of advice in 2020 is to have our industry not just really embrace analytics as a tool, but to change and enhance your center's overall culture with it!"
Learn more about Thomas and Expivia here and here.
Neal Topf, Callzilla President, and Customer Experience Expert:
"This is the year of Humans. I promise, this isn't a typo. Humans. Anything in the contact center that can be automated, should be automated. That is the present and future of the customer care. Humans, nevertheless, are the epicenter of the automation strategy. Humans need to learn quickly where (in what contexts), when, how, how much, and with whom (for which customers and to work with which providers), to deploy automation. Humans need to create the flows and scenarios to anticipate and design the bots and most importantly, the "escape room" theory to prepare for what happens when the bot doesn't work, how and how fast the interaction gets to a live agent, what the clues are to trigger the escape (forced or requested), and what the user experience should be and how to design agent experience around this. Humans decide how and what to test and when to know if automation should be rolled out and to what portion of the contact center. Humans are in charge of interpreting the data and knowing when and how to optimize. While everyone is scrambling to assemble a strategy, the true contact center of the future understands that the model is not pure automation but rather a hybrid together with humans agents skilled in what the bots can't do or what customers don't want them to do, as well as humans that oversee the effectiveness of the bots and can seamlessly course-correct."
Learn more about Neal and Callzilla here and here.
Neil Whitney, Automated Customer Experience (ACX) Expert and Head of Product at Ada:
"Customer expectations have changed radically in the last decade.  Businesses need to adapt quickly to avoid being left in the wake of the digital disruptors. Customers now expect 24/7, self-service support on the channel of their choice.  My advice to improve the contact center would be: automate first. Meet customers where they want, when they want. Let them resolve the most frequently recurring inquiries and transactions on their own time and their own terms. Of course, making human support available is also necessary – but freeing your live support agents of those repetitive, mundane tasks will empower them to address the most mission-critical matters with a great measure of satisfaction, both on the customer side and the agent side (not to mention that it is much more efficient). An automation-first strategy results in cost savings, diminished agent (and customer) churn, and opens the door to meaningful interaction for up-sell and cross sell opportunity."
Learn more about Neil and Ada here and here.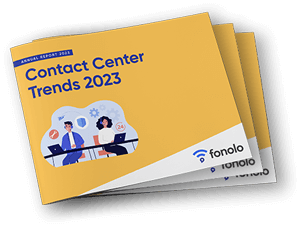 Trend Alert! Contact Center Industry Predictions for 2023
This report offers perspective on where the contact center industry stands today, plus our trend predictions for 2023.